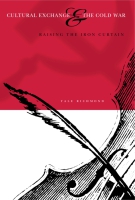 Cultural Exchange and the Cold War
Copyright: 2003
Dimensions: 6 x 9
Page Count: 264 pages
Hardcover ISBN: 978-0-271-02302-1
Paperback ISBN: 978-0-271-02532-2
Paperback Edition: $41.95
"Richmond, a leader in the organization of cultural exchanges during the Cold War, has written a compelling and fact-filled book on the value of travel and face-to-face meeting between adversaries as a method of reducing tension and promoting peace. The cost-benefit analysis definitely favors exchanges (as opposed to war or an arms race) as a tool to assist in the preservation of peace and security. Good bibliography."
"At a time of increasing barriers to those who would enter the U.S. as students or observers, Cultural Exchange and the Cold War demonstrates the value of openness even during the most stressful periods of the Cold War. American leaders coming from a broad political spectrum took the risk of allowing access to this country by students and leaders from our most feared competitor. From this there appears to have been an unimagined payoff."
"Richmond's insider's insights add flavor to the book and make a compelling argument for the success of the US policy to encourage the 'Westernization' of the Soviet Union instead of direct confrontation."
"Richmond writes eloquently, liberally using quotes of people who took part in the exchanges.

Scholarly and illuminating, Richmond's book colorfully documents official, government Soviet-American cultural exchanges that began after Stalin died in 1953, and helped to break down barriers of fear and ignorance, at a time that many of us felt the Cold War was freezing all contact.

I love this book because it is informative, inspiring, and written with obvious relish and passion."
"Yale Richmond records a highly significant chapter in Soviet-American relations during the final decades of Communism. He provides us with a deftly written, accurate, and thoughtful account of the cultural exchanges that were such important channels of influence and persuasion during those years. His book covers the whole spectrum—from scholars and scientific collaboration to fairs and exhibits. We should be grateful that he has undertaken this task before memories fade."
"As a retired foreign service officer who served in the Soviet Union and maintained contacts with numerous exchange participants, Richmond is well qualified to study this topic."
"This book makes an important contribution to a major debate that began in the West before the demise of the Soviet empire and escalated after 1989. . . . the value of this book lies in its firm focus on the Soviet Union. Richmond speaks from his experience as a former foreign service officer who, for some 30 years of his distinguished career, lived in the Soviet Union, Poland, Austria, Germany, and Laos. He is also a good historian who knows that this subject cannot be understood without putting it into the context of the long connection between Russia and the West, going back to Peter the Great, if not before."
"Yale Richmond, a career U.S. Information Agency officer with extensive experience in East-West cultural exchanges, provides a thorough, lucid, and provocative account of the key factors leading to the end of the Cold War."
Some fifty thousand Soviets visited the United States under various exchange programs between 1958 and 1988. They came as scholars and students, scientists and engineers, writers and journalists, government and party officials, musicians, dancers, and athletes—and among them were more than a few KGB officers. They came, they saw, they were conquered, and the Soviet Union would never again be the same. Cultural Exchange and the Cold War describes how these exchange programs (which brought an even larger number of Americans to the Soviet Union) raised the Iron Curtain and fostered changes that prepared the way for Gorbachev's glasnost, perestroika, and the end of the Cold War.
This study is based upon interviews with Russian and American participants as well as the personal experiences of the author and others who were involved in or administered such exchanges. Cultural Exchange and the Cold War demonstrates that the best policy to pursue with countries we disagree with is not isolation but engagement.
Contents
Preface
Acknowledgments
Introduction
Abbreviations and Acronyms
1. Russia and the West
2. The Moscow Youth Festival
3. The Cultural Agreement
4. Scholarly Exchanges
5. Science and Technology
6. Humanities and Social Sciences
7. Moscow Think Tanks
8. Forums Across Oceans
9. Other NGO Exchanges
10. Performing Arts
11. Moved by the Movies
12. Exhibitions—Seeing is Believing
13. Hot Books in the Cold War
14. The Pen Is Mightier . . .
15. Journalists and Diplomats
16. Fathers and Sons
17. The Search for a Normal Society
18. "Western Voices"
19. To Helsinki and Beyond
20. Mikhail Gorbachev, International Traveler
21. And Those Who Could Not Travel
22. The Polish Connection
23. The Beatles Did It
24. Obmen or Obman?
25. The Future
Afterword
Bibliography
Index