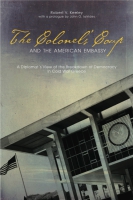 The Colonels' Coup and the American Embassy
A Diplomat's View of the Breakdown of Democracy in Cold War Greece
Hardcover Edition: $82.95
Paperback Edition: $34.95
"[The Colonels' Coup and the American Embassy] is an excellent description of the embassy's knowledge of the events leading to the coup and the inner workngs of the embassy. . . . [Keeley] is an excellent writer."
Robert Keeley was a Foreign Service officer stationed in Greece during one of the most tumultuous events in the country's history, the so-called Colonels' coup of April 21, 1967. This is his insider's account of how U.S. policy was formulated, debated, and implemented from 1966 to 1969, the critical years directly before and after the coup.
A major event in the history of the Cold War, the coup ushered in a seven-year period of military rule in Greece. In its wake, some eight thousand people affiliated with the Communist Party were rounded up, and Greece became yet another country where the fear of Communism led the United States into alliance with a repressive right-wing authoritarian regime. In military coups in some other countries, it is known that the CIA and other agencies of the U.S. government played an active role in encouraging and facilitating the takeover. The Colonels' coup, however, came as a surprise to the United States (which was expecting a Generals' coup instead). Yet the U.S. government accepted it after the fact, despite internal disputes within policymaking circles about the wisdom of accommodating the upstart Papadopoulos regime. Keeley was among those dissenters.
Contents
Preface
Prologue by John O. Iatrides
1. Introduction with Dramatis Personae
2. Setting the Scene
First Impressions
The Political Situation
The Phenomenon of Andreas Papandreou
The Monarchy
Trials and Negotiations
An Alternative: U.S. Intervention?
3. The Author Gets Involved
Andreas's March 1 Speech
A Policy Assessment
Preparing for Elections
4. The Days Before the Coup
Presentiments and Alarums
Washington Weighs In
5. The Coup
The Coup of April 21, 1967
Assessing the Coup
Coup Vignettes
6. Reacting to the Coup
"Our Present Dilemma"
Other Reactions
Mac Thompson's Attempt
A Draft Telegram
Mac and I Try Again
7. Dealing with the New Government
A Call on Kollias
A Postmortem
A Visit by Nixon
Shift of Focus
8. Andreas Papandreou and Prospects for Democracy
Andreas in Danger
Bits and Pieces
Meeting Margaret
Speculations
9. The Countercoup
Planning the King's Coup
Crisis in Cyprus
Checkmate of Constantine
Aftermath of Failure
10. Assessing the Colonels' Regime
The FDR Fiasco
Andreas Released
"Dear Charley"
Harassment Continues
The Meaning of Fascism
11. Friction at the Embassy
Kay Leaves, I Continue
Go Along to Get Along
Parallels with Pakistan
12. Looking to the Future of Greece
Assessment of Andreas
The Papandreou Funeral
Was Greece Ever a Democracy?
Don't Make Waves
13. Final Thoughts
Postscript
All's Well That Ends Well?
Appendix A: Seferis and the Clinton Speech
Appendix B: Internal Embassy Memoranda, March–June 1968
Notes
Index