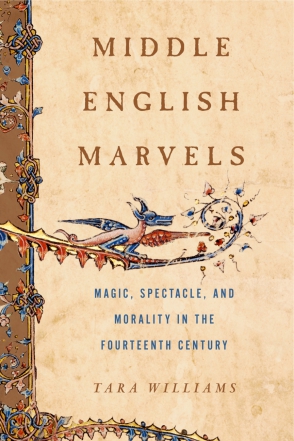 Middle English Marvels
Magic, Spectacle, and Morality in the Fourteenth Century
Tara Williams
BUY
Middle English Marvels
Magic, Spectacle, and Morality in the Fourteenth Century
Tara Williams
"A subtle, readable, and learned analysis of the 'theory of the marvelous' developed by writers of Middle English romances. This book makes a significant contribution not only to romance studies itself but also to the growing body of work on the flexible relationships between the different types of medieval wonder and on their aesthetic and ethical implications. Middle English Marvels will be of equal interest to scholars and their students."
Description

Reviews

Bio

Subjects
This multidisciplinary volume illustrates how representations of magic in fourteenth-century romances link the supernatural, spectacle, and morality in distinctive ways.
Supernatural marvels represented in vivid visual detail are foundational to the characteristic Middle English genres of romance and hagiography. In Middle English Marvels, Tara Williams explores the didactic and affective potential of secular representations of magic and shows how fourteenth-century English writers tested the limits of that potential. Drawing on works by Augustine, Gervase of Tilbury, Chaucer, and the anonymous poets of Sir Orfeo and Sir Gawain and the Green Knight, among others, Williams examines how such marvels might convey moral messages within and beyond the narrative. She analyzes examples from both highly canonical and more esoteric texts and examines marvels that involve magic and transformation, invoke visual spectacle, and invite moral reflection on how one should relate to others. Within this shared framework, Williams finds distinct concerns—chivalry, identity, agency, and language—that intersect with the marvelous in significant ways.
Integrating literary and historical approaches to the study of magic, this volume convincingly shows how certain fourteenth-century texts eschewed the predominant trends and developed a new theory of the marvelous. Williams's engaging, erudite study will be of special interest to scholars of the occult, the medieval and early modern eras, and literature.
"A subtle, readable, and learned analysis of the 'theory of the marvelous' developed by writers of Middle English romances. This book makes a significant contribution not only to romance studies itself but also to the growing body of work on the flexible relationships between the different types of medieval wonder and on their aesthetic and ethical implications. Middle English Marvels will be of equal interest to scholars and their students."
"Williams's deft survey of fourteenth-century Middle English literary texts reveals a moral theory of the marvelous, which she traces from the actions it provokes in Orfeo and Lybeaus Desconus to the reflections it inspires in the Canterbury Tales. Through investigations of spectacle and the cognitive effects of wonder, situated in contexts ranging from genre to manuscripts to history and philosophy, Middle English Marvels offers a new understanding of how magic encourages moral contemplation in characters and readers, then and now."
"An insightful study that examines literary magic in fourteenth-century England on its own terms. Through a series of subtle readings, Tara Williams identifies a previously unnoticed concatenation of magic, spectacle, and reflections on morality among a group of vernacular romances that construct their own view of the marvelous. This book makes a valuable contribution to magic studies and to affect studies through the ethical use of wonder."
Tara Williams is Associate Dean of the Honors College and Associate Professor of English at Oregon State University and the author of Inventing Womanhood: Gender and Language in Later Middle English Writing.
Mailing List
Subscribe to our mailing list and be notified about new titles, journals and catalogs.