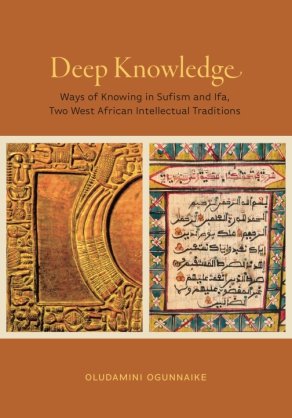 Deep Knowledge
Ways of Knowing in Sufism and Ifa, Two West African Intellectual Traditions
Oludamini Ogunnaike
COMING IN OCTOBER
Deep Knowledge
Ways of Knowing in Sufism and Ifa, Two West African Intellectual Traditions
Oludamini Ogunnaike
"Ifa and Tijani Sufism is refreshingly interdisciplinary, strikingly innovative, and deeply insightful, and the chief subjects of analysis—namely, epistemologies in Ifa divination and Sufi practice, primarily in Nigeria and Senegal—are of a great and growing significance that has become increasingly global. Ogunnaike possesses profound knowledge of each of these forms of religious and philosophical practice as well as the requisite linguistic fluencies to study them in depth, and he has an uncanny knack for explaining complex ideas in accessible language. This is a groundbreaking book of major importance to the study of African religion. Highly recommended!"
Description

Reviews

Bio

Table of Contents

Subjects
This book is an in-depth, comparative study of two of the most popular and influential intellectual and spiritual traditions of West Africa: Tijani Sufism and Ifa. Employing a unique methodological approach that thinks with and from—rather than merely about—these traditions, Oludamini Ogunnaike argues that they are, in fact, epistemologies that provide practitioners with a comprehensive worldview and a way of crafting a meaningful life.
Using theories belonging to the traditions themselves as well as contemporary oral and textual sources, Ogunnaike examines how both Sufism and Ifa answer the questions of what knowledge is, how it is acquired, and how it is verified. Or, more simply: What do you know? How did you come to know it? How do you know that you know? After analyzing Ifa and Sufism separately and on their own terms, the book compares them to each other and to certain features of Western theories of knowledge. By analyzing Sufism from the perspective of Ifa, Ifa from the perspective of Sufism, and the contemporary academy from the perspective of both, this book invites scholars to inhabit these seemingly "foreign" intellectual traditions as valid and viable perspectives on knowledge, metaphysics, psychology, and ritual practice.
Unprecedented and innovative, Deep Knowledge makes a significant contribution to cross-cultural philosophy, African philosophy, religious studies, and Islamic studies. Its singular approach advances our understanding of the philosophical bases underlying these two African traditions and lays the groundwork for future study.
"Ifa and Tijani Sufism is refreshingly interdisciplinary, strikingly innovative, and deeply insightful, and the chief subjects of analysis—namely, epistemologies in Ifa divination and Sufi practice, primarily in Nigeria and Senegal—are of a great and growing significance that has become increasingly global. Ogunnaike possesses profound knowledge of each of these forms of religious and philosophical practice as well as the requisite linguistic fluencies to study them in depth, and he has an uncanny knack for explaining complex ideas in accessible language. This is a groundbreaking book of major importance to the study of African religion. Highly recommended!"
Oludamini Ogunnaike is Assistant Professor of African Religious Thought and Democracy at the University of Virginia.
Section 1: Introduction
Chapter 1: African Philosophy?
Section 2: Ways of Knowing in Tijani Sufism
Chapter 2: What is Tijani Sufism?
Chapter 3: What is Ma'Rifah?
Chapter 4: How is Ma'rifah Acquired?
Chapter 5: How Does Tarbiyah Work?
Section 3: Ways of Knowing in Ifa
Chapter 6: What is Ifa?
Chapter 7: Knowledge in Ifa
Chapter 8: How is Knowledge Acquired in Ifa?
Chapter 9: How is Knowledge Verified in Ifa?
Section 4: Comparing Ifa and Tijani Sufism
Chapter 10: Comparing Ifa and Tijani Sufism
Chapter 11: Comparative Conclusions
Notes
Index
Mailing List
Subscribe to our mailing list and be notified about new titles, journals and catalogs.