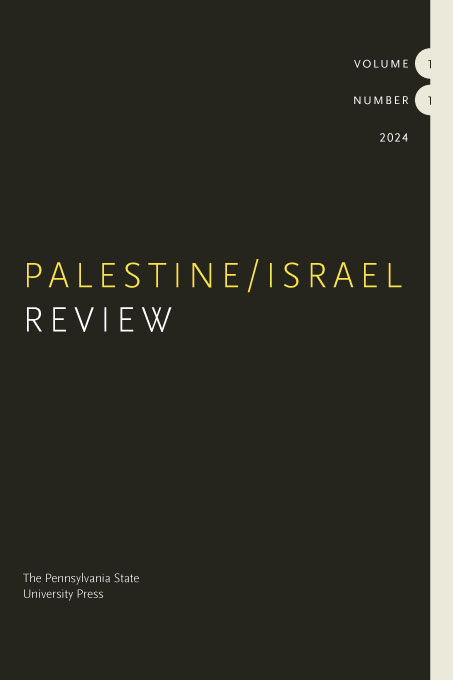 Palestine/Israel Review
Honaida Ghanim, Editor
Tamir Sorek, Editor
Palestine/Israel Review
Honaida Ghanim, Editor
Tamir Sorek, Editor
Description

Board

Submissions
Palestine/Israel Review is an open access journal that provides a platform for exchanging knowledge, scholarship, and ideas among scholars who share the relational, integrative, and wholistic approach to the study of Palestine/Israel.
The journal publishes studies in the humanities and the social sciences that emphasize the social, cultural, economic, and political dynamics between the Arab and Jewish communities in Palestine/Israel from the nineteenth century until the present. The journal will cover these dynamics in Palestine/Israel (from Ottoman times to the present). Topics of interest will include related processes in the region (for example, among Palestinian refugees in neighboring countries), as well as relevant developments overseas (for example, the place of Jewish communities abroad in the Israeli-Palestinian conflict).
Published works are licensed under Creative Commons Attribution CC-BY-NC-ND. The Palestine/Israel Review is an Open Access Journal which means that all content is freely available immediately upon publication without charge to the user or his/her institution. Users can read, download, copy, distribute, print, search, or link to the full texts of the articles, per the terms of the CC-BY-NC-ND license, without asking prior permission from the publisher or the author.
Palestine/Israel Review is made available Open Access with generous support from the Department of History at Penn State University.
Editors
Honaida Ghanim
Tamir Sorek
Associate Editor
Lior Sternfeld
Book Review Editor
Ian Lustick
Editorial Board
Joel Beinin
Anna Bernard
Michelle Campos
Leila Farsakh
Nadeem Karkabi
Amnon Raz-Krakotzkin
Laura Robson
Ella Shohat
Oren Yiftachel
Raef Zreik
Advisory Board
Bashir Bashir
Basilius Bawardi
Arie Dubnov
Awad Halabi
Liora Halperin
Shai Hazkani
Amal Jamal
Daniel Monterescu
Mohanad Mustafa
Issam Nassar
Isis Nusair
Randa Serhan
Avi Shoshana
Ran Zwigenberg
For initial consideration, authors may submit their paper in any scholarly format or layout. There are no strict formatting requirements, but all manuscripts must contain the essential elements needed to evaluate a manuscript: abstract, keywords, figures, tables, references. References can be in any style or format, so long as a consistent scholarly citation format is applied. For final post-acceptance submissions, the Chicago Manual of Style, 17th edition, should be applied.
Manuscript length might vary by discipline, but the journal will not publish peer-reviewed scholarly papers longer than 10,000 words. The journal will also consider shorter position papers, no longer than 3,000 words.
In addition, the journal invites proposals for peer-reviewed extended book reviews, discussing three to six recent titles in the field of Palestine/Israel, preferably in more than one language. For submitting a proposal, please , mentioning which books you would like to review, as well as your estimated timeline for submitting the review.
To submit a manuscript to Palestine/Israel Review, or a proposal for a book review, please visit http://www.editorialmanager.com/pir/. The online system will guide you through the steps to upload your article to the editorial office.