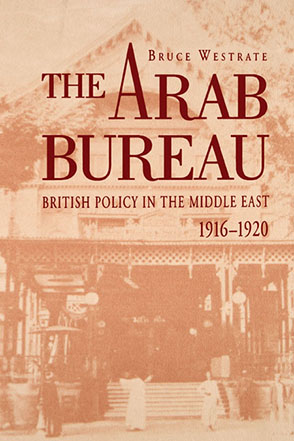 The Arab Bureau
British Policy in the Middle East, 1916–1920
Bruce Westrate
Buy
The Arab Bureau
British Policy in the Middle East, 1916–1920
Bruce Westrate
"This superb study ably fills a void in the historiography of British military participation and imperial strategy in the Middle East during the Great War, and is recommended in the strongest terms."
Description

Reviews

Bio

Subjects
Founded in 1916, the Arab Bureau was a small collection of British intelligence officers headquartered in Cairo and charged with the task of coordinating imperial intelligence activities in the Middle East. It is most often remembered for its flamboyant cast of characters, particularly T. E. Lawrence, and its role in instigating the Arab Revolt to break Turkish control over the Arab-speaking Middle East. From the beginning, however, the Bureau was vilified within imperial circles as a group of amateurish and incompetent pro-Arab dilettantes. And ever since, it has borne much of the blame for Britain's terrible mishandling of Middle Eastern policy during and shortly after World War I.
In this first full-length study of the Arab Bureau, Bruce Westrate challenges these stereotypes and reassesses the role that the Bureau actually played within imperial policy-making circles that stretched from London to Cairo to Delhi. Through close analysis of personal papers and Foreign Office records, including Arab Bureau documents, Westrate concludes that Bureau members were in fact sober-minded strategists who were skillfully working to secure the region for imperial interests.
"This superb study ably fills a void in the historiography of British military participation and imperial strategy in the Middle East during the Great War, and is recommended in the strongest terms."
"The Arab Bureau represents a unique contribution to illuminating our understanding of the inner workings of British imperial policy in a vital region of the world during a particularly crucial period."
"Dr. Westrate rescues the Arab Bureau from seventy years of obscurity in the shadow of its most flamboyant member, the legendary T.E. Lawrence. This judicious and insightful book could not be more timely. As the U.S. searches for coherence in the shambles of its Middle East triumph, it is salutary to be reminded of parallels in the region that confronted the victorious British three generations earlier. Dr. Westrate persuasively argues there is much to be learned from mistakes made then."
Bruce Westrate teaches History at Indiana University, South Bend.