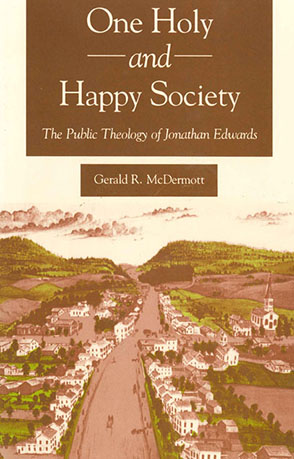 One Holy and Happy Society
The Public Theology of Jonathan Edwards
Gerald McDermott
Buy
One Holy and Happy Society
The Public Theology of Jonathan Edwards
Gerald McDermott
"

This book is superbly researched and provocatively argued. I'm certain it will one day make a major impact in the field of early American intellectual and religious history.

"
Description

Reviews

Bio

Subjects
Jonathan Edwards (1703–58) was arguably this country's greatest theologian and its finest philosopher before the nineteenth century. His school if disciples (the "New Divinity") exerted enormous influence on the religious and political cultures of late colonial and early republican America. Hence any study of religion and politics in early America must take account of this theologian and his legacy.
Yet historians still regard Edward's social theory as either nonexistent or underdeveloped. Gerald McDermott demonstrates, to the contrary, that Edwards was very interested in the social and political affairs of his day, and commented upon them at length in his unpublished sermons and private notebooks. McDermott shows that Edwards thought deeply about New England's status under God, America's role in the millennium, the nature and usefulness of patriotism, the duties of a good magistrate, and what it means to be a good citizen. In fact, his sociopolitical theory was at least as fully developed as that of his better-known contemporaries and more progressive in its attitude toward citizens' rights.
Using unpublished manuscripts that have previously been largely ignored, McDermott also convincingly challenges generations of scholarly opinion about Edwards. The Edwards who emerges from this nook is both less provincial and more this-worldly than the persona he is commonly given.
"

This book is superbly researched and provocatively argued. I'm certain it will one day make a major impact in the field of early American intellectual and religious history.

"
"

This is a learned and persuasive reading of a much neglected aspect of Jonathan Edwards' thought. It is also a sensitive interpretation of Edwards' place in the eighteenth-century social and political life. Gerald McDermott argues convincingly for the coherence and force of Edward's public theology, positioning that argument expertly against the background of historical eighteenth-century political and theological contexts.

"
"

Here is a convincing clarification of Edwards' social theory, which has not hitherto been well understood. McDermott's analysis is a stellar contribution to Edwards studies.

"
Gerald R. McDermott is Professor of Religion at Roanoke College.
Also of Interest
Mailing List
Subscribe to our mailing list and be notified about new titles, journals and catalogs.