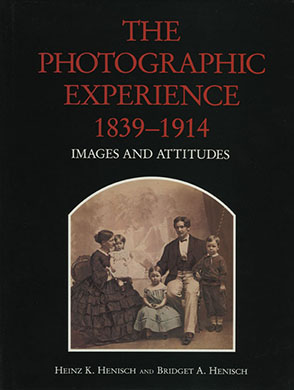 The Photographic Experience, 1839–1914
Images and Attitudes
Heinz K. Henisch, and Bridget Ann Henisch
Buy
The Photographic Experience, 1839–1914
Images and Attitudes
Heinz K. Henisch, and Bridget Ann Henisch
"The Photographic Experience is far removed from histories of photography that are concerned with the photograph as a masterpiece or the photographer as a genius. Indeed, one of the Henisches' great strengths lies in their fascination with photography in all its manifestations, whether exalted, humble, or even ridiculous. They have produced a book that is likely to remain unique in its freshness of approach and liveliness of presentation."
Media

Description

Reviews

Bio

Subjects
1994 Honorable Mention, Best Book in Arts, Literature, and Language (Professional and Scholarly Publishing Division, Association of American Publishers)
Eighteen thirty-nine was the miraculous year in which the two principal inventors of photography—Daguerre in France and Fox Talbot in Great Britain—made their discoveries known to an eager and receptive public. News of the process flashed around the globe, and in no time enthusiastic pioneers from Auckland to Zanzibar were trying the new invention. Photography took root and flourished. It has since been used in a thousand ways and has changed our modes of perception in many more.
The Photographic Experience deals with episodes and issues relating to the spread and practice of photography from its beginnings to World War I. Bridget and Heinz Henisch concern themselves with the reception accorded to the new art by professionals, amateurs, and the general public. They examine reactions to the new invention in the press, literature, poetry, music, and fashion; the response of intellectuals and painters; and the beliefs held by prominent photographers concerning the nature of the medium and its mission. With a wide array of images—many never before published—they illustrate the photograph's use as a record of public and private moments in life.
Photography became so quickly and thoroughly interwoven with the fabric of society and human experience, that its history comprises much more than the story of photographic art and its creators. The authors examine photographic ephemera and humor, photography and the law, the photographic studio experience, photography and travel, photography and journalism with special attention to advertising and war, the role of photography in politics, photographically illustrated books, the practice of overpainting, photography in the hands of the scholar, and the presentation and use of photographs in their social milieu.
"The Photographic Experience is far removed from histories of photography that are concerned with the photograph as a masterpiece or the photographer as a genius. Indeed, one of the Henisches' great strengths lies in their fascination with photography in all its manifestations, whether exalted, humble, or even ridiculous. They have produced a book that is likely to remain unique in its freshness of approach and liveliness of presentation."
"This book makes an eminently useful and impressive contribution to the field of photographic history. It takes a socio-cultural, contextual approach to the subject rather than studying a few well-known masterworks, and in the process makes much new information available. It is also an art book which works well on two levels: it provides both a scholarly text and fascinating, diverse picture materials. I consider the picture research that has gone into the book as important as the library research."
Heinz K. Henisch is Research Professor of the History of Photography at the Pennsylvania State University, the Founding Editor of History of Photography, and a Fellow of the Royal Photographic Society of Great Britain.
Bridget A. Henisch is author of Fast and Feast (Penn State, 1976).
Both have published widely on photo-historical themes.
Mailing List
Subscribe to our mailing list and be notified about new titles, journals and catalogs.