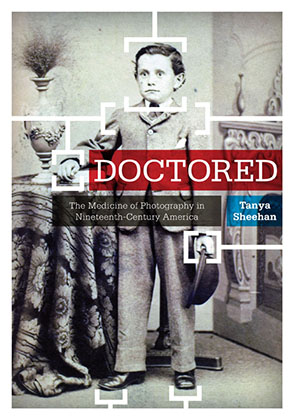 Doctored
The Medicine of Photography in Nineteenth-Century America
Tanya Sheehan
BUY
Doctored
The Medicine of Photography in Nineteenth-Century America
Tanya Sheehan
"In Doctored, Tanya Sheehan investigates the discursive intersections between photography and medicine in the late nineteenth century. Sheehan explores an understudied trove of professional photographic literature in order to understand the history of photography from its most popular practitioners' point of view. This is a wonderful visual culture history."
Description

Reviews

Bio

Table of Contents

Sample Chapters

Subjects
In Doctored, Tanya Sheehan takes a new look at the relationship between photography and medicine in American culture from the nineteenth century to the present. Sheehan focuses on Civil War and postbellum Philadelphia, exploring the ways in which medical models and metaphors helped strengthen the professional legitimacy of the city's commercial photographic community at a time when it was not well established. By reading the trade literature and material practices of portrait photography and medicine in relation to one another, she shows how their interaction defined the space of the urban portrait studio as well as the physical and social effects of studio operations. Integrating the methods of social art history, science studies, and media studies, Doctored reveals important connections between the professionalization of American photographers and the construction of photography's cultural identity.
"In Doctored, Tanya Sheehan investigates the discursive intersections between photography and medicine in the late nineteenth century. Sheehan explores an understudied trove of professional photographic literature in order to understand the history of photography from its most popular practitioners' point of view. This is a wonderful visual culture history."
"Doctored is a highly original and thoughtful study that illuminates the rich ties between nineteenth-century American portrait photography and medical practice. It illustrates how the nascent medium of photography gained legitimacy by forging ties to science and explores the deeply rooted belief in photography as a cure for social and even physical ills. The book makes a major contribution to our understanding of early photographic practice and its complex relationship to medicine, race, and class."
"This remarkable book combines close readings of periodicals with theoretical acumen and interpretive insights, revealing the central role that medical metaphors played in American photographic culture in the nineteenth century. Conveniently embodying the desires and anxieties of both photographers and their clients, these medical metaphors were made manifest as much in advertisements, cartoons, and articles as in actual photographic portraits. Casting doubt on any hard-and-fast distinction between the social and the physical body, Doctored will change the way you think about this period of American history."
"Tanya Sheehan's Doctored is cultural history at its best, combining a magisterial examination of nineteenth-century photographic literature with a persuasive and nuanced argument about metaphor and photography's discursive claims to professional expertise. A must-read for scholars of photography, art history, American studies, nineteenth-century cultural history, and urban studies."
"Sheehan's Doctored adds an important confluence of science and art to published histories of photography. . . . With elegant endpapers and a unique but readable typeface, Doctored is a nicely constructed book. . . . The interdisciplinary nature of [Sheehan's] project makes it suitable not only for photo historians, but also for those interested in medical and scientific history, critical race studies, and cultural studies."
"[Doctored] contributes as much to the history of ideas, or of language, as it does to the history of images."
"Sheehan's examination of medical photography in light of the larger dynamics of nineteenth-century photographic portraiture offers a way to integrate the history of medical photography with the history of Civil War photography."
"In this highly original book, Tanya Sheehan showcases a vast, alternative narrative in which cameras were seen as scalpels, developing chemicals as therapeutic drugs, and photographers as 'doctors of photography' processing the ability to inspect, diagnose, and rehabilitate diseased and disordered bodies.
Doctored is a finely detailed examination of the social and historical factors surrounding photography's use of medicine, grounded in latter nineteenth-century Philadelphia's vibrant cultural brew.
Sheehan has given us an inventive book that illuminates our understanding of the body, both social and physical, and its role in the nascent years of photography."
"In seeking to articulate and define their collective professional identity, nineteenth-century studio portrait photographers turned to medicine for inspiration, model, and metaphor. Tanya Sheehan masterfully and imaginatively presents this hitherto-unexplored avenue of defining photographic authority. . . . Doctored is decidedly a most welcome and handsome addition to the literature on the history of photography."
"Sheehan's book offers a breadth of perspectives on a very particular historical moment and theme that connects to the visual culture and social context of the time and enriches understandings of the historical emergence of photographic culture and its motivations."
"Doctored, by Tanya Sheehan, draws fascinating connections between the early days of studio photography and established medical practices of the day. . . . [Sheehan] spends a great deal of time discussing the cultural history of Victorian Philadelphia, explaining not just the similarities between medicine and photography but also the general public view of photography and its impact on race relations as well as a person's place in society. This book is just as much a historical account of Victorian American society as it is a history of the portrait photography industry."
"Tanya Sheehan . . . provides a unique, innovative comparative study of the development of the relationship between portrait and medical photography in Philadelphia during the nineteenth century. . . . Sheehan effectively demonstrates how the past has strongly influenced the present, richly contextualizing the 'doctoring' of photographs."
Tanya Sheehan is Associate Professor in the Art Department at Colby College.
Contents
List of Illustrations
Acknowledgments
Introduction
1 Educating "Doctors of Photography": Medical Models and the Institutionalization of Photographic Knowledge
2 Making Faces and Taking Off Heads: The Operations of Photography and Medicine
3 "Panes Curing Pains": Light as Medicine in the Photographic Studio
4 A Matter of Public Health: Photographic Chemistry and the (Re)production of Healthy Bodies
5 Photo Doctors and Pixel Surgeons: The Medicine of Photography in the Digital Age
Appendix: Philadelphia Photographic Periodicals, 1864–1890
Notes
Selected Bibliography
Index
Mailing List
Subscribe to our mailing list and be notified about new titles, journals and catalogs.