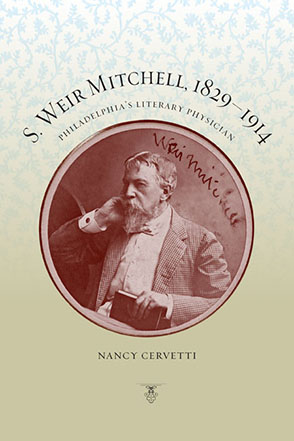 S. Weir Mitchell, 1829–1914
Philadelphia's Literary Physician
Nancy Cervetti
BUY
S. Weir Mitchell, 1829–1914
Philadelphia's Literary Physician
Nancy Cervetti
"Cervetti has produced an elegantly written, incredibly detailed, and impressively comprehensive narrative of Mitchell's journey from the insecure son of an overbearing father to the highly esteemed and influential researcher and clinician in physiology and neurology to a kind of medical public intellectual and literat[us]."
Description

Reviews

Bio

Table of Contents

Sample Chapters

Subjects
This modern biography provides a comprehensive and balanced view of a legendary figure in American medicine. Controversial because of his fierce fight against women's rights, S. Weir Mitchell achieved stunning success through his experimentation with venomous snakes, treatment of Civil War soldiers with phantom limbs and burning pain, and creation of the rest cure to treat hysteria and neurasthenia. Mitchell's life was extraordinary—interesting in its own right and as a case study in the larger inquiry into nineteenth-century medicine and culture.
"Cervetti has produced an elegantly written, incredibly detailed, and impressively comprehensive narrative of Mitchell's journey from the insecure son of an overbearing father to the highly esteemed and influential researcher and clinician in physiology and neurology to a kind of medical public intellectual and literat[us]."
"[S. Weir Mitchell, 1829–1914] is the first comprehensive, postfeminist biography of Mitchell. . . . Cervetti's book is sure to become the biography of record."
"This book is the first modern, reliable biography of S. Weir Mitchell based on thorough research and careful, scholarly use of a wide range of primary sources. The research and interpretation here are highly original. Nancy Cervetti's biography uses new information about Mitchell to provide a complex and fascinating interpretation of his life, his work, and his significance to American literature and culture."
"Nancy Cervetti shows us the 'whole' S. Weir Mitchell as he revealed himself through his unpublished autobiography and copious correspondence. She has mined a veritable mountain of primary sources, including Mitchell's scientific papers, and elegantly integrated them all into this beautifully written biography. Cervetti's original approach to Mitchell's work provides readers with a treasure trove of information about his family life, research career, literary aspirations, and travels. The precious primary source materials shine like gems in the setting of Cervetti's helpful historical context."
"The name of Silas Weir Mitchell shades discussions of medicine, feminist literature, and the social, scientific, and literary conversations at the dawn of the twentieth century. Over a half century has elapsed since the last substantive biography of a man who 'built a powerhouse of a life,' as Nancy Cervetti describes Mitchell. She has written a stunning, holistic survey of Mitchell's work from Civil War neurology to his insights in psychiatry and hysteria, his popular literature, and his antagonism toward women's rights. Cervetti's fascinating biography communicates Mitchell's 'keen sense of life as a performance' and will inspire new scholarship and appeal to a readership as broad as Mitchell's own reading publics."
"You will find many Mitchells in Nancy Cervetti's book: rambunctious boy, unfocused youth, budding physician, committed experimentalist, pioneering neurologist, bibliophile, poet, novelist, socialite, fisherman, medical graybeard, feted celebrity, and cultural Polonius. The threads Cervetti uses to weave the fabric of his life are his need to write and his attitude toward women. They stitch together a fascinating nineteenth-century life, with its successes, failures, and contradictions."
"[Nancy Cervetti's] product, a well-organized, polished, scholarly work, is a great contribution to American medical history. . . . Like one of Mitchell's best novels, this biography deserves a wide readership."
"Cervetti has given readers a freshly researched, beautifully written portrait of a vital figure who, for better and worse, towered over his age."
"Cervetti's professional, personal, political, and psychological analysis of S. Weir Mitchell provides insight into the social and political climate of the nineteenth century and serves as a useful case study within the larger context of American medicine and culture."
Nancy Cervetti is Professor of English at Avila University.
Contents
List of Illustrations
Acknowledgments
A Note on the Text
Introduction
1 Family Matters
2 Letters Home
3 The Young Physiologist
4 War's Awful Harvest
5 Wind and Tide
6 Pandora's Box
7 The Apple or the Rose
8 The Literary Physician
9 Combat Zones
10 Great Doctor, Poet, and Salmon Killer
11 Winter's Sorrow
12 The New Century
Epilogue
Notes
Bibliography
Index
Mailing List
Subscribe to our mailing list and be notified about new titles, journals and catalogs.