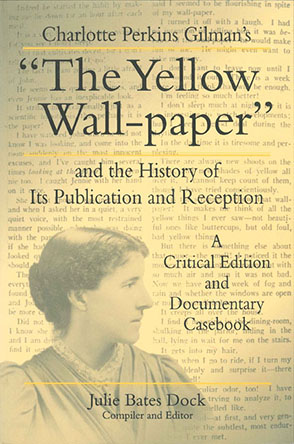 Charlotte Perkins Gilman's "The Yellow Wall-paper" and the History of Its Publication and Reception
A Critical Edition and Documentary Casebook
Edited by Julie Bates Dock
Buy
Charlotte Perkins Gilman's "The Yellow Wall-paper" and the History of Its Publication and Reception
A Critical Edition and Documentary Casebook
Edited by Julie Bates Dock
"Dock's casebook will teach readers several lessons about how much we should credit an author's own account of the fate of a piece of writing. It is a fascinating study of the ways in which literature and political concerns can become intertwined, and how a faulty text and inept bibliographical procedures can seem to undergird statements that simply aren't true."
Description

Reviews

Bio

Subjects
Since its publication in 1892, Charlotte Perkins Gilman's "The Yellow Wall-paper" has always been recognized as a powerful statement about the victimization of a woman whose neurasthenic condition is completely misdiagnosed, mistreated, and misunderstood, leaving her to face insanity alone, as a prisoner in her own bedroom. Never before, however, has the story itself been portrayed as victimized.
In this first critical edition of Gilman's "The Yellow Wall-paper," accompanied by contemporary reviews and previously unpublished letters, Julie Bates Dock examines the various myth-frames that have been used to legitimize Gilman's story. The editor discusses how modern feminist critics' readings (and misreadings) of the available documents uphold a set of legends that originated with Gilman herself and that promulgate an almost saintly view of the pioneering feminist author. The documents made available in the collection enable scholars and students to evaluate firsthand Gilman's claims regarding the story's impact on its first audiences.
Dock presents an authoritative text of "The Yellow Wall-paper" for the first time since its initial publication. Included are a textual commentary, full descriptions of all relevant texts, lists of editorial emendations and pre-copy-text substantive variants, a complete historical collation that documents all the variants found in important editions after 1892, and a listing of textual sources for more than one hundred reprintings of the story in anthologies and textbooks.
Other documents in the casebook that illuminate the story's publication and reception histories include Gilman's successive and varying accounts of the story's history, her diary and manuscript log entries and letters pertaining to the story, W. D. Howells's correspondence with Gilman and Horace Scudder, editor of The Atlantic Monthly, and his remarks on the story when he reprinted it in Great American Short Stories, and more than two dozen reviews of the story by Gilman's contemporaries.
Taken together, the criticism, text, documents, and annotations constitute a rich and valuable contribution to Gilman scholarship, calling into question the feminist literary criticism that has helped to shape interpretations of a literary masterpiece.
"Dock's casebook will teach readers several lessons about how much we should credit an author's own account of the fate of a piece of writing. It is a fascinating study of the ways in which literature and political concerns can become intertwined, and how a faulty text and inept bibliographical procedures can seem to undergird statements that simply aren't true."
Julie Bates Dock is an independent scholar living in Torrance, California. She is the author of The Press of Ideas: Readings for Writers on Print Culture and the Information Age (1996).
Mailing List
Subscribe to our mailing list and be notified about new titles, journals and catalogs.