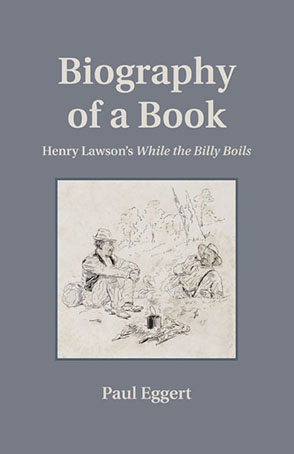 Biography of a Book
Henry Lawson's While the Billy Boils
Paul Eggert
Buy
Biography of a Book
Henry Lawson's While the Billy Boils
Paul Eggert
"The life narrative of Henry Lawson's 1896 novel offers a perspective for appreciating the cultural history of his own country, and his own time. In Paul Eggert's hands, however, this 'biography' also becomes a new model for understanding how books work, indeed how reviving the concept of a 'work' can help us apprehend a text in historical and discursive context. Scholars of authorship, publishing, reading, and the material book will look to Eggert's rigorous and sensitive methodology for guidance in recognizing what happens when a literary work encounters the real world and travels through it in unanticipated ways. Students of book culture will welcome Eggert's articulation of how the practices of close reading, bibliographical description, and archival excavation can demonstrate how discourse was created, mediated, and interpreted as Lawson's book took on a life of its own."
Description

Reviews

Bio

Subjects
Biography of a Book
traces the life of an iconic Australian literary work in the lead-up to, and for a century after, its initial publication: Henry Lawson's 1896 collection
While the Billy Boils.
Paul Eggert follows Lawson's gradual development of a pared-back bush realism in the early 1890s, as he struggled to forge a career, writing short stories and sketches for the newspapers. Lawson's famous collection came out at a decisive moment for the development of a fully professional Australian literary publishing industry, then in its infancy in Sydney. The volume's editing, design, and production were collaborative events that changed the feel and nature of Lawson's writing. He had to give ground
on the order in which his stories were presented and even on their texts—especially the idiosyncratic wordings that helped breathe life into his characters.
While the Billy Boils
went on to be reprinted and repackaged countless times. Its production and reception histories act like a geological cross section, revealing the contours of successive cultural formations in Australia. In unraveling the life of Lawson's classic work, Eggert's book-historical approach challenges and clarifies established understandings of crucial moments in Australian literary history and of Lawson himself.
"The life narrative of Henry Lawson's 1896 novel offers a perspective for appreciating the cultural history of his own country, and his own time. In Paul Eggert's hands, however, this 'biography' also becomes a new model for understanding how books work, indeed how reviving the concept of a 'work' can help us apprehend a text in historical and discursive context. Scholars of authorship, publishing, reading, and the material book will look to Eggert's rigorous and sensitive methodology for guidance in recognizing what happens when a literary work encounters the real world and travels through it in unanticipated ways. Students of book culture will welcome Eggert's articulation of how the practices of close reading, bibliographical description, and archival excavation can demonstrate how discourse was created, mediated, and interpreted as Lawson's book took on a life of its own."
"Only Paul Eggert—articulate, resourceful, and always coming up with the goods—could have written this: a book-historical account (with an infectious love of detail) of the production, reception, and reading of a single book which is also a series of scholarly detective stories, a biography of Henry Lawson, and a history of the study of the book over the last hundred years. It's a major scholarly achievement, and thoroughly readable with it."
"This book is a tour de force. Taking as its case study Henry Lawson's canonical selection of short stories While the Billy Boils (1896), it traces the entire history of its production and critical reception in Australia through the changing social and intellectual formations of the twentieth century. It is an engrossing detective story, a rich repository of evidence, and a masterpiece of a particular kind of literary scholarship. It will have a substantial impact on Australian literary studies while also making this Australian case an illuminating one for international work in the field of textual studies."
"It is rare to find in one book a panoramic assembly of cultural, historical, biographical, textual, industrial, and sociological interests brought to bear upon a mine of data insistently collected and arranged, such that not only is there a broad picture drawn but plenteous grist offered for further interpretation. This is such a book, painting the life of Henry Lawson's book as a moving, developing focal point for the author composing and revising, the publisher making and marketing, and successive generations of reviewers and readers giving a lively, century-long (so far) afterlife to the work. In the relatively new field of book history, this one is a model of what can be accomplished—an interdisciplinary corrective to straitened narratives of discipline-bound investigations."
"Paul Eggert's Biography of a Book explores the 'life' of Henry Lawson's While the Billy Boils, under its shaping powers of agency in writing and production, of bibliography, publishing conditions and markets, reader reception, press reviewing, and academic criticism. At first sight a case study, this monograph essentially reconceptualizes traditional history-of-the-book methodology. Out of its grounding in facts and historicity, the discipline gains hermeneutic force. Eggert's final outlook is courageously towards realigning the critical and cultural notion of the 'work.'"
"It is not often that a truly groundbreaking work appears, publishers' hype notwithstanding. Paul Eggert has produced two such works in the one year, which must be a record."
"Eggert carefully unpacks the multiple complexities of negotiating authorial reputation in a UK-dominated marketplace, offering insight into how Angus and Robertson sought to claim a place for Australian-based publishing through robust management of Lawson's fresh and engaging work, while at the same time contextualizing these negotiations within larger social and cultural movements and evaluations. [Biography of a Book] is a valuable study that makes a strong case for infusing book history and bibliographically informed processes into literary critical evaluation."
Paul Eggert is an Australian Research Council Professorial Fellow at the University of New South Wales, Canberra.
Mailing List
Subscribe to our mailing list and be notified about new titles, journals and catalogs.