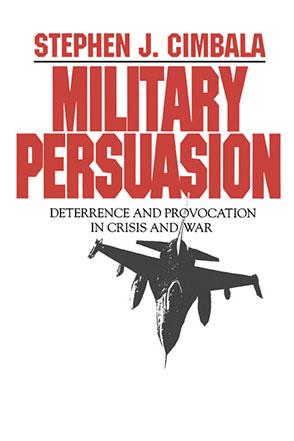 Military Persuasion
Deterrence and Provocation in Crisis and War
Stephen Cimbala
Buy
Military Persuasion
Deterrence and Provocation in Crisis and War
Stephen Cimbala
"Military Persuasion addresses an important and relevant topic for the understanding of military policy. Cimbala is very well plugged in to the ongoing debates around the community dealing with defense issues, and he has clearly done extensive research for this study. As with his previous work, this book is subtle and provocative, finding the complexities and nuances that others might have missed."
Description

Reviews

Bio

Subjects
In
Military Persuasion
, Stephen J. Cimbala reconciles two central approaches to war and peace studies. In the study of crisis management and war termination, the security literature overwhelmingly emphasizes the making of credible deterrent threats and coercive bargaining, while peace studies and conflict resolution literature focuses on conciliation and the offering of acceptable terms prior to or during a conflict. Cimbala contends that both threats and accommodation have their place in successfully preventing and ending conflicts.
Military Persuasion is particularly welcome in the 1990s, as policy makers and scholars debate whether nuclear deterrence deserves credit as a positive factor in the avoidance of military confrontation between the superpowers during the Cold War years. Cimbala examines several cases of great-power decision making before, during, and after the Cold War to demonstrate that deterrent threats alone have not successfully avoided war during this century. In some important instances, such as the months leading up to World War I, threats have actually fed into a chain of miscalculation that ultimately led to war. Cimbala also considers the Berlin crisis of 1948, the Cuban Missile Crisis of 1962, and the Gulf War of 1991, the first major post–Cold War conflict. Military Persuasion makes a significant contribution to war and peace studies, firmly grounded in a realistic appraisal of the human dimension to crisis management.
"Military Persuasion addresses an important and relevant topic for the understanding of military policy. Cimbala is very well plugged in to the ongoing debates around the community dealing with defense issues, and he has clearly done extensive research for this study. As with his previous work, this book is subtle and provocative, finding the complexities and nuances that others might have missed."
Stephen J. Cimbala is Professor of Political Science at the Pennsylvania State University, Delaware County, and author of several books, including Strategy After Deterrence (1991) and Force and Diplomacy in the Future (1992).