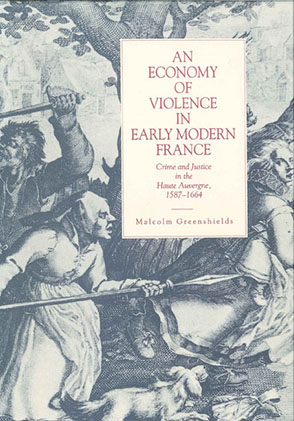 An Economy of Violence in Early Modern France
Crime and Justice in the Haute Auvergne, 1587–1664
Malcolm Ross Greenshields
An Economy of Violence in Early Modern France
Crime and Justice in the Haute Auvergne, 1587–1664
Malcolm Ross Greenshields
"This study makes a significant contribution to the growing body of literature on crime, criminality, and justice in Old Regime France. With a solid, commonsensical approach, Greenshields offers great insight into not just the workings of the royal criminal justice system but also the often-brutal world of the Auvergnats. In the process, he shows us how the balance between private and public justice was gradually tipped in favor of the King's law."
Description

Reviews

Bio

Subjects
An Economy of Violence in Early Modern France
takes the reader to a relatively little known area of early modern France to examine the behavior, attitudes, and environment of its inhabitants. It examines the uses and characteristics of violence and discusses what violence can tell us about the mentality of the people of the region. In the late sixteenth and early seventeenth centuries, the people of the Haute Auvergne kept their troubles to themselves. In this remote mountain region, the official forces of law and order were small in number and the mounted police could seldom penetrate very deeply into the life of rural communities. When they did intervene, they left a trail of evidence that enables us to catch a glimpse of a private world characterized by the use of violence.
Using police records, other archival materials, and the growing literature on the history of crime, Malcolm Greenshields argues that violence was often a form of private justice or vengeance that affected all levels of society. This "economy of violence" could be seen in confrontations between peasants fighting over the use of hay meadows, in drunken scuffles that broke out in taverns, and in the attacks against royal tax officials or other outsiders who threatened the rural community. Likewise, the nobility frequently indulged in duels and violent chicanery. In response, the criminal courts relied on rituals of humiliation and public displays of power to establish order, although official justice was often ineffective. Not until the 1660s did the French monarchy begin to get the upper hand. Through its Grand Jours d'Auvergne, the crown would try to assert a monopoly over the use of violence in the region. This study thus describes a significant stage in the movement toward a modern sensibility and brings to light a society and phenomenon that have previously received little attention.
"This study makes a significant contribution to the growing body of literature on crime, criminality, and justice in Old Regime France. With a solid, commonsensical approach, Greenshields offers great insight into not just the workings of the royal criminal justice system but also the often-brutal world of the Auvergnats. In the process, he shows us how the balance between private and public justice was gradually tipped in favor of the King's law."
Malcolm Greenshields is Associate Professor of History at the University of Lethbridge and co-editor of the journal North American Religion.