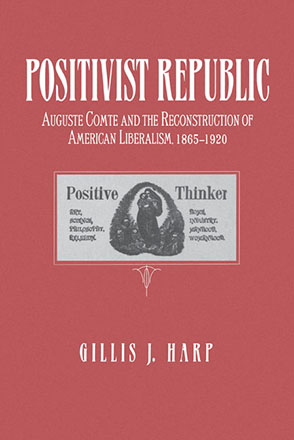 Positivist Republic
Auguste Comte and the Reconstruction of American Liberalism, 1865–1920
Gillis Harp
BUY
Positivist Republic
Auguste Comte and the Reconstruction of American Liberalism, 1865–1920
Gillis Harp
"The reconstruction of American liberalism is of enduring interest to historians. Gillis Harp gives us a truly different way of looking at it. The advantage of his interpretation is that it explains, better than earlier studies, the derivation of certain characteristics of Progressive thought such as social solidarity, state activism, professional elitism, and a dedication to the service of humanity."
Description

Reviews

Bio

Subjects
Historians have long recognized the influence of Darwinism and German idealism on late Victorian intellectual discourse. In
Positivist Republic
, Gillis Harp argues that, in America, Auguste Comte's positivism constituted another formative influence—one that has not been fully appreciated. In fact, according to Harp, Comtean positivism was critical to the transformation of Anglo-American social and political thought during the last third of the nineteenth century.
Harp identifies a thread of Comtean ideas running through the writings of Lester F. Ward, Edward Bellamy, Herbert Croly, and several lesser-known individuals, all of whom played a significant role in Gilded Age and Progressive reform. By highlighting this Comtean thread, Harp furnishes a fuller, more complex picture of the fabric of American political thought in this key transitional period and enhances our understanding of the emergence of modern, corporate liberalism by the start of the twentieth century. Although many of these individuals have received scholarly attention before, Harp is the first to study them together as a discreet community and their work as a body of discourse, thus providing fresh insights to help us understand them in their proper intellectual context.
"The reconstruction of American liberalism is of enduring interest to historians. Gillis Harp gives us a truly different way of looking at it. The advantage of his interpretation is that it explains, better than earlier studies, the derivation of certain characteristics of Progressive thought such as social solidarity, state activism, professional elitism, and a dedication to the service of humanity."
"Harp's study supplies a missing chapter in American intellectual history, and one essential to the emergence of twentieth-century liberalism. He identifies one wing of the intellectual ferment of the 1870s and 1880s, deriving from Auguste Comte, which must be understood in order to fully grasp the character of Ward's, Bellamy's, and later Progressive thought. This book bears the best marks of good intellectual history. It is important, exciting, and well-written."
Gillis J. Harp is Associate Professor of History at Acadia University.