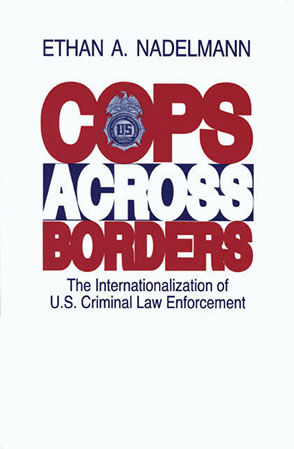 Cops Across Borders
The Internationalization of U.S. Criminal Law Enforcement
Ethan Nadelmann
Buy
Cops Across Borders
The Internationalization of U.S. Criminal Law Enforcement
Ethan Nadelmann
"Ethan Nadelmann, who has become widely known as an advocate of drug legalization, proves in this book that he is an important scholar of international law enforcement. By casting his study of law enforcement across the borders, he has broken new criminological ground. Nadelmann's study of the development of the tangled, tight, and problematic relationship between U.S. foreign policy and U.S. law enforcement will enlighten, and even fascinate, students in both areas."
Description

Reviews

Bio

Subjects
Cops Across Borders
is the first book to examine the policies and issues that lie at the intersection of U.S. foreign policy and U.S. criminal justice. Drawing on interviews with nearly 300 U.S. and foreign law enforcement officials in nineteen countries as well as extensive historical and contemporary materials, Ethan Nadelmann examines how and why U.S. law enforcement officials have extended their efforts beyond American borders, how they have dealt with the challenges confronting them, and why their efforts have proved more or less successful.
Nadelmann's analysis traces the evolution of U.S. law enforcement activities abroad since the nation's founding. During the nineteenth century, U.S. customs agents collected information on smuggling operations, naval officers tracked illegal slave trading vessels, slave owners tried to recover fugitive slaves who had fled to Canada and Mexico, Pinkerton detectives pursued fugitives and investigations around the world, and federal, state, and local authorities chased cattle rustlers, Indians, bandits, and revolutionaries across the border with Mexico. Today, U.S. federal law enforcement agents target an even greater array of crimes and criminals. The U.S. Drug Enforcement Administration (DEA), with agents stationed in about 70 foreign cities, is the principal nemesis of transnational drug traffickers. FBI agents abroad investigate terrorist attacks on U.S. citizens and interests as well as white-collar and organized crime. Customs agents focus on money laundering, high-tech smuggling, and a wide variety of frauds against the customs laws. Secret Service agents target counterfeiting. And attorneys in the Departments of State and Justice supervise the rendition of fugitives and the collection of evidence in criminal investigations.
Cops Across Borders examines how U.S. law enforcement officials have responded to the challenges of internationalization: how DEA agents have adapted to the constraints of operating in civil-law countries that prohibit many U.S.-style investigative techniques, how DEA agents have worked with and around the widespread police corruption in Latin America, and how Justice Department officials have improved their capacity to secure evidence and fugitives from foreign countries that operate according to very different legal and social norms. Like other studies of comparative law, policing, and criminal justice, this book compares the approaches and behavior of law enforcement officials in different countries; but it also goes a step beyond those studies in its analysis of how criminal justice systems interact with and are influenced by those of other states. Nadelmann argues that the internationalization of U.S. criminal law enforcement has contributed to the "Americanization" of criminal justice systems around the world.
Cops Across Borders demonstrates conclusively that the interpenetration of U.S. foreign policy and criminal justice institutions and concerns has become too substantial to be ignored by scholars any longer. It thereby breaks new ground in the study of both international relations and criminal justice. The even broader contribution of Cops Across Borders lies in its analysis of how systems devised for dealing with domestic crime respond to the demands of internationalization.
"Ethan Nadelmann, who has become widely known as an advocate of drug legalization, proves in this book that he is an important scholar of international law enforcement. By casting his study of law enforcement across the borders, he has broken new criminological ground. Nadelmann's study of the development of the tangled, tight, and problematic relationship between U.S. foreign policy and U.S. law enforcement will enlighten, and even fascinate, students in both areas."
"Like a meteorite Ethan Nadelmann has burst upon the academic scene bringing light, heat, and deep impressions. Cops Across Borders opens up a new field of inquiry and must be read by anyone concerned with U.S. foreign policy and criminal justice."
"Nadelmann's outstanding book illuminates with impressive detail a dimension of security policy about which we know far too little, the international activities of national police forces. This book opens up a new area of research for students of international relations."
Ethan A. Nadelmann is the founder and executive director of the Drug Policy Alliance. He is also the author of Policing the Globe: Criminalization and Crime Control in International Relations (2006).