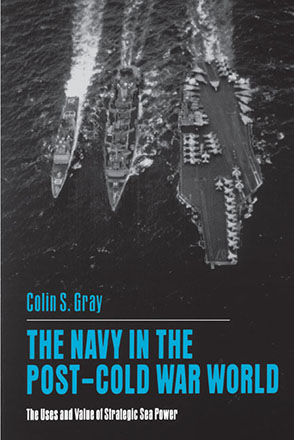 The Navy in the Post-Cold War World
The Uses and Value of Strategic Sea Power
Colin S. Gray
BUY
The Navy in the Post-Cold War World
The Uses and Value of Strategic Sea Power
Colin S. Gray
"This is must reading for real and would-be naval strategists at all levels."
Description

Reviews

Bio

Subjects
The Navy in the Post-Cold War World
is the first book to invite the reader to think strategically—that is, in means-ends terms—about the navy in the new post-Soviet era. It provides a unique synthesis of strategic theory, defense analysis, and history. Colin Gray first explains how sea power "works"; explores the strategic relationship among sea, land, and air power, with particular attention to the course of a conflict viewed as a whole; and ventures boldly into the region of the meaning of space strategy for maritime power and the relevance of that power in the still emerging post-Cold War security environment.
The Navy in the Post-Cold War World is unusual because it is written by an internationally recognized general strategic theorist and analyst rather than by a long-standing naval writer. Gray is thus better able to view naval issues in proper perspective. Gray delves deeply into the role of sea power as an enabling agent and team player in the overall enterprise of national and international security. He provides the most current assessment of what sea and space power mean for each other as well as envisioning the future of maritime-oriented defense.
"This is must reading for real and would-be naval strategists at all levels."
Colin S. Gray is Professor of International Politics and Director of the Center for Security Studies at the University of Hull and European Director of the National Institute for Public Policy (U. S.). He is the author of many books, including Weapons Don't Make War: Policy, Strategy, and Military Technology (1993) and The Leverage of Sea Power: The Strategic Advantage of Navies in War (1992). In 1987 Dr. Gray received the Distinguished Public Service Award from the U. S. Navy for his contribution to the development of maritime strategy.