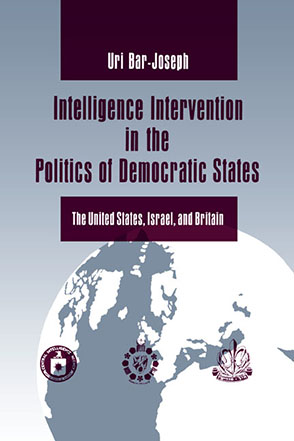 Intelligence Intervention in the Politics of Democratic States
The United States, Israel, and Britain
Uri Bar-Joseph
Buy
Intelligence Intervention in the Politics of Democratic States
The United States, Israel, and Britain
Uri Bar-Joseph
"Uri Bar-Joseph has written a fascinating and well-researched book that explores what can happen when secret intelligence services in democratic societies violate their charters and allow political zeal to overcome professional duties. His case studies alone are worth the price of the book—they explore a wealth of new material—and his section on theory should be welcome to any serious student of strategic intelligence."
Description

Reviews

Bio

Subjects
This book studies intelligence intervention in politics in the modern democratic state. In theory, intelligence work should be objective, autonomous, and free of political influence; at its best, it should be guided solely by the professional ethic of intelligence. In reality, however, unavoidable political pressures, as well as bureaucratic and personal interests, can and often do influence the conduct of intelligence work. In tracing and explaining the effects of these pressures and interests on the behavior of intelligence organizations and individuals, Uri Bar-Joseph analyzes four cases of intelligence intervention in politics: the 1961 Bay of Pigs episode; the 1954 Israeli "Unfortunate Business Affair"; the 1920 British "Henry Wilson Affair"; and the 1924 "Zinoviev Letter Affair."
"Uri Bar-Joseph has written a fascinating and well-researched book that explores what can happen when secret intelligence services in democratic societies violate their charters and allow political zeal to overcome professional duties. His case studies alone are worth the price of the book—they explore a wealth of new material—and his section on theory should be welcome to any serious student of strategic intelligence."
"Uri Bar-Joseph's research into archives in three countries is impressive. His recommendation that intelligence services should be more closely supervised by those outside the executive office will be widely supported, not least because of his new and thoughtful arguments in favor of the proposition. The book should become the authoritative work in its field, and being well-written will command a wide readership."
Uri Bar-Joseph is Assistant Professor of Political Science at the University of Haifa. He is the author of The Best of Enemies: Israel and Transjordan in the War of 1948 (1987) and coeditor (with A. Perlmutter and M. Handel) of Two Minutes Over Baghdad (1982).