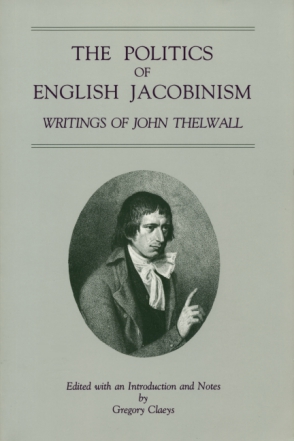 The Politics of English Jacobinism
Writings of John Thelwall
Edited by Gregory Claeys
Buy
The Politics of English Jacobinism
Writings of John Thelwall
Edited by Gregory Claeys
"This book is a valuable addition to available original texts and has a place on the bookshelf of every serious student of British politics in the eighteenth and nineteenth centuries."
Description

Reviews

Bio

Subjects
After Thomas Paine fled to France in 1792, John Thelwall was the most important leader of working-class radicalism in Britain. According to one observer, he was "one of the boldest political writers, speakers, and lecturers of his time." But his contribution to social and political thought has been underappreciated by modern historians of political thought.
In this volume, Gregory Claeys attempts to restore Thelwall to his rightful place by reproducing for the first time his major political writings: The Natural and Constitutional Rights of Britons, the Tribune writings, Sober Reflections on the Seditious and Inflammatory Letter of the Rt. Hon. Edmund Burke to a Noble Lord, and The Rights of Nature, Against the Usurpations of Establishments. These works tell us much about the 1790s reform movement in Britain. They also show the innovation of Thelwall's thought, which began to move in directions quite dissimilar from his better-known compatriots like Paine. Thelwall's emphasis on the poor and the means by which the working classes received a just reward for their labor were to be central themes in the radical movement of the following century.
"This book is a valuable addition to available original texts and has a place on the bookshelf of every serious student of British politics in the eighteenth and nineteenth centuries."
"Perhaps never more than now have we needed to revisit the radical voices in the Anglo-American tradition. Thelwall's ringing defense of the poor and their natural and constitutional rights is a landmark in the history of democracy and is as challenging to the politics of the 1990s as it was to the 1790s."
"John Thelwall is as significant as Thomas Paine in challenging us to understand how eighteenth-century radical republicanism came in some cases to be transformed into nineteenth-century working-class socialism. Precisely because the era of the latter seems now to be coming to a close, we are in need of an enhanced understanding of its history, and this is why Claeys is an important historian and Thelwall a significant figure."
Gregory Claeys is Professor of the History of Political Thought at the University of London. His books include Thomas Paine: Social and Political Thought (1989) and Citizens and Saints: Politics and Anti-Politics in Early British Socialism (1989), and he is the editor of The Works of Robert Owen (1993).
Mailing List
Subscribe to our mailing list and be notified about new titles, journals and catalogs.