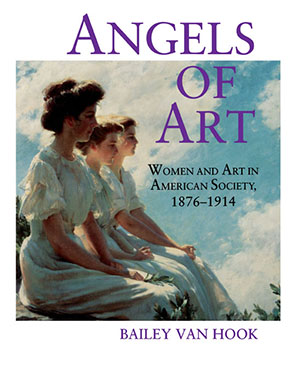 Angels of Art
Women and Art in American Society, 1876–1914
Bailey Van Hook
Buy
Angels of Art
Women and Art in American Society, 1876–1914
Bailey Van Hook
"Angels of Art is a fascinating examination of how images of women have functioned in the ongoing construction of a national identity. Well illustrated, it reads like an adventure story."
Description

Reviews

Bio

Subjects
Images of women were ubiquitous in America at the turn of the last century. In painting and sculpture, they took on a bewildering variety of identities, from Venus, Ariadne, and Diana to Law, Justice, the Arts, and Commerce. Bailey Van Hook argues here that the artists' concepts of art coincided with the construction of gender in American culture. She finds that certain characteristics such as "ideal," "beautiful," "decorative," and "pure" both describe this art and define the perceived role of women in American society at the time.
Most late nineteenth-century American artists had trained in Paris, where they learned to use female imagery as a pictorial language of provocative sensuality. Van Hook first places the American artists in an international context by discussing the works of their French teachers, including Jean-Léon Gérôme and Alexandre Cabanel. She goes on to explore why they soon had to distance themselves from that context, primarily because their art was perceived as either openly sensual or too obliquely foreign by American audiences. Van Hook delineates the modes of representation the American painters chose, which ranged from the more traditional allegorical or mythological subjects to a decorative figure painting indebted to Whistler. Changing American culture ultimately rejected these idealized female images as too genteel and, eventually, too academic and European.
Angels of Art is the first study to discuss the predominance of images of women across stylistic boundaries and within the wider context of European art. It relies heavily on contemporary sources both to document critical responses and to find intersecting patterns in attitudes toward women and art.
"Angels of Art is a fascinating examination of how images of women have functioned in the ongoing construction of a national identity. Well illustrated, it reads like an adventure story."
"In her superb study, Van Hook works simultaneously as art and cultural historian, chronicling the preoccupation with the female figure in post–Civil War art on the part of a new generation of cosmopolitan, European-trained artists. Taking turn-of-the-century writings by artists, popular journalists, art critics, and historians as her guide, the author analyzes what these works meant to their audiences and how they shaped the notion of the feminine. She argues that the prevailing definitions of 'art' and 'culture' in the Gilded Age were analogous to the construction of the feminine gender, resulting in the 'inevitable' dominance of ideal images of women."
Bailey Van Hook is Associate Professor of Art History at Virginia Polytechnic Institute and State University.
Mailing List
Subscribe to our mailing list and be notified about new titles, journals and catalogs.