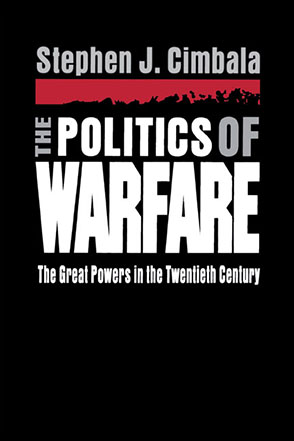 The Politics of Warfare
The Great Powers in the Twentieth Century
Stephen Cimbala
Buy
The Politics of Warfare
The Great Powers in the Twentieth Century
Stephen Cimbala
"Cimbala has written a penetrating analysis of the relationship between politics and war."
Description

Reviews

Bio

Subjects
The twentieth century is often described as a century of total war, ranging from the two World Wars to countless civil wars and terrorist conflicts. As the century draws to a close, Stephen J. Cimbala wonders how the nature of warfare has changed over the years. His starting point is a simple observation by Carl von Clausewitz, the great Prussian philosopher of war, that wars are inseparable from politics.
The Politics of Warfare
explores how Clausewitz stands up against the historic experience of our century and anticipates what we might expect as we enter the next.
Cimbala admits that wars are still political creatures, but he argues that they are often politicized in ways that Clausewitz did not foresee. Among the wars Cimbala singles out for study are the two World Wars, the Cold War, Vietnam, and the Gulf War. He considers the roles of intelligence, special operations, and military persuasion. He draws mainly, though not entirely, on U.S. experience. Overall, The Politics of Warfare suggests that wars of the largest and smallest kind are the most subject to political and military distortion; wars of intermediate scope and stake are more likely to be fought within a proper frame of civil and military reference
.Written by a seasoned observer of military strategy, The Politics of Warfare questions many assumptions about the nature of war. Cimbala's conclusions gain added significance in the confused terrain of our post–Cold War world.
"Cimbala has written a penetrating analysis of the relationship between politics and war."
"An impressive and far-reaching study of force and policy in the twentieth century."
"This is one of the best analyses of the relationship between war and politics in the twentieth century. Applying Clausewitzian concepts to major issues, Cimbala provides a masterful study covering a wide span from World War I through the current period. This is not a military history, but an analytical study of critical issues of war and politics. It is unsurpassed in its analysis and insights and should be required reading for those concerned with the nature of war, conflict, and their political ramifications, and how all this may affect the United States."
Stephen J. Cimbala is Professor of Political Science at Penn State University, Delaware County Campus. He is the author also of Military Persuasion: Deterrence and Provocation in Crisis and War (Penn State, 1994).