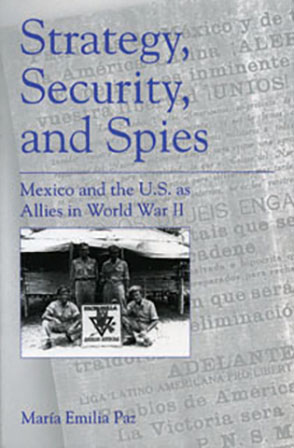 Strategy, Security, and Spies
Mexico and the U.S. as Allies in World War II
María Emilia Paz
Buy
Strategy, Security, and Spies
Mexico and the U.S. as Allies in World War II
María Emilia Paz
"María Emilia Paz has written a compelling, informative, and scholarly assessment of a crucial period in Mexican-American relations. Her eloquent and meticulous analysis opens the door for further research on general and specialized topics. Scholars of Latin American studies; military, diplomatic, or economic history; international relations or political science; or whose interests encompass American culture, or are more focused—say on espionage, propaganda, or submarines—will find significant, well-documented discussions based upon primary source materials. Latin America's unique relationships with the United States during the Cold War are also placed into a clearer perspective by reading this volume."
Description

Reviews

Bio

Subjects
Faced with the possibility of being drawn into a war on several fronts, the United States sought to win Mexican support for a new strategy of Hemispheric Security, based on defense collaboration by governments throughout the Americas. U.S. leaders were concerned that Mexico might become a base for enemy operations, a scenario that, given the presence of pro-Axis lobbies in Mexico and the rumored fraternization between Mexico and Germany in World War I, seemed far from implausible in 1939–41.
Strategy, Security, and Spies tells the fascinating story of U.S. relations with Mexico during the war years, involving everything from spies and internal bureaucratic struggles in both countries to all sorts of diplomatic maneuverings. Although its focus is on the interactions of the two countries, relative to the threat posed by the Axis powers, a valuable feature of the study is to show how Mexico itself evolved politically in crucial ways during this period, always trying to maintain the delicate balance between the divisive force of Mexican nationalism and the countervailing force of economic dependency and security self-interest.
"María Emilia Paz has written a compelling, informative, and scholarly assessment of a crucial period in Mexican-American relations. Her eloquent and meticulous analysis opens the door for further research on general and specialized topics. Scholars of Latin American studies; military, diplomatic, or economic history; international relations or political science; or whose interests encompass American culture, or are more focused—say on espionage, propaganda, or submarines—will find significant, well-documented discussions based upon primary source materials. Latin America's unique relationships with the United States during the Cold War are also placed into a clearer perspective by reading this volume."
"This minor criticism aside, this is an important, well-researched study that deserves the attention of both academics and general reader interested in the wartime experience in the Americas."
"By showing just how difficult it was for Mexicans to collaborate with the US during a period in which both countries were ostensibly military allies, Paz has made a substantial contribution to our collective understanding of U.S.-Mexican relations."
"This is an important addition to a significant emerging scholarly literature that portrays Latin American governments as actors rather than victims in international politics. Specialists in the history of intelligence, World War II, and inter-American relations will find the book useful and interesting."
"Relations between the United States and Mexico during World War II are little known even to historians of that period. María Emilia Paz, an independent scholar who has a doctorate from the London School of Economics, has produced a much-needed work. . . . This book should find its place in the literature dealing with hemispheric activities during World War II. It will appeal to academics and others interested in Mexican-American relations."
"With Strategy, Security, and Spies, Paz has written an important work that sheds new light on the complex relationship between Mexico and the United States between 1940 and 1945. . . . Paz's research on bilateral military cooperation between the United States and Mexico is ground-breaking. Her book is a delight to read and serves as an ideal text for undergraduate courses as well as graduate seminars. . . . Strategy, Security, and Spies is a must read for any scholar of Mexican domestic and foreign affairs in the 1940s."
"This is a carefully crafted work that exploits newly available materials from the files of the CIA, FBI, NSA, and U.S. Army and Navy intelligence. It is an insightful analysis of the factors that hampered effective cooperation between Mexico and the United States during the Second World War. The eye-opening story that Dr. Paz relates will inform even specialists in the field."
María Emilia Paz, who has a doctoral degree from the London School of Economics, is an independent scholar who prepared this book with the aid of a grant from the MacArthur Foundation.
Mailing List
Subscribe to our mailing list and be notified about new titles, journals and catalogs.