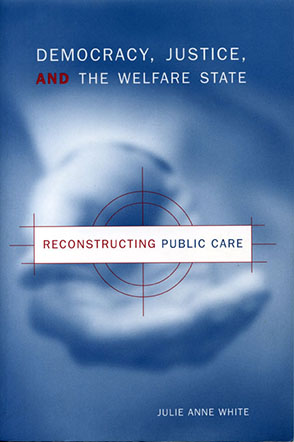 Democracy, Justice, and the Welfare State
Reconstructing Public Care
Julie Anne White
BUY
Democracy, Justice, and the Welfare State
Reconstructing Public Care
Julie Anne White
"This is an extremely clear, thoughtful, and sophisticated treatment of a range of issues surrounding the relationships among care, needs, justice, and democracy. It is a discussion that is informed by two case studies, but its major focus is upon the kinds of conceptual conclusions to which a consideration of these experiences directs our attention. Julie Anne White seeks to relocate the idea of care (away from the 'independent' rights-bearing individual) upon terrain where it is not vulnerable to the critique of neoliberals. But, at the same time, she resists certain conventional formulations of needs and of justice as (impartial) fairness—formulations that tend to devalue actors' own accounts of their needs and, with it, their autonomy. Her appeal is to reconstruct care on the model of dialogic and discursive democracy."
Description

Reviews

Bio

Subjects
The commitment to "end welfare as we know it" shaped public policy in the 1990s. Analysts all seemed to agree that public welfare programs were a resounding failure. What should better public care look like?
Democracy, Justice, and the Welfare State sets up a dialogue between work on the ethic of care and studies of public care in practice. White argues that care as it is currently institutionalized often both assumes and perpetuates dependency and so paternalistic relationships of authority. Better public care requires that such paternalistic practices be challenged. Care appropriate to a democratic context must itself be a democratic practice.
"This is an extremely clear, thoughtful, and sophisticated treatment of a range of issues surrounding the relationships among care, needs, justice, and democracy. It is a discussion that is informed by two case studies, but its major focus is upon the kinds of conceptual conclusions to which a consideration of these experiences directs our attention. Julie Anne White seeks to relocate the idea of care (away from the 'independent' rights-bearing individual) upon terrain where it is not vulnerable to the critique of neoliberals. But, at the same time, she resists certain conventional formulations of needs and of justice as (impartial) fairness—formulations that tend to devalue actors' own accounts of their needs and, with it, their autonomy. Her appeal is to reconstruct care on the model of dialogic and discursive democracy."
"Once we recognize that care is an important political concern, we face the question: what makes some forms of public care better than others? In this book, Julie White, through a series of excellent case studies, argues for public care that is democratic and non-paternalistic. She makes an important contribution to the evolving feminist ethics of care in describing essential political values for public care."
"This book works well for students, other academics, and practitioners interested in welfare policy, particularly for those with political theory background."
Julie Anne White is Assistant Professor of Political Science at Ohio University. Her articles have appeared in Law and Social Inquiry, Education Evaluation and Policy Analysis, and Journal of Politics.
Also of Interest
Mailing List
Subscribe to our mailing list and be notified about new titles, journals and catalogs.