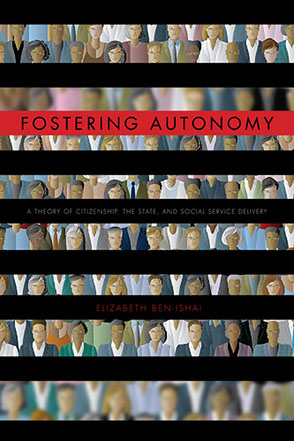 Fostering Autonomy
A Theory of Citizenship, the State, and Social Service Delivery
Elizabeth Ben-Ishai
BUY
Fostering Autonomy
A Theory of Citizenship, the State, and Social Service Delivery
Elizabeth Ben-Ishai
"Elizabeth Ben-Ishai's work speaks in important ways both to normative theories of the liberal state and to ongoing conversations about the design and implementation of public policy. Her work reconstructs a notion of autonomy, usefully positioning this centerpiece of liberal commitments not as a mere bulwark against the state but as a kind of standard by which we can assess which forms of state interventions are quite compatible, and perhaps even required, in order to foster autonomy. Ben-Ishai's work is conceptually sophisticated and commendably ambitious."
Description

Reviews

Bio

Table of Contents

Sample Chapters

Subjects
In
Fostering Autonomy
, Elizabeth Ben-Ishai explores the role of the state in fostering autonomy in vulnerable citizens—such as people who are addicted to drugs, domestic violence survivors, welfare recipients, and undocumented immigrants—through social service delivery. Building on a feminist conception of "relational" autonomy, the book draws on empirical examples of service delivery to generate a rich theoretical account of the autonomy-fostering state.
Ben-Ishai's analysis focuses on four case studies. The first two cases, on "New Paternalist" programs and welfare policies for immigrants, present examples of programs and policies that fail to foster autonomy. This is in part because they are premised upon flawed notions of the autonomous individual and its relationship to the state. The second two cases, on services for domestic violence survivors and harm-reduction services for people who use drugs, turn the preceding autonomy-fostering failures on their head, pointing to unique instances of services that effectively enable autonomy. These cases demonstrate the ways government services shape citizens' abilities to live autonomously—"to pursue their own ends or life plans."
"Elizabeth Ben-Ishai's work speaks in important ways both to normative theories of the liberal state and to ongoing conversations about the design and implementation of public policy. Her work reconstructs a notion of autonomy, usefully positioning this centerpiece of liberal commitments not as a mere bulwark against the state but as a kind of standard by which we can assess which forms of state interventions are quite compatible, and perhaps even required, in order to foster autonomy. Ben-Ishai's work is conceptually sophisticated and commendably ambitious."
"Elizabeth Ben-Ishai's book makes an important and illuminating contribution to the literature on the social and political dimensions of autonomy. By showing how the state can either foster or impair autonomy through social welfare service delivery, Fostering Autonomy adds considerable empirical depth to theoretical debates about relational autonomy."
"In this superb and timely analysis, Elizabeth Ben-Ishai explains why states should strive to foster autonomy and how social service systems can be used to pursue this goal. Blending theoretical insights with careful empirical observations, Ben-Ishai challenges us to rethink our conceptions of citizenship, autonomy, and the state. Her relational approach yields a powerful critique of prevailing assumptions and practices. It also provides valuable conceptual resources for thinking about where we should go from here."
"The most striking thing about Elizabeth Ben-Ishai's book is the way she skillfully moves between the conceptual and the concrete, using theory to reflect upon the implications of public policy and using studies of public policy implementation to build and rebuild theory. In doing this, Fostering Autonomy brings together two concerns that have long occupied feminist and democratic theorists: autonomy and the role of the state. . . . [Ben-Ishai's] attention to the lived experience of individuals as they engage with the state is a wonderful example of practical political theorizing that has the potential to expand and enrich democratic politics for us all."
Elizabeth Ben-Ishai is Assistant Professor of Political Science at Albion College.
Contents
Acknowledgments
1 Introduction
2 Toward a Revised Conception of Social Citizenship: An Autonomy-Focused Model
3 The New Paternalism: Rethinking State Intervention and Autonomy
4 Taking Responsibility: PRWORA's Limits to Immigrant Access
5 "Coordinated Fragmentation" and Domestic Violence Services
6 Embodied Recognition, Ascriptive Autonomy, and Harm Reduction
7 Conclusion
Notes
Bibliography
Index
Also of Interest
Mailing List
Subscribe to our mailing list and be notified about new titles, journals and catalogs.