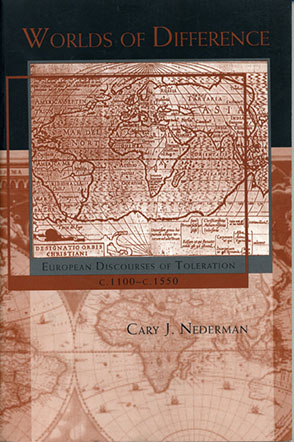 Worlds of Difference
European Discourses of Toleration, c. 1100–c. 1550
Cary J. Nederman
Buy
Worlds of Difference
European Discourses of Toleration, c. 1100–c. 1550
Cary J. Nederman
"This is a superb book that finds toleration where most deny that it exists—in the Middle Ages. Nederman not only finds toleration in this 'monolithically intolerant' period, but demonstrates the various sources of medieval theories of toleration: Abelard's and Llull's faith in interreligious dialogue, John of Salisbury's skepticism, William of Rubruck's view of a multi-religious empire, Marsiglio of Padua's conception of the secular state, Nicholas of Cusa's acceptance of ritual heterogeneity based on national difference, and Barolome de la Casas's Ciceronian rationalism. By focusing on medieval theories of toleration, Worlds of Difference complements other works that begin their study of toleration from the Renaissance or beyond. Nederman's book will be required reading for all who want a complete view of the history of toleration. It is bound to be the authoritative work on medieval ideas of toleration for a long time to come."
Description

Reviews

Bio

Subjects
Toleration has become a keystone of liberal political philosophy, but with liberalism under attack today as inadequate for dealing with all the problems of a pluralistic world, other resources are needed. Cary Nederman directs our attention to the creative thinking about toleration that preceded the rise of liberalism and canvasses the diverse ideas proposed then within Christianity as a response to religious, cultural, national, and ethnic differences.
"This is a superb book that finds toleration where most deny that it exists—in the Middle Ages. Nederman not only finds toleration in this 'monolithically intolerant' period, but demonstrates the various sources of medieval theories of toleration: Abelard's and Llull's faith in interreligious dialogue, John of Salisbury's skepticism, William of Rubruck's view of a multi-religious empire, Marsiglio of Padua's conception of the secular state, Nicholas of Cusa's acceptance of ritual heterogeneity based on national difference, and Barolome de la Casas's Ciceronian rationalism. By focusing on medieval theories of toleration, Worlds of Difference complements other works that begin their study of toleration from the Renaissance or beyond. Nederman's book will be required reading for all who want a complete view of the history of toleration. It is bound to be the authoritative work on medieval ideas of toleration for a long time to come."
"Nederman's work explicitly challenges the conventional view that theories of religious toleration are a distinctively modern product, usually described as a pragmatic adjustment to the fact of religious diversity and/or a theoretical byproduct of the emergence of liberalism. The study is original, thoughtful, and based on the author's detailed knowledge of the sources and the secondary scholarship. [The interested audience would include medievalists, historians of political theory, and those interested in the historical origins of human rights and the justification of religious freedom.]"
"Nederman succeeds admirably in demonstrating that medieval attitudes to religious pluralism were considerably more diverse and nuanced than crude stereotypes would suggest. . . . Worlds of Difference is a major contribution to the study of both medieval thought and the history of toleration."
"In the wake of the tragic events of 11 September 2001, and given the present rift between Muslims and Christians as well as between Israelis and Palestinians, this book provides a forum for both historical and contemporary reflection on the sociopolitical and religious dimensions of toleration. Cary J. Nederman takes up a familiar problem in this book, yet by challenging deeply entrenched stereotypes of the medieval Christian world view his work makes a significant and lasting contribution to our understanding of European discourses of toleration. . . . This book should be read by a wider audience than just specialists in medieval and early modern history, for it is neither a work of mere presentism nor a rehashing of antiquarian political thought. The overall value of Nederman's work is its relevance to the present world crisis between the West and the Arab world, between exclusion and toleration within pluralistic societies, and between modernity and religious tradition across the planet."
"Despite these limitations, this book makes important contributions both to our understanding of the figures surveyed here and to the ongoing study of the history of toleration."
"This is an appealing and clearly written account of how European thinkers from late medieval to early modern times reflected upon and explored the question of what to do about people of different religions and cultures."
"Nederman has, nevertheless, given us a work that is stimulating well worth reading. There is much more in it than can be contained in a review."
"Nederman is among this generation's most insightful and prolific scholars of the history of political ideas. His scholarship includes fresh translations of several important medieval works, studies of John of Salisbury and Marsiglio of Padua, and essays on economics, mirror literature, and Aristotelianism; all considered by many to be essential reading in the field. Worlds of Difference is no exception. It provides a sophisticated overview of ideas about tolerance in Europe from 1100 to 1550, and complements his earlier work with John Christian Laursen on this subject."
Cary J. Nederman is Associate Professor of Political Science at the University of Arizona. His most recent books include Three Tracts on Empire: Engelbert of Admont, Aeneas Silvius Piccolomini, and Juan de Torquemada (co-edited and co-translated with T. M. Izbicki) (1999) and Beyond the Persecuting Society: Religious Toleration Before the Enlightenment (co-edited with J. C. Laursen) (1998).