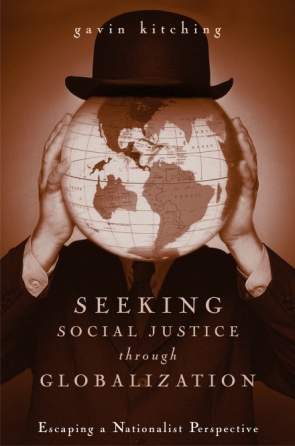 Seeking Social Justice Through Globalization
Escaping a Nationalist Perspective
Gavin Kitching
BUY
Seeking Social Justice Through Globalization
Escaping a Nationalist Perspective
Gavin Kitching
"Gavin Kitching provides a readable argument about what the left should like about globalization and why most left critiques misunderstand the consequences of trade. He ably combines solid economic analysis and normative arguments into a revealing commentary on the post-Seattle world."
Description

Reviews

Bio

Sample Chapters

Subjects
As demonstrations at meetings of world economic leaders have dramatically shown, the "globalization" of the world economy is now a subject of heated political debate. Generally supported for its positive benefits by neoliberals and attacked for its negative repercussions by the left, it is a multifaceted phenomenon, and even the term is much in dispute as both academic experts and political activists tend to define it in ways that best support their own biases.
In this book, Gavin Kitching is not interested so much in providing new information about globalization as an economic and social process as he is in clarifying how globalization is to be understood and evaluated as a "good" or "bad" thing. Central to his argument is that a proper evaluation requires historical self-awareness, both of the historical background of globalization itself and of the historical origins of the very norms by which such evaluations are made.
Unusual for a book written from a leftist perspective, Seeking Social Justice Through Globalization argues that those who care for social justice should seek more globalization, not try to prevent its development or roll it back. In his "modified Ricardian" analysis, Kitching warns especially about the constraints that the inherited discourse of economic and cultural nationalism places on the full potential of globalization to improve the welfare of poor people, which is his principal concern.
"Gavin Kitching provides a readable argument about what the left should like about globalization and why most left critiques misunderstand the consequences of trade. He ably combines solid economic analysis and normative arguments into a revealing commentary on the post-Seattle world."
"In the chase for understanding globalization, this book cuts to the quick. It addresses: What are the propellants of globalization? How to diminish the harms caused by this powerful force and turn it to advantage? Readers may not agree with Kitching's provocative argument but will certainly gain from grappling with it."
"The debate on globalization is polarized between free-market champions and left wing (or nationalist) critics. This book breaks through the polemical divide by offering a defense of globalization from a leftist perspective. Kitching argues that the left has failed to understand the costs and benefits of trade and global economic integration."
"In short, Kitching offers readers a well-argued yet controversial explanation of why leftists should engage globalization."
"Although his ideas are controversial, Kitching's arguments cannot be dismissed easily, and it is safe to say that no one will put this book down without rethinking at least some of their beliefs about global capitalism, inequality, and world poverty.
This book speaks more sensibly about globalization than any existing book-length treatment of this issue. Seeking Social Justice Through Globalization will inspire many and irritate some—but all will agree that it is a great read."
"Kitching has performed a valuable service in calling for an 'anti-nationalist left politics.' What he has gotten profoundly right is that as globalization proceeds, we will have to adjust our sights increasingly away from the national to the international if our search for justice is to be fruitful. Kitching's call to consider the interests of everyone, not just those who share nationality, is a challenge that will assume enhanced importance with the passage of time. That alone should make Kitching's book required reading for all who would take seriously their commitment to a moral social order in an age of increased international economic integration."
"Gavin Kitching has been a fascinating and original writer on the left for many years, looking at problems of development and underdevelopment and of Marxist epistemology. Seeking Social Justice Through Globalization is the best and most innovative book on globalization I have yet read. As the baseball analogy would have it, Kitching 'comes out of left field' with an argument that I have not previously seen but have expected sooner or later to find in some version or another. Kitching brings it off brilliantly—with one caveat, as explained below. I will certainly want to use this book as a core textbook for my intermediate-level course on The Politics of Globalization (especially as it is available in paperback)."
Gavin Kitching is Associate Professor of Political Science at the University of New South Wales in Australia. His books include Marxism and Science (Penn State, 1994).
Mailing List
Subscribe to our mailing list and be notified about new titles, journals and catalogs.