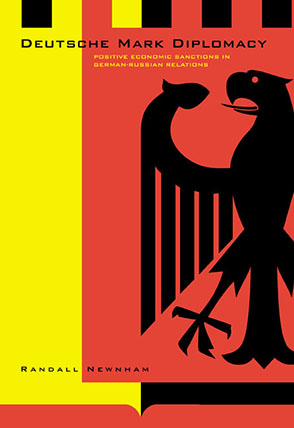 Deutsche Mark Diplomacy
Positive Economic Sanctions in German-Russian Relations
Randall E. Newnham
Buy
Deutsche Mark Diplomacy
Positive Economic Sanctions in German-Russian Relations
Randall E. Newnham
"This will be the best study to date in political economy of the German-Russian economic relationship. The chapters on the Cold War settlement and after will likely be the principal point of reference for scholars working in this area. The book also makes a careful and persuasive case for the power of positive economic sanctions and, in that way, contributes significantly to the revival of scholarly interest in that form of economic state craft."
Description

Reviews

Bio

Table of Contents

Sample Chapters

Subjects
Whether economic sanctions work at all, and how they work if they do, are questions that have long been debated by scholars of international relations. Using a new analytic approach, which distinguishes between positive and negative sanctions and between specific and general sanctions, this book aims both to demonstrate the importance of economic linkage and to explain the variety of forms it can take.
Deutsche Mark Diplomacy draws support for its theoretical arguments from a careful study of Germany's efforts to gain political leverage over Russia via economic means from 1870 into the 1990s. Focusing on two major powers over a long period, during which regimes changed and issues varied, Randall Newnham finds strong evidence to show that positive forms of linkage such as foreign aid and trade or credit incentives are more effective than negative types such as embargoes. His book significantly expands our understanding of the role played by economic sanctions in international politics at the same time that it offers a more systematic way of explaining German foreign policy.
"This will be the best study to date in political economy of the German-Russian economic relationship. The chapters on the Cold War settlement and after will likely be the principal point of reference for scholars working in this area. The book also makes a careful and persuasive case for the power of positive economic sanctions and, in that way, contributes significantly to the revival of scholarly interest in that form of economic state craft."
"This book raises important questions about the role of economic linkage and economic incentives that have been under-addressed in the fields of international political economy, international relations, and comparative politics. These questions will be of interest to a broad set of scholars in those fields as well as scholars more generally interested in power, wealth and economic development, and strategic interaction. This study also provides a wide-ranging and detailed discussion of German-Russian relations that should be welcomed by comparativists and regional experts."
"Ambitious and finely written."
"The book is clearly written and sensibly organized with an introductory chapter, which also serves as a conceptual chapter, four empirical chapters presenting the history of German foreign economic policy toward Russia in chronological order, and a conclusion that summarizes the findings and their relevance to the literature on economic sanctions. The story is an engrossing one of an evolving interdependence between two adversaries. Although many scholars have investigated the utility of positive sanctions, none have done so in the important context of German-Soviet relations."
"Newnham's study lives up to the complexity of economic relations, where causal relationships are often hard to untangle. Moreover, he never loses sight of the fact that economics is ultimately tied to politics and matters of military security. This theoretically and historically sound study will be essential reading for scholars of IR, IPE, and regional experts."
Randall E. Newnham is Associate Professor of Political Science at Penn State Berks–Lehigh Valley College.
CONTENTS
1. INTRODUCTION AND THEORY
2. GERMAN-RUSSIAN AND GERMAN-SOVIET RELATIONS BEFORE 1945
3. 1945–1987: THE CHILL OF THE COLD WAR
4. SETTING THE STAGE FOR REUNIFICATION: 1987–1990
5. REUNIFICATION AND AFTER
6. CONCLUSION
APPENDIX: TRADE STATISTICS
BIBLIOGRAPHY AND LIST OF INTERVIEWS
INDEX
INTRODUCTION AND THEORY
It has often been said that Germany is an "economic giant and a political dwarf." However, this is clearly untrue; when a country is an economic giant it will inevitably be a political giant as well.
In 1945, Albert Hirschman published his classic study on the manipulation of trade to gain security advantages, State Power and the Structure of Foreign Trade. Hirschman's primary case study was Germany's economic manipulation of Eastern Europe in the 1930s. He showed that Germany was able to exploit its strength in trade and technology to pave the way for its military conquests in the Second World War. While today's Germany does not seem to share the expansionist objectives of that era, as in the 1930s it is clearly the most important economic force in the region. Perhaps the most dramatic recent demonstration of this power took place when German economic aid played a major role in securing Moscow's consent for German reunification, as will be detailed later in this book. Indeed, as this study will show, Germany's relationship with its eastern neighbors, such as Russia and the USSR, has always presented itself as a striking example of the role of economic power in gaining political and security advantages in international relations. Thus these relations can serve as a rich case field for testing new theories of economic statecraft.
This book will make two major theoretical points. First, it will show that economic statecraft is far more common in international affairs than many theorists have believed. It will do this by developing the new concepts of specific and general economic linkage. Specific linkage—the only kind studied by most authors—involves a state directly linking economic actions to a political demand on a target state. Yet states also frequently employ general economic linkage, using economic aid or penalties to influence a country in a general way—strengthening friends, weakening enemies, and conditioning either to respond to some future political demand. This second common type of economic statecraft is ignored by much of the existing literature on economic sanctions. Additionally, as we shall see, both of these types of linkage can be accomplished by using dozens of different economic instruments, ranging from trade and investment sanctions to foreign aid to indirect aid through multilateral organizations. Only by conceptualizing linkage in this broad way, encompassing both specific and general types and many different types of instruments, can we see how truly important it is in world affairs. This represents a significant improvement over many existing works on economic linkage which focus narrowly on one type of linkage and one economic instrument.
The second, and even more important theoretical contribution of this work is to test the relative effectiveness of positive and negative economic sanctions. Surprisingly, to date no major study has attempted to make this seemingly obvious comparison. For both theoretical and policy reasons it is absolutely vital to compare positive and negative sanctions. The area of positive sanctions remains under-theorized, as many authors have pointed out. Indeed, even many current authors continue to debate the efficacy of sanctions by referring only to negative instruments, completely neglecting the vast array of positive inducements which states can employ. It is not surprising, then, that in their recent work Cortright and Lopez note that their "most important" conclusion is that positive sanctions may be more useful than many believe, and that "analysts should investigate the relative effectiveness of [negative] sanctions as compared with other instruments, including their inverse, economic incentives." This work will be the first to attempt to meet that challenge. The frequent neglect by theorists is especially surprising when one can open any major newspaper and see daily report of states using many types of positive economic linkage, from traditional development assistance to politically-motivated trade treaties and investment agreements. Clearly policymakers have great faith in the efficacy of positive sanctions. This study will attempt to show why.