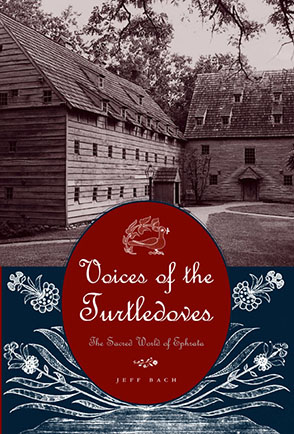 Voices of the Turtledoves
The Sacred World of Ephrata
Jeff Bach
BUY
Voices of the Turtledoves
The Sacred World of Ephrata
Jeff Bach
"Where numerous scholars failed in past centuries to write a definitive work about Ephrata Cloister during its peak years as an ethnic, religious, and cultural curiosity in America, Jeff Bach successfully articulates the context in which Ephrata was created and functioned. His research is grounded in thorough knowledge of the European religious thought, practice, and writing that heavily influenced Ephrata's founder and spiritual leader, Conrad Beissel."
Media

Description

Reviews

Bio

Table of Contents

Sample Chapters

Subjects
Winner of the 2005 Outstanding Publication Award from the Communal Studies Association Winner of the 2004 Dale W. Brown Book Award for Outstanding Scholarship in Anabaptist and Pietist Studies
Winner, 2004 Dale W. Brown Book Award for Outstanding Scholarship in Anabaptist and Pietist Studies
Winner, 2005 Outstanding Publication, Communal Studies Association
Co-published with the Pennsylvania German Society/Vandenhoeck & Ruprecht
The Ephrata Cloister was a community of radical Pietists founded by Georg Conrad Beissel (1691–1768), a charismatic mystic who had been a journeyman baker in Europe. In 1720 he and a few companions sought a new life in William Penn's land of religious freedom, eventually settling on the banks of the Cocalico Creek in what is now Lancaster County. They called their community "Ephrata," after the Hebrew name for the area around Bethlehem. Voices of the Turtledoves is a fascinating look at the sacred world that flourished at Ephrata.
In Voices of the Turtledoves, Jeff Bach is the first to draw extensively on Ephrata's manuscript resources and on recent archaeological investigations to present an overarching look at the community. He concludes that the key to understanding all the various aspects of life at Ephrata—its architecture, manuscript art, and social organization—is the religious thought of Beissel and his co-leaders.
"Where numerous scholars failed in past centuries to write a definitive work about Ephrata Cloister during its peak years as an ethnic, religious, and cultural curiosity in America, Jeff Bach successfully articulates the context in which Ephrata was created and functioned. His research is grounded in thorough knowledge of the European religious thought, practice, and writing that heavily influenced Ephrata's founder and spiritual leader, Conrad Beissel."
"Bach uses the unique, mystical language of Ephrata to present a comprehensive view of this sacred community."
"Bach (Bethany Theological Seminary) has mastered the primary sources—many are in German—and deciphered the religious language and images of Ephrata's extensive devotional literature, letters, hymns, and art. The author's narrow focus on interpreting the religious language of Ephata will limit interest in this monograph to advanced students and scholars."
"Jeff Bach allows us to understand the ingredients of Ephrata's theology and challenges us to explore how these particular Protestant Pietists fit into the religious smorgasbord that was colonial Pennsylvania. Voices of the Turtledoves answers many questions and raises still more."
"No one, however, has set out the community's history or illuminated its ideological basis and coherence nearly as well as Bach has. This book will be the standard work on the subject for decades to come, and it constitutes an important contribution to scholarship in American religious history and the history of intentional communities."
"The virtues of Bach's book are considerable; however, its chief value is in providing a solid intellectual history of the Ephratan experiment. Bach's clear understanding of the tenets of mysticism and of Boehmist thought allows him to explain elements of Ephratan life and thought which would otherwise be unexplainable."
"For the serious student of colonial Pennsylvania, the Brethren movement, communal societies, or Pietism in early America, Bach's work is essential reading. The excellent bibliographical essay alone (pp. 197-217) makes it indispensable for academic libraries."
"Bach's book is a hard read, but not because he does not handle his subject deftly and with competence. Rather, as Beissel's successor Peter Miller observed about the mystical language of Ephrata, 'Those who speak it are hard to understand.' Thanks to Bach, their voices (likened as they are to the cooing of turtledoves) become much more intelligible."
Jeff Bach is Associate Professor of Brethren and Historical Studies at Bethany Theological Seminary. During the summer of 1995, he served as Scholar in Residence at the Ephrata Cloister.
Contents
List of Illustrations
Acknowledgments
Abbreviations
Prelude
Introduction
1. The Religious Thought of Ephrata: Conrad Beissel
2. The Religious Thought of Ephrata: Other Writers
3. "Holy Church Practices": Ritual at Ephrata
4. Manly Virgins and Virginal Men: Gender at Ephrata
5. "God's Holy Point of Rest": Ephrata's Mystical Language in Space and Time
6. Roses in the Wilderness: Ephrata's Manuscript Art
7. "Heavenly Magic": Hidden Knowledge at Ephrata
Epilogue
Bibliographical Essay
Notes
Index
Mailing List
Subscribe to our mailing list and be notified about new titles, journals and catalogs.