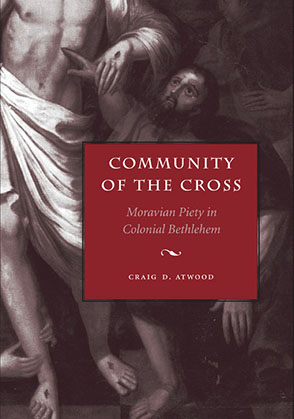 Community of the Cross
Moravian Piety in Colonial Bethlehem
Craig D. Atwood
BUY
Community of the Cross
Moravian Piety in Colonial Bethlehem
Craig D. Atwood
"This excellent religious history supplements earlier books that focus on the social history of early Bethlehem. A necessary purchase for collections emphasizing Colonial America, American religious history, and communitarian experiments, it will also interest those studying women and religion."
Media

Description

Reviews

Bio

Table of Contents

Sample Chapters

Subjects
Winner of the 2005 Dale W. Brown Book Award for Outstanding Scholarship in Anabaptist and Pietist Studies Winner of a 2004 Choice Award for an Outstanding Academic Title
Bethlehem, Pennsylvania, was a unique colonial town. It was the first permanent outpost of the Moravians in North America and served as the headquarters for their extensive missionary efforts. It was also one of the most successful communal societies in American history. Bethlehem was founded as a "congregation of the cross" where all aspects of personal and social life were subordinated to the religious ideal of the community. In
Community of the Cross,
Craig D. Atwood offers a convincing portrait of Bethlehem and its religion.
Visitors to Bethlehem, such as Benjamin Franklin, remarked on the orderly and peaceful nature of life in the community, its impressive architecture, and its "high" culture. However, many non-Moravians were embarrassed or even offended by the social and devotional life of the Moravians. The adoration of the crucified Jesus, especially his wounds, was the focus of intense devotion for adults and children alike. Moravians worshiped the Holy Spirit as "Mother," and they made the mystical marriage to Christ central to their marital intimacy. Everything, even family life, was to be a form of worship.
Atwood reveals the deep connection between life in Bethlehem and the religious symbolism of controversial German theologian Nicholas von Zinzendorf, whose provocative and erotic adoration of the wounds of Jesus was an essential part of private and communal life. Using the theories of René Girard, Mary Douglas, and Victor Turner, Atwood shows that it was the Moravians' liturgy and devotion that united the community and inspired both its unique social structure and its missionary efforts.
"This excellent religious history supplements earlier books that focus on the social history of early Bethlehem. A necessary purchase for collections emphasizing Colonial America, American religious history, and communitarian experiments, it will also interest those studying women and religion."
"Nonetheless, Atwood's study is a superb contribution to Moravian studies. For readers interested in learning about eighteenth-century Moravians, this book is the place to start."
"Atwood's volume provides a much needed balance to the historical account of the Moravian Church in North America with its exclusive focus on the radical theology behind the founding and organization of the congregation in Bethlehem, Pennsylvania."
"Atwood's central focus on the function of religious ritual in community formation will make Community of the Cross a welcome addition to history of religions scholarship, and his careful explication of Moravian piety will be invaluable to historians interested in Moravians for their unique role in colonial intercultural relations."
"Consider Community of the Cross required reading for each person who calls himself or herself a 'Moravian.' It took Craig Atwood 10 years to complete this work. It will take you a couple of days of easy reading to fully appreciate our heritage, reflect on the past, and think about opportunities for the future."
"Atwood's book provides a valuable addition to our understanding of this fascinating community and of the people who built it."
"Craig Atwood has successfully interpreted a difficult component of Moravian liturgy, shedding light on colonial Bethlehem in the process. Roman Catholic readers may well be intrigued by this Protestant group's devotions to Christ's wounds. Atwood's Community of the Cross persuasively interprets the unique conclusions that the Moravians drew from this devotion."
Craig D. Atwood is Charles D. Couch Associate Professor of Moravian Theology and Ministry and Director of the Center for Moravian Studies at Moravian Theological Seminary in Bethlehem, Pennsylvania.
Contents
Preface
Introduction
1. The Moravians and Transatlantic German Pietism
2. Zinzendorf and the Theology of the Heart
3. The Body of Christ
4. Bethlehem
5. Ritual
6. Union with Christ
7. Living in the Side Wound of Christ
Conclusion
Appendixes
Bibliography
Index
Mailing List
Subscribe to our mailing list and be notified about new titles, journals and catalogs.