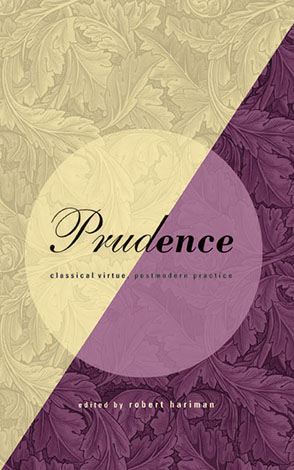 Prudence
Classical Virtue, Postmodern Practice
Edited by Robert Hariman
BUY
Prudence
Classical Virtue, Postmodern Practice
Edited by Robert Hariman
"The diversity of the subject matter and historical context might seem eclectic, but the volume is nonetheless more coherent than many collections of essays dealing with a single historical period. Not only does it remain focused throughout on the topic at hand, but its more rhetorical, less philosophical, perspective on prudence and practical wisdom gives it a definite cogency and originality. More importantly, one finds throughout an obviously sincere desire to investigate the relevance of prudence for our present state of affairs. His knowledge and mastery of the literature and various perspectives on prudence is impressive. His critical attitude is all the more praiseworthy in view of the fact that he never 'gives in' entirely to one contemporary theoretical perspective, be it the civic republicanism of a Beiner, the loftier logic of interpretation of a Gadamer (which he terms 'bourgeois prudence') or the 'avant-garde prudence' of post-structuralist thinkers such as Lyotard. As befits his subject, he is always conscious of limits and context. His ability to relate classical or early modern aspects of prudence to contemporary perspectives such as ecology (or the Monica Lewinsky scandal!) is also notable, through some more recent historical events might have been even better fodder for such analysis."
Description

Reviews

Bio

Table of Contents

Sample Chapters

Subjects
Realizing that a world remade by techno-science and global capital stands in great need of practical wisdom as an antidote to various forms of modern hubris, scholars across the human sciences have taken a renewed interest in exploring how the classical virtue of prudence can be reformulated as a guide for postmodern practice.
This volume brings together scholars in classics, political philosophy, and rhetoric to analyze prudence as a distinctive and vital form of political intelligence. Through case studies from each of the major periods in the history of prudence, the authors identify neglected resources for political judgment in today's conditions of pluralism and interdependency.
Three assumptions inform these essays: the many dimensions of prudence cannot be adequately represented in the lexicon of any single discipline; the Aristotelian focus on prudence as rational calculation needs to be balanced by the Ciceronian emphasis on prudence as discursive performance embedded in familiar social practices; and understanding prudence requires attention to how it operates through the communicative media and public discourses that constitute the political community.
Contributors, besides the editor, are Stephen H. Browne, Robert W. Cape Jr., Maurice Charland, Peter J. Diamond, Eugene Garver, James Jasinski, John S. Nelson, and Christine L. Oravec.
"The diversity of the subject matter and historical context might seem eclectic, but the volume is nonetheless more coherent than many collections of essays dealing with a single historical period. Not only does it remain focused throughout on the topic at hand, but its more rhetorical, less philosophical, perspective on prudence and practical wisdom gives it a definite cogency and originality. More importantly, one finds throughout an obviously sincere desire to investigate the relevance of prudence for our present state of affairs. His knowledge and mastery of the literature and various perspectives on prudence is impressive. His critical attitude is all the more praiseworthy in view of the fact that he never 'gives in' entirely to one contemporary theoretical perspective, be it the civic republicanism of a Beiner, the loftier logic of interpretation of a Gadamer (which he terms 'bourgeois prudence') or the 'avant-garde prudence' of post-structuralist thinkers such as Lyotard. As befits his subject, he is always conscious of limits and context. His ability to relate classical or early modern aspects of prudence to contemporary perspectives such as ecology (or the Monica Lewinsky scandal!) is also notable, through some more recent historical events might have been even better fodder for such analysis."
"It is the great virtue of this book to give us a wider focus with more background and to remind us prudently of the full extent of our inheritance."
"This excellent collection of essays appears at just the right moment. During the past two decades, interest in prudence has quickened and intensified in the humanities and qualitative social sciences, but previously we have had no systematic effort to deal with the topic on an interdisciplinary level. This collection fills the void and provides a valuable guide to the history of prudence and to its current status in a variety of academic disciplines."
"As the editor acknowledges, this volume neglects some standard topics important to a fully developed sense of prudence. What it provides instead is solid and original work that is an excellent accompaniment to more traditional treatments."
Robert Hariman is Ellis and Nelle Levitt Distinguished Professor of Rhetoric and Associate Provost for Interdisciplinary Studies at Drake University. Among his previous books is Political Style: The Artistry of Power (1995).
Contents
Preface
Acknowledgments
1. Theory Without Modernity
Robert Hariman
Part I Conceptual Frameworks
2. Cicero and the Development of Prudential Practice at Rome
Robert W. Cape Jr.
3. After Virtù: Rhetoric, Prudence, and Moral Pluralism in Machiavelli
Eugene Garver
4. The "Enlightenment Project" Revisited: Common Sense as Prudence in the Philosophy of Thomas Reid
Peter J. Diamond
Part II Rhetorical Structures
5. Edmund Burke's Letter to the Sheriffs of Bristol and the Texture of Prudence
Stephen H. Browne
6. Idioms of Prudence in Three Antebellum Controversies: Revolution, Constitution, and Slavery
James Jasinski
7. Fanny Wright and the Enforcing of Prudence: Women, Propriety, and Transgression in Nineteenth-Century Public Oratory of the United States
Christine L. Oravec
Part III Provisional Networks
8. Prudence as Republican Politics in American Popular Culture
John S. Nelson
9. Lyotard's Postmodern Prudence
Maurice Charland
10. Prudence in the Twenty-First Century
Robert Hariman
Notes
Contributors
Index
Also of Interest
Mailing List
Subscribe to our mailing list and be notified about new titles, journals and catalogs.