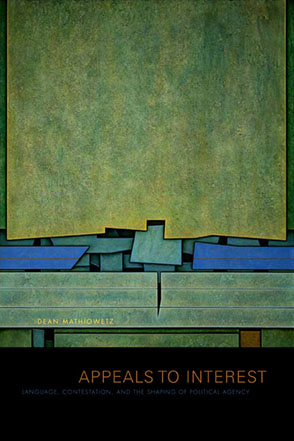 Appeals to Interest
Language, Contestation, and the Shaping of Political Agency
Dean Mathiowetz
BUY
Appeals to Interest
Language, Contestation, and the Shaping of Political Agency
Dean Mathiowetz
"For some political theorists, interests are the nitty-gritty of political life, the bedrock beneath the airy fantasies of culture and identity. For others, interest-talk is a sign of the corruption of the political by a crass, narrow rationalism that can't do justice to the larger stakes of life in common. Dean Mathiowetz's new book—as meticulous in its readings as it is revolutionary in its consequences—challenges both sides of this all-too-familiar argument by showing that appeals to interest have always been about much more than their most influential defenders and critics have thought. Erudite and gripping, Appeals to Interest is an exemplary bridge between the history of political thought and critical engagement with contemporary political problems."
Description

Reviews

Bio

Table of Contents

Sample Chapters

Subjects
It has become a commonplace assumption in modern political debate that white and rural working- and middle-class citizens in the United States who have been rallied by Republicans in the "culture wars" to vote Republican have been voting "against their interests." But what, exactly, are these "interests" that these voters are supposed to have been voting against? It reveals a lot about the role of the notion of interest in political debate today to realize that these "interests" are taken for granted to be the narrowly self-regarding, primarily economic "interests" of the individual. Exposing and contesting this view of interests, Dean Mathiowetz finds in the language of interest an already potent critique of neoliberal political, theoretical, and methodological imperatives—and shows how such a critique has long been active in the term's rich history. Through an innovative historical investigation of the language of interest, Mathiowetz shows that appeals to interest are always politically contestable claims about "who" somebody is—and a provocation to action on behalf of that "who." Appeals to Interest exposes the theoretical and political costs of our widespread denial of this crucial role of interest-talk in the constitution of political identity, in political theory and social science alike.
"For some political theorists, interests are the nitty-gritty of political life, the bedrock beneath the airy fantasies of culture and identity. For others, interest-talk is a sign of the corruption of the political by a crass, narrow rationalism that can't do justice to the larger stakes of life in common. Dean Mathiowetz's new book—as meticulous in its readings as it is revolutionary in its consequences—challenges both sides of this all-too-familiar argument by showing that appeals to interest have always been about much more than their most influential defenders and critics have thought. Erudite and gripping, Appeals to Interest is an exemplary bridge between the history of political thought and critical engagement with contemporary political problems."
"In a feat of conceptual restoration, Dean Mathiowetz rescues a genuinely political language of interest from its confinement as calculating self-regard in (neo)liberal political science and political theory. The scholarship of Appeals to Interest is truly impressive, and its surprising findings will engage audiences across law, social science, and the humanities."
"Appeals to Interest is a stunning accomplishment, a deeply scholarly and highly original work of historical analysis and political theory that will provoke intellectual controversy for years to come. It is also a great read. Bringing the insights associated with Nietzsche, Wittgenstein, and Foucault together with impressive expertise in the fields of economic history and the intellectual history of liberal political thought, Dean Mathiowetz shows us the hidden 'juridical and plural' side of the concept of interest as it develops over centuries of political arguments. We learn how the concept of interest as self-regarding rational calculation has illegitimately supplanted alternative uses of the word, and we experience the unfortunate consequences of the suppression of these alternatives. Appeals to Interest makes substantial contributions to the intellectual history of liberalism, to the methodology of the history of concepts, and to the study of politics generally. Combining wisdom culled from the linguistic turn with an astonishingly high level of scholarship, Appeals to Interest reveals the present world to us by redescribing familiar events and ideas. We understand our world as the product of the past as never before."
"Why don't citizens vote in their interests? On what grounds can anyone other than the citizen herself say what her interest might be? Mathiowetz's eloquent book breaks through this stalemated debate, explaining the seeming intransigence of these questions as a conceptual confusion rooted in the dominant individualist and psychological conception of interest as calculating self-regard. Bringing the linguistic turn to the study of interest, Mathiowetz recovers the 'juridical,' contestatory, and action-oriented uses of the word that make appeals to interest a site of contests over identity rather than a fixed ground of political demands. This insightful, exciting work brings interest to the center of democratic political thought."
"Dean Mathiowetz's careful and creative reconstruction of the history of the related, but evolving, concepts to which the word 'interest' has been applied provides an effective critical perspective on the contemporary narrow understanding of this crucial element of our political language. At the same time, he reveals the richer possibilities that have been immanent in earlier formulations."
"Appeals to Interest is a meticulous work, compelling and full of insight. It provides a resoundingly astute analysis of how and why appeals to interest depend on agency, specifically in terms of 'who' an agent is. There is no doubt that this book has the potential to add substantially to our understanding of the ever-evolving realm of politics."
Dean Mathiowetz is Associate Professor of Politics at the University of California, Santa Cruz.
Contents
Acknowledgments
1. Introduction: The Politics of Interest
2. Property, Usury, and the Juridical Subject of Interest
3. Appeals to Interest in Seventeenth-Century England
4. Contesting Sovereignty: Interest in Thomas Hobbes
5. A Historiography of Liberal Interest and the Neoliberal Self
6. Interest in Political Studies: Action, Grouping, and Government
Epilogue: The Language of Interest as a Critical Theory of Politics
Selected Bibliography
Index
Mailing List
Subscribe to our mailing list and be notified about new titles, journals and catalogs.