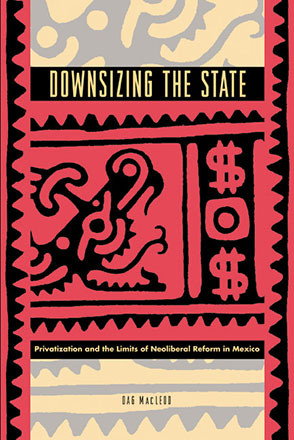 Downsizing the State
Privatization and the Limits of Neoliberal Reform in Mexico
Dag MacLeod
BUY
Downsizing the State
Privatization and the Limits of Neoliberal Reform in Mexico
Dag MacLeod
"I very much like this book. It is the best account of Mexican privatization I have read. It is a masterful account of how the Mexican bureaucracy operates and has fantastic data to support its overall points."
Description

Reviews

Bio

Table of Contents

Sample Chapters

Subjects
Beginning in 1983, the Mexican government implemented one of the most extensive programs of market-oriented reform in the developing world.
Downsizing the State
examines a key element of this reform program: the privatization of public firms.
Drawing upon interviews with government officials, business executives, and labor leaders as well as data from government archives and corporate documents, MacLeod highlights the difficulties of linking market reforms to improved public welfare. Privatization failed to live up to its promise of raising living standards or decentralizing the economy. Indeed, privatization actually increased the concentration of wealth in Mexico while redirecting the economy toward foreign markets. These findings contribute to theoretical debates regarding state autonomy and the embeddedness of economic action.
MacLeod calls into question the autonomy of the Mexican state in its privatization program. He shows that the creation of markets where public firms once dominated has involved both the destruction of social relations and the construction of new relations and institutions to regulate the market.
"I very much like this book. It is the best account of Mexican privatization I have read. It is a masterful account of how the Mexican bureaucracy operates and has fantastic data to support its overall points."
"This is sociology of development as it should be practiced: close to the ground and unafraid of complexities."
"There are few books on the contemporary Mexican political economy that combine the theoretical sophistication, analytical insight, and wealth of information that this study brings to its exploration of privatization and of the implications of neoliberal reform for state-market relations. I'm not aware of any book that deals with the Mexican privatization process at this level; in this sense it is in a class by itself."
"The book is not only about privatization in Mexico; it is about the significance of privatization in Mexico, and how to understand state-market relations more generally. The book is an impressive achievement."
"Dag MacLeod has produced an excellent book. It is obviously well planned and well rehearsed. . . . He has managed to capture the sentiments of many ordinary Mexicans during the past decade. . . . MacLeod has carefully turned the very difficult theme of private-public sector linkages, and its contradictions, into a readable and well crafted series of case studies."
"These two monographs on government-business relations in contemporary Mexico (Macleod's Downsizing the State and Shadlen's Democratization Without Representation) share the same publisher as well as the virtues of careful research and documentation, creative synthesis of theoretical strands from political science, economic sociology and new institutional economics, an explicit comparative angle and accessibility for non-area specialists. These books can be confidently recommended as texts in graduate courses on comparative politics, sociology of economic organization, business management and public administration."
Dag MacLeod was a Fulbright fellow in Mexico in 1997 and received his PhD in sociology from the Johns Hopkins University in 2001. He currently manages the Office of Court Research at the Judicial Council of California where he conducts research on public policy and public administration.
Contents
List of Tables and Figures
Acknowledgments
Abbreviations
1. Privatization and Competing Perspectives on Economic Organization
2. Public Ownership and the Rise of State-Led Development
3. Privatization and the Demise of State-Led Development
4. The Turbulent Privatizations of Aerom eacute xico and Mexicana de Aviaci oacute n
5. Positive-Sum Games and the Sale of Telmex
6. The Transformation and Sale of the Mexican National Railroad
7. Economic Transformation and the Limits of Neoliberal Reform
Appendix
References
Index
Mailing List
Subscribe to our mailing list and be notified about new titles, journals and catalogs.