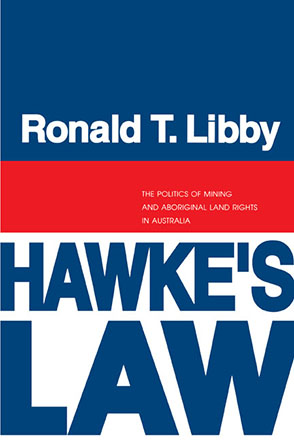 Hawke's Law
The Politics of Mining and Aboriginal Land Rights in Australia
Ronald Libby
BUY
Hawke's Law
The Politics of Mining and Aboriginal Land Rights in Australia
Ronald Libby
"An important addition to studies of the politics of policy formulation and implementation."
Description

Reviews

Bio

Subjects
Previous studies of the mining industry's influence on Australian policy have been forced to rely on informed speculation about the industry's actions. Hawke's Law is the first to benefit from unrestricted access to industry sources and documentation, including mining-industry archives and interviews with top executives. It is also the only definitive study of the Labor Party government's long-promised attempt to formulate national Aboriginal rights legislation.
"An important addition to studies of the politics of policy formulation and implementation."
"The book tells us a great deal about contemporary Australia: the evolution of aboriginal rights, popular attitudes toward aborigines, the internal politics of the Labor Party, land use law, states' rights, and more."
"In this interesting political history, Ronald T. Libby examines the mining industry's efforts from 1984 to 1987 to influence public policy concerning land rights of native peoples under the Australian Labor Party government of Prime Minister Bob Hawke. Libby provides a detailed case study of interest group politics in a federal, multiparty parliamentary system with weak parties, focusing on the tactics, strategy, and impact of the mining industry on land policy. . . . A gold mine of raw data, this book contributes to the literature of interest group competition as it affects factional struggle in political parties."
Ronald T. Libby is Professor of Political Science at Southwest State University in Minnesota. He is the author of Protecting Markets: U.S. Policy and the World Grain Trade (1992), The Politics of Economic Power in Southern Africa (1987), and Toward an Africanized U.S. Policy for Southern Africa (1980).