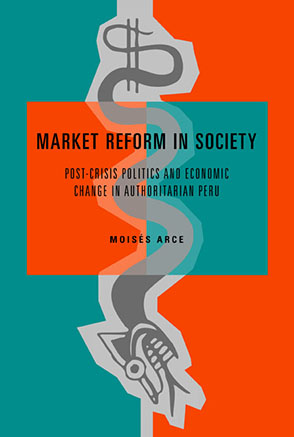 Market Reform in Society
Post-Crisis Politics and Economic Change in Authoritarian Peru
Moisés Arce
Buy
Market Reform in Society
Post-Crisis Politics and Economic Change in Authoritarian Peru
Moisés Arce
"A superb exercise in comparative political economy, Moisés Arce's book fills a void in the Latin American literature, given the paucity of book-length studies that have been published on Peru since 1980. By focusing an in-case comparison on the complicated impact of market reforms from a societal perspective, the author has very creatively wielded insights that actually bring the reform process to life. This book also contributes to the literature on research methodology, as the author has designed an analytical framework that is both compelling and parsimonious. I predict that this approach will be embraced by other students of market reform, for it offers a blend of qualitative and quantitative analysis that draws closely from the reform experience itself."
Description

Reviews

Bio

Table of Contents

Sample Chapters

Subjects
Going beyond the usual state-centric approach to the study of the politics of neoliberal reform, Moisés Arce emphasizes the importance of understanding the interaction between state reformers and collective actors in society. In
Market Reform in Society
he helpfully focuses our attention on how various societal groups are affected by different types of reform and how their responses in turn affect the state's subsequent pursuit of reform.
As a country characterized by strong state autonomy and widespread disintegration of civil society and representative institutions during the 1990s when Alberto Fujimori was president, Peru serves as an excellent case for examining how collective actors can succeed in influencing the reform process. Arce compares reforms in three areas: taxation, pension privatization, and social-sector programs in poverty alleviation and health decentralization. Differences in the concentration or dispersion of costs and benefits, he shows, affected incentives for groups to form and engage in collective action for supporting, opposing, or modifying the reforms.
"A superb exercise in comparative political economy, Moisés Arce's book fills a void in the Latin American literature, given the paucity of book-length studies that have been published on Peru since 1980. By focusing an in-case comparison on the complicated impact of market reforms from a societal perspective, the author has very creatively wielded insights that actually bring the reform process to life. This book also contributes to the literature on research methodology, as the author has designed an analytical framework that is both compelling and parsimonious. I predict that this approach will be embraced by other students of market reform, for it offers a blend of qualitative and quantitative analysis that draws closely from the reform experience itself."
"A book to be read by Latin Americanists interested in discovering how political regimes and economic policy-making interact at a time when countries like Peru under Fujimori shifted in the direction of globalization, attempted to reform the state, but revealed the resilience of authoritarianism, elitism, and widespread corruption."
"The book is surely an important contribution to the existing literature. It highlights how standard approaches to the explanation of market reforms that ignore civil society may lead us astray. Societal organizations have the ability to fight back even the most autocratic of regimes, and in some cases, new groups may emerge to defend previously unorganized interests. For example, Arce challenges previous cross-national studies in the field of pension reform that treated business interests as merely passive and argues that instead such interests were decisive in the way the policy was actually implemented in Peru. . . . The book also shows that second-generation reforms may have been more permeable to lobbying and bargaining than previously assumed. Because of their wide-ranging ramifications, they affected more people than first-generation reforms like privatizations of manufacturing or service companies or trade liberalization. Another issue that is implicit in Arce's argument is that second-generation reforms took place at a time when Fujimori was seeking reelection, thus making him more prone to compromise to societal vested interests, which were ignored during the orthodox period of the stabilization (1990–1992). In short, Arce succeeds is demonstrating that civil society matters and, depending on the policy, it may matter a lot. . . . In all, Arce's book constitutes one of the best analyses of market reforms during the Fujimori era, and will likely be a point of reference for future works on the political economy of Peru."
"Overall, this book makes an important contribution towards our understanding of the policy-making processes of the Fujimori government, an area that has been significantly understudied. Arce offers a good sense of the 'winners' of Fujimori's neoliberalism and how they effectively seized the initiative to transform state-society relations. Moreover, by reminding us of the importance of analyzing the societal redistribution of power that takes place as a result of neoliberalism, the book represents an important first step in assessing the legacy of the economic reforms of the 1990s."
"[The] level of research is impressive and the story is well and convincingly told. This is a useful addition to any bibliography on market reforms in Latin America and a significant contribution to our understanding of the political economy of Peru."
Moisés Arce is Associate Professor of Political Science at the University of Missouri-Columbia
Contents
List of Figures and Tables
Preface
Acknowledgments
List of Abbreviations
1. Rethinking the Consequences of Neoliberal Policy Reform
2. Fujimori as Market Maker
3. The Battle for Taxes
4. The Privatization of Pensions
5. Social-sector Reforms
6. Post-Neoliberalism Politics
Bibliography
Index
1 Rethinking the Consequences of Neoliberal Policy Reform
The political and social consequences of neoliberal policy reform have remained largely undertheorized. In fact, while cross-regional studies pointed out that societal groups fail to account for the initiation or lack of initiation of market-oriented reforms, research on how groups are strengthened, weakened, or even created by neoliberal policy change is still limited (Geddes 1995). Existing scholarship has also dealt extensively with the role played by political leaders and technocratic elites during market restructuring, while surprisingly devoting little attention to social interests, much less to the possibility that collective actors in civil society may choose to support, oppose or modify the boundaries of reform policies already in place.
The first section of this book outlines extant propositions regarding the impact of economic reforms on social interests and their limitations. The second section develops the central argument of the book, which revolves around the ways in which different types of policies induce different patterns of political responses, and the feedback effects of those responses on reform process. The final section of this chapter justifies the selection of cases, and provides an overview of the three sets of market policy reforms central to this book, which collectively illustrate the variable impact of neoliberal reform upon different sectors of civil society.
<1> From Causes to Consequences
Scholars initially emphasized the destructive socio-political consequences resulting from marketization. The early literature suggested that most, if not all, neoliberal reforms were executed in a top-down fashion with little input from legislative bodies, civil society, or other sets of actors. Reform was consequently seen as undermining democratic accountability as well as decision-making processes (Przeworski 1993). A related line of arguments suggested that neoliberal reform threatened the organizational bases of representative institutions and large-scale secondary organizations, particularly political parties and labor unions (Zermeño 1989). As suggested by Roberts (1998: 270), "The globalized, neoliberal variant of capitalism, is both a product and an accelerator of the fragmentation and weakening of popular collective subjects, the labor movement in particular." Reform is thus seen as contributing to the "low intensity citizenship" that O'Donnell (1994) and others have used to characterize many emerging democracies (Oxhorn and Starr 1999, Smith and Korzeniewicz 1997, Kurtz 2001). In many ways, the presumed disintegration of traditional actors is associated with the retreat of "corporatist citizenship regimes," which became the primary mode of interest intermediation between state and society prior to marketization (Yashar 1999).
Recent literature, however, has adopted a more nuanced position that looks at how new, more autonomous and pluralistic forms of organization emerge to respond to and shape the process of economic reform. Chalmers, Martin and Piester (1997: 567, 571), for instance, suggest that societal recomposition is taking place in the form of "associative networks," which they define as "non-hierarchical structures formed through decisions by multiple actors who come together to shape public policy." These networks, among other things, "(a) relate diverse types of organizations and people, (b) frequently change in response to new situations, (c) generally privilege cognitive politics and (d) rarely exhibit a sharp hierarchical form." Administrative and political decentralization to subnational units is one of the main forces contributing to the emergence of these associative networks. Along these lines, Yashar (1999: 86) notes that decentralization programs "have devolved varying degrees of power to more local units . . . and, in turn, have created a more localized space for agglomerating individual preferences, calculating decisions, and implementing programs." Recent studies thus redirect our attention to the emergence of new forms of interest intermediation, while at the same time old corporatist structures of representation appear to decline (Hagopian 2000). In all, the prevailing neoliberal discourse, and decentralization initiatives in particular, as Yashar (1999: 86) notes, have led to the creation of "neoliberal citizenship regimes," rendering democratic politics increasingly "more liberal and more local."
With the rise of "neoliberal citizenship regimes," and following recent contributions by Snyder (1999) and others, the analysis presented here brings social interests back into the analysis of market transitions. It examines the variety of ways in which social actors may respond to economic restructuring as well as the potential for the emergence of new patterns of societal organization or "associative networks" in response to policy reform. This line of analysis contrasts with much of the early discussion regarding the imposition of neoliberal reforms and the pervasive social atomization resulting from marketization, which placed societal actors in the role of "passive recipients" of state initiatives, incapable of contesting or modifying the implementation of market reforms. In other words, while recent literature suggests a shift toward more pluralist and local forms of interest organization, it still remains unclear how and where to expect an organized response to marketization, much less the impact of such responses on reform processes.
Prevailing propositions on the consequences of reform also tend to overlook the complexity of market policies as well as the variable impact of different reforms on interactions between state and civil society. As suggested by Remmer (1998: 7), "Market-oriented reform involves a multi-dimensional and, potentially, not fully coherent process of policy change." Undoubtedly, different sets of policy reforms impose different patterns of costs and benefits upon different sectors of civil society. The incidence of costs and benefits of a reform policy, in turn, may be expected to shape the incentives to adapt or form new societal organizations and to engage in collective action. Seen in this light, existing generalizations about the winners and losers of reform suffer from a whole-reform bias, treating marketization as a single rather than as a package of many different policies.
Finally, prior efforts to theorize about the political consequences of market reforms have been limited by their tendency to look primarily at reform policies that take place during the initial stage of neoliberal restructuring, which are targeted primarily to set macroeconomic stability. The emphasis placed upon the early stages of policy reform is problematic because important changes occur as market reforms shift from initial to later stages. Broadly speaking, macroeconomic stabilization policies targeted to reduce fiscal deficits and control inflation define the initial stage of neoliberal restructuring. Such policies take place largely in an insulated policymaking environment, providing state and technocratic elites with substantial autonomy from societal groups. Stabilization policies are also easier to execute, and their results are often immediate. In contrast, later stages of neoliberal restructuring—dubbed "second-generation" reforms—entail the strengthening of a state's organizational resources via the construction of new and more effective state institutions, such as independent central banks, regulatory commissions, extractive institutions and compensatory organizations. The politics during this later stage of reform are more complex and less predictable than those of the initial stage. Among other things, later reforms are more difficult to implement, take much longer to achieve results, involve a broader array of actors, and require the cooperation of a wider range of societal groups (Naím 1995, Graham and Naím 1998, Pastor and Wise 1999). Thus, while initial reforms were perceived to disarticulate collective actors, "second-generation" reforms may spawn new ways of organizing and mobilizing civil society.
The distribution of the costs and benefits of market reform policies also changes significantly as the process of reform moves onward. During the initial stage, it is difficult to identify clear winners and losers given that the burdens of macroeconomic stabilization are widely shared by most of society. In contrast, the burdens of subsequent stages involving such reform policies as state reform are largely borne by specific groups (Nelson 1999, Tulchin and Garland 2000). Thus the consequences of market-oriented reforms during later stages of neoliberal restructuring require additional analysis.
An understanding of the political consequences of marketization entails addressing two analytical issues overlooked by existing perspectives regarding the impact of neoliberal reform. The first issue speaks to the interaction that takes place between state reformers and collective actors in civil society—however localized the interaction may be—during economic restructuring. The second analytical issue revolves around the complexity and potential variability of market reforms as well as their mixed societal impact. To address the first analytical issue, the book advances an interactive approach to explain how market-oriented reform policies shape the behavior of collective actors, and simultaneously, how collective actors in civil society support, oppose or modify the boundaries of reform policies already in place. To address the second analytical issue, the book disaggregates the complex concept of market-oriented reform by exploring three different sets of policy initiatives involving state reform in contemporary Peru: tax reform, privatization of social security pensions, and social-sector reforms in poverty alleviation and health decentralization.
Mailing List
Subscribe to our mailing list and be notified about new titles, journals and catalogs.