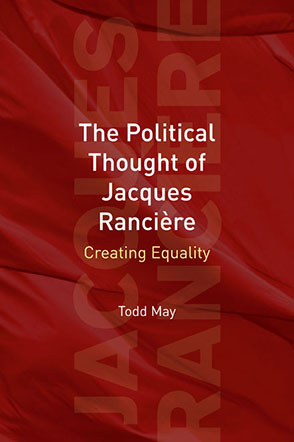 The Political Thought of Jacques Rancière
Creating Equality
Todd May
BUY
The Political Thought of Jacques Rancière
Creating Equality
Todd May
"May's is the first book-length study of one of contemporary Europe's most important thinkers, but more than this, it is also a radical engagement with some of the fundamental questions raised by political philosophy today."
Description

Reviews

Bio

Subjects
This book examines the political perspective of French thinker and historian Jacques Rancière. Rancière argues that a democratic politics emerges out of people's acting under the presupposition of their own equality with those better situated in the social hierarchy. Todd May examines and extends this presupposition, offering a normative framework for understanding it, placing it in the current political context, and showing how it challenges traditional political philosophy and opens up neglected political paths. He demonstrates that the presupposition of equality orients political action around those who act on their own behalf—and those who act in solidarity with them—rather than, as with the political theories of John Rawls, Robert Nozick, and Amartya Sen, those who distribute the social goods. As May argues, Rancière's view offers both hope and perspective for those who seek to think about and engage in progressive political action.
"May's is the first book-length study of one of contemporary Europe's most important thinkers, but more than this, it is also a radical engagement with some of the fundamental questions raised by political philosophy today."
Todd May is Professor of Philosophy at Clemson University. He is the author of five previous books published by Penn State Press: Between Genealogy and Epistemology: Psychology, Politics, and Knowledge in the Thought of Michel Foucault (1993); The Political Philosophy of Post-Structuralist Anarchism (1994); The Moral Theory of Poststructuralism (1995); Reconsidering Difference: Nancy, Derrida, Levinas, Deleuze (1997); and Our Practices, Our Selves: Or, What It Means To Be Human (2001).
Mailing List
Subscribe to our mailing list and be notified about new titles, journals and catalogs.