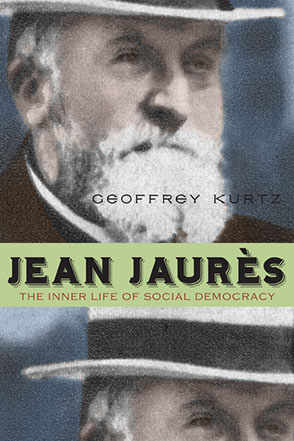 Jean Jaurès
The Inner Life of Social Democracy
Geoffrey Kurtz
BUY
Jean Jaurès
The Inner Life of Social Democracy
Geoffrey Kurtz
"Jean Jaurès is one of the most interesting figures of French socialism and the Second International. Geoffrey Kurtz's intelligent and thoughtful book succeeds admirably in capturing the man's philosophical erudition, political courage, and contemporary importance. Jaurès's deep commitment to reformism, cosmopolitanism, and pacifism anchored one of the important wings of the international socialist movement, and his equally important intellectual work informed generations of students and activists alike. Kurtz succeeds admirably in uncovering 'the inner life of social democracy,' and his own courage in approaching his subject contributes to a very important and revealing examination of what it means to be a socialist."
Description

Reviews

Bio

Table of Contents

Sample Chapters

Subjects
Jean Jaurès was a towering intellectual and political leader of the democratic Left at the turn of the twentieth century, but he is little remembered today outside of France, and his contributions to political thought are little studied anywhere. In
Jean Jaurès: The Inner Life of Social Democracy
, Geoffrey Kurtz introduces Jaurès to an American audience. The parliamentary and philosophical leader of French socialism from the 1890s until his assassination in 1914, Jaurès was the only major socialist leader of his generation who was educated as a political philosopher. As he championed the reformist method that would come to be called social democracy, he sought to understand the inner life of a political tradition that accepts its own imperfection. Jaurès's call to sustain the tension between the ideal and the real resonates today.
In addition to recovering the questions asked by the first generation of social democrats, Kurtz's aim in this book is to reconstruct Jaurès's political thought in light of current theoretical and political debates. To achieve this, he gives readings of several of Jaurès's major writings and speeches, spanning work from his early adulthood to the final years of his life, paying attention to not just what Jaurès is saying, but how he says it.
"Jean Jaurès is one of the most interesting figures of French socialism and the Second International. Geoffrey Kurtz's intelligent and thoughtful book succeeds admirably in capturing the man's philosophical erudition, political courage, and contemporary importance. Jaurès's deep commitment to reformism, cosmopolitanism, and pacifism anchored one of the important wings of the international socialist movement, and his equally important intellectual work informed generations of students and activists alike. Kurtz succeeds admirably in uncovering 'the inner life of social democracy,' and his own courage in approaching his subject contributes to a very important and revealing examination of what it means to be a socialist."
"Jean Jaurès, perhaps the most remarkable exponent of social democracy not just in France but anywhere, deserves to be better known. Geoffrey Kurtz's introduction to his life and work succeeds brilliantly in reviving both Jaurès and the unduly neglected social democratic tradition in French political culture. This book deserves to be read by all students of European politics."
"Geoffrey Kurtz has written an excellent biography of Jean Jaurès. It is high time for a new appreciation of this leading figure in the early French labor movement. Kurtz beautifully situates Jaurès in his intellectual and political milieu even as he illuminates his enduring relevance for contemporary progressive theory and practice."
"Geoffrey Kurtz's insightful book is both a biographical and analytical survey of Jaurès's political and philosophical thought that accurately describes him as a forerunner of the reformist orientation of French socialism. It places emphasis on Jaurèsian idealism, as opposed to Marxist materialism, in socialist theory and practice."
Geoffrey Kurtz is Assistant Professor of Political Science at the Borough of Manhattan Community College, CUNY.
Contents
Acknowledgments
List of Abbreviations
Introduction: The Problem of Hope
The Battle Is Never Won
Democracy Unfrozen
A Socialist State of Grace
The Question of Method
Life in Common
Conclusion: An Awkward Politics
Notes
Bibliography
Index
Mailing List
Subscribe to our mailing list and be notified about new titles, journals and catalogs.