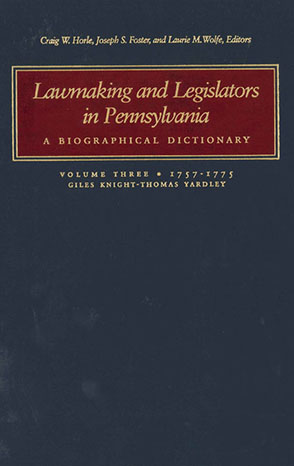 Lawmaking and Legislators in Pennsylvania
A Biographical Dictionary, Vol. 3 (two-book set)
Edited by Craig W. Horle, Joseph S. Foster, and Laurie M. Wolfe
Buy
Lawmaking and Legislators in Pennsylvania
A Biographical Dictionary, Vol. 3 (two-book set)
Edited by Craig W. Horle, Joseph S. Foster, and Laurie M. Wolfe
"Historians will want this volume just for Joseph S. Foster's bravura biography of Benjamin Franklin, which runs to thirty-four pages of text plus six pages of notes."
Description

Reviews

Bio

Subjects
The Biographical Dictionary of Pennsylvania Legislators
is proud to announce publication of Volume 3 of its multi-volume series,
Lawmaking and Legislators in Pennsylvania. Volume 3
, distributed by the Penn State University Press, covers the Assembly terms from 1757 through 1775, a period that witnessed the French and Indian War, the expansion of Pennsylvania, with the addition of Bedford, Northumberland, and Westmoreland counties, the Stamp Act crisis, the development of extra-legal committees, the creation of county militias, and the eventual overthrow of the colonial government.
Among the legislators profiled in Volume 3 are Benjamin Franklin, William Allen, Joseph Galloway, Daniel Roberdeau, George Bryan, John Armstrong, William Thompson, Henry Keppele, Isaac Norris, Israel Pemberton, James Pemberton, George Taylor, George Ross, Emanuel Carpenter, John Morton, Nathaniel Pennock, Israel Jacobs, Robert McPherson, Edward Biddle, John Potts, Samuel Potts, Thomas Potts, Samuel Miles, Michael Hillegas, and Thomas Willing.
Also included are a series of introductory essays focusing on such topics as the rules and procedures of the Assembly, the Pennsylvania Iron Industry, the legislators and civic improvement, the Quaker party, and the prelude to revolution.
The volume also contains 16 charts, two maps, a complete sessions list for those years, and numerous appendices that highlight such topics as the religious affiliations and residences of the legislators, laws enacted in Pennsylvania, and committee assignments by speaker.
"Historians will want this volume just for Joseph S. Foster's bravura biography of Benjamin Franklin, which runs to thirty-four pages of text plus six pages of notes."
Craig W. Horle is the Director and Chief Editor of the Biographical Dictionary of Early Pennsylvania Legislators, 1682-1790, Project located at Temple University.
Mailing List
Subscribe to our mailing list and be notified about new titles, journals and catalogs.