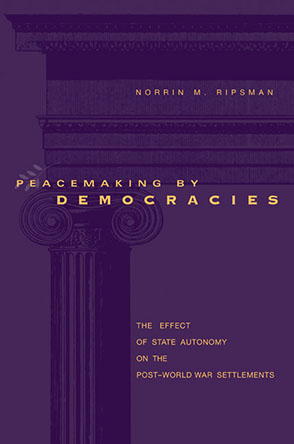 Peacemaking by Democracies
The Effect of State Autonomy on the Post–World War Settlements
Norrin M. Ripsman
BUY
Peacemaking by Democracies
The Effect of State Autonomy on the Post–World War Settlements
Norrin M. Ripsman
"Enormous attention has been paid to the differences between democracies and other regimes. Focusing on one feature of democratic states—their level of autonomy from public opinion in foreign policy—this book will help refine this line of research by shifting our attention to the specific features of these regimes. It is a model of careful case-study research, using original sources in several languages to test a clearly stated theoretical argument."
Description

Reviews

Bio

Table of Contents

Sample Chapters

Subjects
When theorists explain how democracies conduct foreign policy, they tend to ignore or downplay differences and assume that democratic governments all behave similarly. Challenging this assumption, Norrin Ripsman breaks down the category of "democracy" to argue that differences in structural autonomy among democratic states have a lot to do with how foreign security policies are chosen and international negotiations are carried out. Concluding with an examination of the implications of these findings for security policy in contemporary democracies, Peacemaking by Democracies combines innovation in international relations theory with careful primary research in historical archives.
"Enormous attention has been paid to the differences between democracies and other regimes. Focusing on one feature of democratic states—their level of autonomy from public opinion in foreign policy—this book will help refine this line of research by shifting our attention to the specific features of these regimes. It is a model of careful case-study research, using original sources in several languages to test a clearly stated theoretical argument."
"While many have argued that democracies behave differently than authoritarian states in international relations, few have acknowledged that different types of democracies behave differently. In one of the first analyses of the consequences of democratic differences for international behavior, Ripsman examines the peacemaking policies of Britain, France, and the United States after both world wars. He convincingly demonstrates that the degree of structural autonomy of the executive from the public and the legislature has a profound impact on the foreign policies of democratic states and their influence in international negotiations. This theoretically nuanced and historically rich analysis is a significant contribution to the literature and essential reading for all those interested in how domestic political institutions shape the security policies of states."
"Political science, done well often involves a delicate balancing act. Peacemaking by Democracies is political science at its best. Here the relevant balancing act is between storytelling and formalism, between 'mere' history and methodological fetishism. Norrin Ripsman gets the balance just right, and the result is a book that tells us something both novel and important."
"This significant contribution to the literature on foreign policy and democracy underscores which institutional, procedural, and normative factors contribute to or detract from a democratic executive's structural autonomy over foreign security policy."
"Ripsman's book succeeds in demonstrating that democracies should not be regarded as a monolithic bloc inasmuch as they display considerable variation in their foreign policies. The author cleverly demonstrates how various perspectives on institutions and behavior may all be correct by application under different circumstances, depending on the executive's structural autonomy. Moreover, he highlights the importance of informal institutions such as party discipline for foreign policy behavior. Cognizant of problems of classifying autonomy on the basis of the foreign policy decisions to be explained, he makes great efforts to classify structural autonomy from ex ante identifiable characteristics, although the qualitative way in which these features are identified is somewhat case specific and less transparent than I would have preferred."
"My minor reservations notwithstanding, The Democratic Peace and Territorial Conflict in the Twentieth Century and Peacemaking by Democracies are both important contributions to the literature on domestic politics and international behavior, and they deserve a wide audience."
Norrin M. Ripsman is Assistant Professor of Political Science at Concordia University.
Contents
Acknowledgments vi
1. Introduction
2. Domestic Opinion, Structural Autonomy, and
Democratic Foreign Security Policy
3. The Domestic Decision-Making Environments of Great Britain, France, and the United States after Two World Wars
4. The Post–World War I Settlement, 1919
5. The Post–World War II Settlement, 1945–1954
6. Structural Autonomy and Democratic Foreign Security Policy: Conclusions and Implications
Bibliography
Index