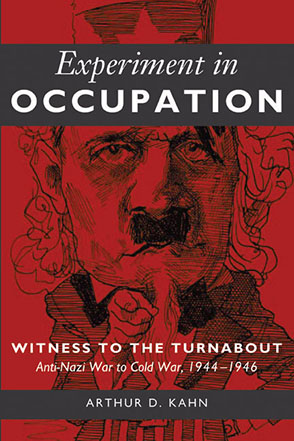 Experiment in Occupation
Witness to the Turnabout: Anti-Nazi War to Cold War, 1944–1946
Arthur D. Kahn
BUY
Experiment in Occupation
Witness to the Turnabout: Anti-Nazi War to Cold War, 1944–1946
Arthur D. Kahn
"Arthur Kahn had an extraordinary opportunity to observe events on the ground, as the American and British armies moved across Germany during the final phases of the war and subsequently during the early period of Allied occupation. He has produced a book that relies primarily on his own first-hand observations and rich documentary materials, most of which have not previously appeared in print. What differentiates this work from other accounts is Kahn's familiarity with German politics at the local level and his knowledge of how high-level Military Government policies were translated into actual practice. Kahn has an important story to tell and possesses a trove of documentary evidence to support some of his most interesting claims."
Description

Reviews

Bio

Table of Contents

Sample Chapters

Subjects
As a participant in many of the events he writes about in
Experiment in Occupation
, Arthur Kahn offers a richly detailed account of the process by which the fight against Nazism came to be transformed into the Cold War. His story reveals how those in the Military Government of Germany who were dedicated to carrying out the war aims promulgated by Roosevelt and Eisenhower for a thorough democratization of Germany were ultimately defeated in their confrontation with powerful elements in the Military Government and in Washington who were more intent upon launching a preemptive war against the Soviet Union than upon the eradication of Nazism and German militarism.
A twenty-three-year-old OSS operative, Arthur Kahn was assigned after D-Day to a psychological warfare unit, where at first he supervised prisoner-of-war interrogations and then served as an editor of intelligence. Instructed to respond to requests from Supreme Headquarters, he drafted proposals for psychological warfare approaches to critical situations at the front only to discover that a SHAEF directive banned calls to the Germans to revolt.
Subsequently Kahn served in liaison with the Soviets and during the Battle of the Bulge at Montgomery's British headquarters. For several months before and after VE Day he traveled through the American Zone as an intelligence investigator and wrote a report that led to the dismissal of General George S. Patton as Military Governor of Bavaria. Appointed Chief Editor of Intelligence of the Information Control Division, he produced the most influential intelligence weekly in the American Zone. Kahn's portrayal of events in postwar Germany provides warnings for current and future American experiments in foreign occupation.
"Arthur Kahn had an extraordinary opportunity to observe events on the ground, as the American and British armies moved across Germany during the final phases of the war and subsequently during the early period of Allied occupation. He has produced a book that relies primarily on his own first-hand observations and rich documentary materials, most of which have not previously appeared in print. What differentiates this work from other accounts is Kahn's familiarity with German politics at the local level and his knowledge of how high-level Military Government policies were translated into actual practice. Kahn has an important story to tell and possesses a trove of documentary evidence to support some of his most interesting claims."
Arthur Kahn, a former distinguished professor of Classics at universities in the U.S. and Canada, has written seven previous books, including The Education of Julius Caesar (1986), a History Book Club Selection.
Contents
Preface
Introduction: An OSS Recruit Despite Himself
Abbreviations
Part I: Why We Fight!
1. Soviet Partisans and Soviet Suspicions (Summer 1944)
2. We Do Not Call Upon the Germans to Revolt (Fall 1944)
3. The Capture-Liberation of Metz
4. The Battle of the Bulge (Winter 1944–1945)
5. Mainz: Investigating a Pre-VE Day Military Government (Spring 1945)
6. Interrogating Victims of Nazism and Nazis
7. Wuerzburg: Another Military Government Experience
8. What We Russians Like to Consider as a Typical American!
Part II: Policy Clash in Military Government
9. Crack Patton's Military Government Wide Open! (Summer 1945)
10. If Only You Americans Weren't Here . . . !
11. Patton's Last Stand
12. Elections, the American Cure-All (Fall 1945)
13. Rehearsal for McCarthyism
Part III: Triumph of the Cold Warriors
14. A Military Government in Crisis (Winter 1945–1946)
15. Elections: The American Panacea II
16. Democracy, American Zone Style!
17. Summing Up and the Collective Guilt Issue (Spring 1946)
18. Demoralized GIs
Epilogue: 1946–1947
Appendices
Index
Introduction
An OSS Recruit Despite Himself
"What could they possibly want me for?"
It was February, 1944, and I was replying to a suggestion from the owner of a shop where I rented Russian-language records that I submit an application for a position at the newly established military intelligence agency, the Office of Strategic Services (OSS). A recruiter had urged the shopkeeper to recommend individuals with foreign-language skills for possible appointment to the agency.
What could the OSS want, indeed, with an unwarlike twenty-three-year-old rejected a year and a half earlier for military service, the son of impoverished shopkeepers in a provincial New Jersey town, a graduate of a state teachers college with a brief experience as a high school English teacher. As for competence in foreign languages! I could claim three years of high school and four years of college French, three years of college German and six months of intensive Berlitz private lessons in Russian (which I had hoped would prove advantageous in the event of my being drafted into the Army). But I had never held an extended conversation in any of these languages!
After Pearl Harbor I responded without reservations to FDR's call to a mobilization of all Americans. When in August 1942 my mother clapped her hands and burst into tears of joy upon my being classified 4F, I had mixed feelings about being excluded from participation in a decisive moment in history.
As a child in New York City I feared to go to school before Easter because the Italian and Irish boys jeered at Jewish classmates and even attacked us as Christ-killers. In Somerville, New Jersey, where we moved after the Crash, our next-door neighbor was a high muck-a-muck in the local KKK klavern; he stored its paraphernalia in his barn. As a senior in a teachers college, I was never called out of class for an interview. "The principals and superintendents are not necessarily anti-Semitic," the president of the college assured me, "but they would just as soon not have any problems with their school boards." When after obtaining a master's degree at Rutgers University I informed the head of the English department of my desire to continue on to a doctorate in order to teach in college, he warned me that heads of college English departments preferred candidates with Anglo-Saxon backgrounds.
As a Jew, I had a special responsibility to participate in this war.
"What have you got to lose by applying?" insisted the owner of the language-record store, thrusting the OSS recruiter's business card into my hand.
I wrote to the recruiter and received an application form by return mail. I solicited letters of reference from the principal of the high school where I had served two years as an English teacher and from Arnold Forster, executive director of the Anti-Defamation League, a friend from my childhood. He was at the time collaborating with the FBI in conducting investigations of pro-Nazi organizations and, in fact, hired me briefly as a researcher.
Summoned to Washington for an interview, I was asked no questions about my 4F classification and subjected to no tests of my language abilities. A few days later I was instructed to report to OSS headquarters to await an opening at the OSS training school.
Although in drills with a variety of weapons at the OSS training school I was uniformly the most incompetent in my group, I was apparently not to be permitted to fail! In June 1944 I was dispatched overseas to England. A week after D-Day I was detached to a psychological warfare unit awaiting orders to cross the Channel to France. Among my new colleagues were professors from Ivy League universities, as well as German and Russian émigrés with degrees from prestigious European universities, some fluent in several languages.
A SHAEF directive dated 10 May 1944 defined as the mission of the Psychological Warfare (PW) subbranch: "the conduct of Psychological Warfare . . . for the purpose of undermining the enemy's will to resist, demoralizing his forces and sustaining the morale of our supporters to include (1) combat propaganda against enemy forces in the forward areas and toward the civil population behind the lines and (2) consolidation activities in the combat zone."
During the four weeks that we awaited orders to depart for France we received no training or other preparation for these responsibilities. When late in July we were ordered to prepare for imminent redeployment across the Channel, the German refugee at the German desk, a man in his mid-forties, panicked at the prospect of possible capture on the battlefield. Catching Al Toombs, the acting head of the Psychological Warfare Intelligence unit, just as Toombs was running off for a train to London, he requested transfer to a desk job at OSS headquarters. Nonplused, Toombs summoned me. "Do what you can at the German desk until I return," he instructed.
The German desk was charged with evaluating intelligence on morale conditions inside Germany and among the German troops opposing our forces. I had no knowledge of Germany and was ignorant of order of battle and military matters generally. I possessed a pathetically limited command of the German language. I worked late into the night poring over intelligence materials accumulated since D-Day—PW and G-2 (military intelligence) reports, extracts from captured documents, and monitorings of Wehrmacht and German civilian radio transmissions. I set up a filing system, breaking down the piles of data under subject headings and according to German Army units. When Toombs returned from London, distraught at his failure to find a qualified candidate for the German desk, he discovered, or so I recounted to my mother, that by working "like a dog I had so completely reorganized what my predecessor had done that it was necessary that I be given the position permanently." In fact, Toombs, a former president of the Washington press corps, a gentle man in his mid-thirties who displayed boundless trust in members of his staff, shook his head and declared, "We'll see how things go."
On 30 July the order for departure for France arrived.