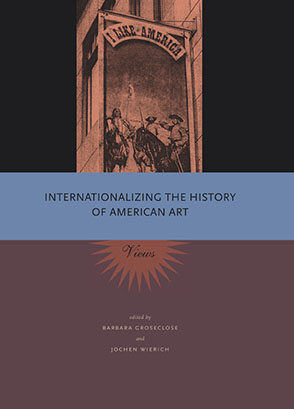 Internationalizing the History of American Art
Views
Edited by Barbara Groseclose and Jochen Wierich
Buy
Internationalizing the History of American Art
Views
Edited by Barbara Groseclose and Jochen Wierich
American art history is a remarkably young, but rapidly growing, discipline. Membership in the Association of Historians of American Art, founded in 1979, now totals nearly 600. As a result of this growth, geographical and cultural borders no longer contain the field. American art history has become "internationalized," represented by scholars and exhibitions around the globe. While this international transmission and exchange of ideas will certainly prove to be valuable, it has been left largely unexamined.
Internationalizing the History of American Art
begins a critical examination of this exchange, showing how it has become part of the maturation of American art history.
Description

Bio

Table of Contents

Sample Chapters

Subjects
American art history is a remarkably young, but rapidly growing, discipline. Membership in the Association of Historians of American Art, founded in 1979, now totals nearly 600. As a result of this growth, geographical and cultural borders no longer contain the field. American art history has become "internationalized," represented by scholars and exhibitions around the globe. While this international transmission and exchange of ideas will certainly prove to be valuable, it has been left largely unexamined.
Internationalizing the History of American Art
begins a critical examination of this exchange, showing how it has become part of the maturation of American art history.
In this volume, a distinguished group of scholars considers the shaping and dissemination of the history of American art domestically and internationally, past and present, theoretically and practically, from a variety of intellectual positions and experiences. To do so, they draw on a literature that, collectively, constitutes a bibliography for the future of the field. Three sections—"American Art and Art History," "Display and Exposition," and "Post-1945 Investments"—provide the structure in which the contributors examine the existing narrative framework for the history of American art. This examination indicates a direction for the field and a future historiography that is shaped by international dialogue.
Barbara Groseclose is Professor and Graduate Chair in the Department of the History of Art at Ohio State University. She was a Distinguished Chair of American Studies in Utrecht (1994) and in Florence (2001) and a Visiting Research Fellow at the University of Oxford (2006). Her major publications are Nineteenth-Century American Art (2000) and British Sculpture and the Company Raj (1995).
Jochen Wierich is Curator of Art at Cheekwood Botanical Garden and Museum of Art. He has published articles in such periodicals as Winterthur Portfolio, American Art, American Studies International, and Film and History. He is a contributing author to a number of exhibition catalogues, including New World: Creating an American Art (2007) and The Eight and American Modernisms (2009).
Contents
List of Illustrations
Acknowledgments
Introduction
Barbara Groseclose and Jochen Wierich
I. American Art and Art History
1. Newness, Flatness, and Other Myths: Looking for National Identity in European (and a Few British) Histories of American Art
Rebecca Zurier
2. Mutual Seduction: German Art History and American Art
Jochen Wierich
3. American Art Pre-1940 and the Problem of Art History's Object
Andrew Hemingway
4. Beyond the Borders: Nineteenth-Century British and American Art in Comparative Perspective
David Peters Corbett
II. Display and Exposition
5. The Absolute Past: Your Version or Ours? Canadian Constructions of Pre-1945 American Art History
Marylin McKay
6. An Artistic Tradition in the Making: Looking at American Art in French Nineteenth-Century Criticism
Veerle Thielemans
7. Ceci n'est pas un musée: Distance and Resistance in Franco-American Cultural Displays
Derrick R. Cartwright
8. Transatlantic Complexities: A Traveling Exhibition About Traveling Artists
Sophie Levy
III. Post-1945 Investments
9. Ménage à trois: Paris, New York, São Paolo, and the Love of Modern Art
Serge Guilbaut
10. The "Triumph" of American Art? Pop Art in the Postwar World
Christin J. Mamiya
Notes
Contributors
Index
Introduction
Barbara Groseclose and Jochen Wierich
Historians of American art like to recognize the milestones of maturation in their relatively young field of academic inquiry. Analyses invariably include an impressive summary of historiography, current methodology and scholarship, institutional status in academies and museums, and grant support. By all recent accounts, there is quantifiable evidence that the field of American art history has flowered, measured, for instance, by mundane examples—numbers of textbooks, fellowships, and graduate programs available—as well as by the qualitative testimony of exhibitions and monographs. Membership in the Association of Historians of American Art, founded in 1979, has grown to more than 550 members. As practicing historians of American art who have benefited from the field's growth, we believe the time is ripe to address an aspect of the historiography of American art that has not yet been thoroughly plumbed: the transmission and exchange of ideas about American art and its history in an international context. The purpose of our book is to begin a critical examination of this exchange. In other words, we want to show how it has become part of the "growing up" of American art history.
In this volume we reflect on the history of, as well as potentials for, narratives of pre-1945 American art as shaped by international perspectives. We realize that in doing so we are at the same time constructing a particular kind of history, and this gives us pause. Among other things, concern over the American image abroad in the present era has led to a cultural climate in the United States in which introspection becomes therapeutic, especially when there is an international element involved. The Whitney Museum of American Art, for instance, seized the moment shortly after 2001 to mount an exhibition that included work by forty-seven artists from more than thirty countries, all of whom were invited to reflect on what the organizers called "the American effect," or global perspectives on the United States, 1990–2003. Courageous and laudable as it was, the exhibition had numerous problems, which Jane C. Desmond summarized in the title of her exhibition review: "'As Others See Us'? Fetishizing the Foreign at the Whitney." Desmond aptly asked, what "particular knowledges are supposed to be represented in this gathering together of work by 'outsiders'?"
One might also ask, what sort of knowledge does the desire to see one's own culture through the eyes of "outsiders" really produce? Critiquing the Whitney's selection and definition of what constitutes an "outsider," Desmond suggests that a more inclusive approach could have yielded more insight: "Were we [the scholarly American studies community, as opposed to the museum curators] to collaborate on designing an exhibit about the 'effects' of 'America,' it would no doubt be more dialogical." At the risk of stating the obvious, any exhibition or anthology, such as ours, dealing with the perception of American culture in an international context has to grapple with the challenges of working from a dialogical model. The Whitney exhibition lies outside the purview of this anthology, which is purposely concerned neither with particular examples of art nor with specific artists but instead treats the narrative frameworks of history through which a scholarship called American art has been interpreted.
Nonetheless, the Whitney's enterprise raises a number of issues that worry us. We want to avoid fetishizing the "outsider" or "other" perspective, for to do so would create a false sense of insularity regarding the field of American art history. Also, we don't want to dismiss the idea that America has an "effect" on others through art and its interpretive representations, but we do not focus exclusively on this aspect. Finally, we recognize that "art history"—as either an academic field or a museum practice—is arguably not global merely because it is called global; for example, expectations that a hemispherically American art history exists are far more problematic than has sometimes been imagined. In compiling this book of essays, we operate from the premises that there is something to be gained for the history of American art from international dialogue, that this dialogue is happening, and that it has hardly been accounted for.
To assert that "something" is to be gained for the history of American art from "international dialogue" prompts the question at the heart of this introduction: what is at stake in claiming an "internationalizing" of the history of American art? The first and most obvious answer is that this volume underscores a fairly recent condition: geographical and cultural borders no longer contain the place of study for American art history, a truism to which even the professional lives of contributors to this volume offer testimony. Jochen Wierich came to the United States from Germany in order to deepen his understanding of American studies and American art history; Barbara Groseclose was born in the United States, did part of her art history graduate study in Germany and later spent two Fulbright semesters in the Netherlands and Italy teaching American studies to European students. Over the summer during which this volume was being prepared, Andrew Hemingway, a Briton, was a visiting scholar in France at the Musée d'Art Américain Giverny, where Derrick Cartwright, an American, was once the director and where Veerle Thielemans, a Belgian who studied in the United States, is now the head of academic programs. David Peters Corbett is one of a handful of art historians in England who teaches courses specifically on pre-1945 American art at the university level, and Serge Guilbaut, a French Canadian, wrote a now standard analysis of the role of post-1945 American art internationally. And everyone connected with this project, doubtless like most of its professional readership, has participated increasingly in international conferences, exhibitions, or symposiums on American art, in and outside the United States. To be sure, such mobility has become second nature to the modern scholar. It's worth remembering, nonetheless, that the study of American art was until well into the twentieth century mostly a parochial matter.
Art history itself became a typical component of the higher education humanities curriculum in the United States only in the twentieth century. Among the complexly interwoven relations between the growth of the art history profession in the United States and the erstwhile parochialism of American art, one issue stands out. It is the gist, with variations, of at least half of the essays in this volume. The European foundations of art historical scholarship in the United States were also the aesthetic framework for evaluating art produced in the United States by Americans of European descent. For nearly two centuries Euro-Americans were the sole source for the class (a word we use advisedly) that supplied national cultural arbiters. Many commentators observe that, among other consequences, the Euro-American aesthetic kinship instilled something like an inferiority complex that has haunted art history no less than art making in the United States. It is a condition noted more often by those who are not American than by those who are. For example, the German editors of American Icons: Transatlantic Perspectives on Eighteenth- and Nineteenth-Century American Art, Thomas Gaehtgens and Heinz Ickstadt—respectively a historian of European art and a specialist in American literature, who in 1992 mounted the first comprehensive exhibition of nineteenth-century American painting in Berlin—claimed that "the American people have historically seemed to suffer from a lack of confidence in the intrinsic value of their own art . . . [while] Europeans have tended to equate the history of art with the evolution of their own culture, dismissing American art as a provincial by-product devoid of any sound basis in theory or technique. Ironically, Americans reinforced the European perception by traditionally opting for allegiance to the established material and cultural values of European art." For many reasons, art making worldwide has become more heterogeneous in the past few decades, and that allegiance has waned, but its history still resonates, as the Euro-American focus of this book demonstrates.
After World War II, the study of art history in the United States was immeasurably enriched by émigré scholars, among them Oskar Hagen (University of Wisconsin), Walter Friedlaender (Institute of Fine Art, New York University), Erwin Panofsky (IFA, NYU; Institute for Advanced Study, Princeton University), Wolfgang Stechow (Oberlin College), and Julius Held (Columbia University). Few of these historians commented on American art. On occasion, art historians who were specialists in other fields taught American art history. These pioneers—prominent among them the artist and Harvard Indologist Benjamin Rowland Jr.—trained a generation of Americanists who in turn shaped the maturing field in the 1970s. But it is safe to say that throughout most of the twentieth century, a time when art history became an entrenched academic subject in the United States and elsewhere, increasing numbers of Americans became historians of French, German, Italian, or Chinese art, and medieval or classical art, but remarkably few specialized in the historical art of their own country. Indeed, the first three dissertations on American art only date from the 1940s and, of these, two came at the very end of the decade. When Wanda M. Corn wrote her evaluation of the "state of the field" of the history of American art for the Art Bulletin, the flagship publication of the College Art Association (CAA) and preeminent scholarly art history journal in the United States, she tellingly entitled it "Coming of Age." The year was 1988.
Like the CAA and other institutional arbiters of academic art history, Corn identified her use of "the term 'American art' as shorthand for pre-1945 painting and sculpture in the United States," a locution that continues. What is important here is that, at the end of the 1980s, international contributions to the history of American art were both scant and so little known in the United States that a sentence—"Scholars from abroad have also entered the field, writing dissertations, books, and exhibition catalogues of pre-1945 American art, many in their native tongue"—and a long footnote sufficed for assessment. In a field that had only just begun to expand, to "come of age," on its own soil, the paucity of foreign scholarship seems understandable. In contrast, in 2003, when John Davis wrote "The End of the American Century: Current Scholarship on the Art of the United States," updating Corn's review essay for the same journal, an international shift in the venues and sources of American art history was more noticeable, though most of the information still appeared in a subsidiary fashion.
Since Davis's article appeared, there has been a surge in international projects, and the Terra Foundation for American Art has emerged as a major sponsor of these events. The Smithsonian American Art Museum celebrated its reopening in 2006 with an international symposium of invited speakers on the subject of globalization and American art history. In 2006–7, the Wadsworth Atheneum sent its Hudson River School collection to Germany. In conjunction with the exhibition New World: Creating an American Art, which traveled to the Bucerius Kunst Forum in Hamburg and to the Staatsgalerie in Stuttgart, the Bucerius organized an international symposium that then became the foundation for an exhibition catalogue. This exhibition and accompanying symposium/catalogue is part of a three-part series focusing on American art organized by the Bucerius Kunst Forum. The John F. Kennedy Institute in Berlin organized an international conference entitled "Narratives About American Art" in May 2007, and in October 2007 the Zentralinstitut für Kunstgeschichte in Munich hosted an international conference called "American Artists in Munich—Artistic Migration and Cultural Exchange Processes." The discrepancy between the busy-ness of international symposia and exhibitions featuring American art and its historians and the low visibility of international viewpoints in the art historical conceptualizations of Americanists in the United States points up the difference between "international" and "internationalizing."
"Internationalizing" the history of American art is not the same thing as an "international" American art history. The former describes an aspiration and a process, while the latter refers to a condition, more precisely the condition in which not only artists and art historians but art and the institutions that house and care for it now exist. As this is being written, the system of loan exhibitions that has been a staple of museum going the world over (once modern transportation afforded the opportunity and war plunder ceased to be an approved manner of enlarging national collections) is now one-upped by satellite museums built or planned outside national borders: Guggenheim Bilbao, Louvre Abu Dhabi. In this sense "international" is a synonym for "global," though we have chosen the former word in an effort to escape globalism's problematic corporate overtones and flattening effects. Choosing the gerund (and by implication assuming that "internationalize" functions as a verb) emphasizes an ongoing process of exchange between nations, qua nations, as equals, in which each remains autonomous. This volume looks at "internationalizing" and "international," separately and in combination, chiefly to position the process within its disciplinary and institutional contexts.
As momentous as the disciplinary and linguistic implications at stake in internationalizing American art history are questions about the nation-state in the formation and perpetuation of the history of U.S. art. What's interesting about "international" might be, in the end, the implications and complications of leaving "national" behind, from a disciplinary point of view. Art has traditionally been identified with narratives of national, regional, and even municipal history. As Keith Moxey notes, "Like the concept of art itself, art history is inextricably united to the history of the nation state." In the United States, among humanities scholars in general, much thought has gone into the consequences of articulating American national identity via historical disciplines. The general line of reasoning is that, in the nineteenth century, nation-states and national histories everywhere in the West mutually reinforced one another, with scholars serving as the node of their collaboration. In the modern era, the mobility of our bodies and our training, among other things, no less than electronic technologies that know no geographical limitations, create opportunities for thinking about history in other ways. To acknowledge these circumstances is also to grasp the occasion, we hope, for historiographical perspective and reflection: what we think currently, what we used to think, what has or could stimulate changes.
In a recent example of such reflection, Rethinking American History in a Global Age, Thomas Bender was in the forefront of historians who observed that, beginning in the nineteenth century, "history, as a professional discipline, and the nation, as the new and dominant form of political subjectivity and power, established a tight connection that amounted to collaboration." Consequences of relinquishing such collaborative frameworks in the writing of American history have included turning from broad topics to specialized ones—François Weil borrows Emmanuel Le Roy Ladurie's formulation of historian-as-parachutist vs. historian-as-truffle-hunter to describe this situation—as well as embracing cultural pluralities and "diversity." Such pluralities and diversity, nonetheless, are within the national aggregate and so effectually re-inscribe it. These research strategies tend to focus the spotlight away from whatever further problematic connotations "nationalism" might hold. For example, as a few of our contributors observe, many art historians of the cold war era saw the visual arts co-opted as a propaganda tool of U.S. policies and downplayed frankly national histories while never quite abandoning them.
Like our colleagues writing in Rethinking American History, the essayists in this volume have chosen to ponder the consequences and scope of a national conceptual framework. We have tried to keep in mind Geeta Kapur's cautionary note on this admittedly fraught topic: "Internationalists who are physically located in the First World take the national as not only a lost cause but a negative hypothesis. . . . For members of the Third World . . . the national is their express concern and determined reality." Her point is well taken: we who work and live in the West sometimes tend to write as though "national"—with its various associations of "-istic" and "-ism"—is merely a category of convenience in intellectual discourse that may be traded at will for another unit or category of discourse.
Moreover, no matter how scrupulous one is on this point, certain categories of convenience relating to "national" cannot be shed: the title of this book must employ the term "American" as reference to a single nation rather than to the nations of two continents named "America" in order to be understood, in the United States at least, as in fact referring to the United States. (And, pace diversity, the word "American" also has to be employed as though it refers to a national identity that is monolithic in nature and composition even within U.S. borders.)
We would be remiss not to acknowledge, in speaking of categories of convenience, that the term "American art" itself has no secure geographical base, complicating the national/art history interconnection in very practical ways. Who is an American artist? Thomas Cole, born and raised in England, whose entire career was founded on the depiction of an American landscape? Mary Cassatt, born and raised in Pennsylvania, whose entire career was passed in Paris? Emanuel Leutze, whose iconic Washington Crossing the Delaware (1851) was painted in Germany, his birthplace and the site of his maturation as an artist, though his training and his eventual home were in the United States? James McNeill Whistler, whose work is identified as English in England and American in the United States? It may be that an internationalizing of the history of American art will turn on more complicated assessments of the consequential internationalism of Americans and artists than we possess at present.
In line with this observation, we note as well that a central issue in writing the history of American art has been how, geographically, to situate "American" even within U.S. boundaries. For example, what Maura Lyons deems "the first book to trace the emergence of an independent visual art tradition in the United States," William Dunlap's History of the Rise and Progress of the Arts of Design in the United States (1834), "[constructed] . . . an American art history" by nationalizing the local, offering the Northeast as representative of the country as a whole. Most historical surveys throughout the nineteenth and into the twentieth century tended to follow Dunlap in this regard to a greater or lesser degree. Second, working with this circumscription of "national," Dunlap experienced and accepted the cultural anxiety that positioned American artists within, or subservient to, European academic tradition in a part of the country still strongly transatlantic. Thus Dunlap recognized European cultural authority while also positing a fine arts version of what historians would come to call "American exceptionalism," that is, the uniqueness of the United States and, in particular, its institutions. Succeeding narratives of American art history, well into the twentieth century in fact, continued to take into account the former imperial model—how to be worthy of that model and to be free of it at the same time. These historians of American art followed a similar narrative trajectory, in which American art was always striving toward some inner harmony between the competing forces of artistic independence and "foreign influence." This model of the "growing up" story applies to several generations of historians, including Henry Tuckerman, Virgil Barker, Samuel Isham, Royal Cortissoz, Holger Cahill, Alfred Barr Jr., and many others.
The duality of vision, European model and American uniqueness, remained in force, so much so that histories of American art written after the United States had itself become an imperial power fairly trumpeted American exceptionalism and, in consequence, found the "Americanness of American art" difficult to relinquish. While some advocates of this historical model may have oversimplified the duality, others have put it to good use. To be concerned with the "Americanness of American art," a quest whose trailblazers were curators and antiquarians, was an approach realized primarily via methodologies involving archival matter like biographies and catalogues raisonée. In this regard, American art histories were not unlike most other national art histories in the mid-twentieth century, as any reading of the various books in the Pelican History of Art series, which plotted history nation by nation, would reveal. As Wanda Corn has recently argued, the story of modern art in America has been one of "Americanization." For example, encountering a highly dynamic, industrialized civilization in America, European avant-garde artists such as Marcel Duchamp and Francis Picabia become converts of a modernism American style. Indeed, Americanization is a persuasive narrative model for the historical study of twentieth-century American art and certainly relevant for the essays in this collection that cover twentieth-century art. One might even argue that the current trend to globalize the study of American Art (take the Smithsonian American Art Museum's conference, for example) is linked to this persistent desire to find out what's unique about American art.
Given these stakes, what, then, of the goals of this volume? How does a critical examination of the state of international transmission and exchange of the history of American art begin? We are mindful that an obvious, if to our minds problematic, answer to the perceived parochialism of American art history scholarship is to "invite" new ways to think about American art from an "outsider perspective." One of the expressions of parochialism this volume hopes to bring into question is the notion that American ownership of American art history permits such an invitation to be extended. Do not presume, Arjun Appadurai has warned, that applying the adjective "global" or "international" to research merely consists of "improving how others practice our precepts." His injunction has been our watchword, a consequence of which readers will find in the widely different styles of art history practiced by our contributors in their various local traditions—polemical, abstract, conversational, pedantic (in a good way)—that we have been at pains to retain. In any event, as we have indicated, that boat has already sailed: American art history is international. Our contributors are those who are in a position to observe the situation at the launch of the twenty-first century. While they embody different nationalities, the writers of the following essays are not representatives to be described—by one or another set of assumptions about international and national constituencies—as placeholders for a checklist of ideological or geographical spokespersons. Rather they are scholars who, as practicing art historians, consider the shaping and dissemination of the history of American art, domestically and internationally, past and present, theoretically and practically, from a variety of intellectual positions and experiences, and they draw on a literature that, collectively, comprises a bibliography for the future of the field.
"Master" narratives that intertwine nationalism/nationality/art history form the conceptual underpinning to this volume. A 1984 essay by Elizabeth Johns takes account of the canon formation in American art and relates it to the sequential development of history writing in the United States. Here she astutely contrasts the vaunting of "cosmopolitan" American artists by late nineteenth-century Eurocentric critics against mid-twentieth-century texts that identified a relationship between "art and life in America" (as the highly regarded 1949 history by Oliver Larkin was entitled). One of the benefits of our book is that its contributors further assess these and other surveys as well as other attempts to construct a "national" art, providing a prismatic view of the canon formation that Johns outlined. Likewise, more than one contributor brings up the two major essays to which we have already referred—that is, those by Corn and Davis—because the relative youth of the field in the United States not only allows pulse taking but prompts it as well, and whatever overlap there may be in the essays on this score is mitigated by the different uses to which the assessments are put in Part I, "American Art and Art History."
For example, in "Newness, Flatness, and Other Myths: Looking for National Identity in European (and a Few British) Histories of American Art," Rebecca Zurier concurs with the scenario laid out in Corn's important 1988 overview. Corn placed the aesthetic inferiority complex alongside nationalist cultural trends as an impetus for turning homegrown American art historians toward, and pulling "professional art historian[s]" away from, American art objects. But this was only part of the story. Zurier notes that the anxieties of other nationalities—in this case, anxieties about the United States—were projected onto "outsider" analyses of American art. Why? In political terms, "efforts to 'look at America through the lens of its art'" have been well-nigh irresistible, given assumptions of the American exceptionalism that has manifested itself in modern American dominance in economic and military spheres. Zurier treats two of Europe's greatest modern historians—Aby Warburg and Johan Huizinga—and some of its lesser lights—Guiseppe Lo Duca and Hans Tietze—along with émigrés to the United States like Edgar Wind and Oskar Hagen. Her essay demonstrates not only the prevalence and tenacity of nationalist (in the sense of accepting that there is a "national style" and a "national identity") inculcations that informed the response of such European intellectuals to the art of the United States. Zurier's essay also examines how such notions inflected the conceptual frameworks of an important generation of American art historians, among them John Baur, John McCoubrey, and Barbara Novak.
In contrast, Jochen Wierich's discussion of the narratives that synthesize American art involves a consideration of Wind and Hagen, but this time in the company of their fellow Germans Wolfgang Born, Eugen Neuhaus, Alfred Neumeyer, and Hans Huth. Wierich details how these men influenced their contemporaries and a later generation in the United States—Novak as well as the earlier Holger Cahill and the later Robert Hughes—through a conceptualization of the history of American art in a Hegelian, or post-Hegelian, mode. Thus Wierich proposes a "twofold argument that the German sense of 'crisis' in art history is not just a recent phenomenon and that the very German question of 'What is the end of art history?'" has been an important theme of American art history. The essay considers as well certain recent projects intended to familiarize contemporary European audiences with historical American art. In juxtaposing a consideration of A New World: Masterpieces of American Painting (Boston, traveling to Washington and Paris), Bilder aus der Neuen Welt (Berlin, traveling to Zurich), and America: The New World in Nineteenth-Century Painting (Vienna), Wierich assesses both the circularity and the potential of a German-American "transatlantic narrative."
In Wierich's essay and in Andrew Hemingway's "American Art Pre-1940 and the Problem of Art History's Object," which follows, the assumption, as Hemingway describes it, is that "the meaning and value we give art objects depends largely on the narrative structures within which we place them." Thus Wierich and Hemingway have in common a focus on, as Wierich's penetrating question puts it, who gets to claim outsider status when it is a matter of intellectual position rather than national origin? Spurring their analyses is the knowledge that aesthetic and philosophical benchmarks of nineteenth- and twentieth-century German and French culture are taken in some fashion as universally applicable by most European and American scholars and, it may be, by large parts of the rest of the world. Hemingway argues that a "triumphalist modernist paradigm" derived from the hegemony of France in Western art history placed an American art historical narrative in, at best, an ambiguous position. For him, the essential issue involves the manner in which French modernist assumptions created "problems for the valorization" of pre-1940 American art. The early American grand narratives with which Hemingway is most concerned, by Charles Caffin and Suzanne La Follette, are grounded in an American cultural nationalism that nonetheless identified with French modernist art as the benchmark of aesthetic achievement, just as Dunlap's history identified with British academic art. Later writers—Virgil Barker, Oliver Larkin, Lloyd Goodrich—relied on the "residual cultural formation" established by the earlier examples, only to be succeeded by a range of later histories, from the formalist approaches of Barbara Rose and Robert Rosenblum to more recent developments, that fall short of a desirable (for Hemingway) comparative internationalism.
If art is "as much the discourses through which it is described and categorized, and the institutions through which it is spatially and socially defined, as it is the material objects that come to us as the residue of these social practices," as Hemingway believes, then a comparison of British art histories with American ones, which David Peters Corbett undertakes, tellingly reveals a "sense of embattled marginality and . . . [a] need to define their subject matter in ways that will prove meaningful beyond their own specialized coteries." Arrestingly, "Beyond the Borders: Nineteenth-Century British and American Art in Comparative Perspective" asserts a greater marginality for British art history: "Both these academic specialties," Corbett writes, "have, at best, a tenuous existence outside the places in which the objects were made," yet the history of British nineteenth-century and early twentieth-century art, looked at from the perspective of art history professionals in the United States, is "lively enough, perhaps, but of no consequence to the wider discipline." British scholars recently have been, as he notes, among the strongest proponents of "double focus" art history—historical and aesthetic approaches combined—and he finds in a powerful school of interpretive writing in the United States (Jules Prown, David Lubin, and Alexander Nemerov being exemplary in this regard) an antidote to the emphasis on purely historical methodologies that get tangled up in national issues. Corbett's call for a sustained defense of the visual will strike many readers as a move to obviate national frameworks.
In Part II of the volume, the emphasis shifts. For both Marylin McKay and Veerle Thielemans, critical judgments of American art from abroad throw other "national" arts and critical writing into relief. A version of looking at America through the lens of its art infuses the Canadian art history of Marylin McKay's essay, "The Absolute Past: Your Version or Ours?" but the consequence is to point up Canadian beliefs about Canada. While the world's longest unprotected border and a common dominant language connect the United States and its neighbor to the north, American art historians remain relatively ignorant of Canadian art. The reverse is not the case, and Canada has received American art with an eye to Canadian distinctiveness: Canada, too, has experienced an "obsessive search for a unique national identity." McKay posits that the famous "great friendship" between Canada and the United States has not deterred Canadian art historians from seeing their country's art as morally superior to American art, the basis of the superiority being primarily social mores rather than political might or aesthetic brilliance.
Veerle Thielemans recounts derogatory to dismissive French receptions of pre-1945 American art, receptions that she believes "[were] and still [are] today complicated by a deeply rooted aesthetic prejudice against American culture." Like McKay's Canadians, Thielemans's French incline to the idea of a Hegelian "genius of the people," tying national traits to the idea of a nation-state's art and finding the United States undeveloped in this regard, or, as the French put it, "immature." Hegel's influence on national art histories, which Wierich also considers, thus receives additional endorsement here, although Thielemans asserts that "the fullest theoretical articulation of this notion . . . was given by the philosopher Hippolyte Taine." Thielemans's aim—to show "how the notion of [American] artistic immaturity resonates with the role assigned to tradition in French aesthetics"—also illuminates portions of Hemingway's text and at the same time brings a kind of boomerang effect into play. Can it be, she asks, "that the so-called problem of artistic heritage in American art [as the French see it] bounces back some troublesome concerns in French art theory?" Citing vivid examples of nineteenth-century French reception of American landscape painting in particular, she argues that despite prevailing American explanations for French rejection of American art (Americans did not place enough emphasis on "craft" for French tastes), other factors limited, perhaps even precluded, French understanding. "The French/European conception of nationalism required history for the expression of national character," she writes, and, bien sûr, the American supply of history was found (in)famously meager.
In her essay "Transatlantic Complexities: A Traveling Exhibition About Traveling Artists," Sophie Levy, a French curator, takes a different slant on the same issue—showing American art in France—because she lets the reader in on how French and American perceptions shaped her exhibition ideas. In relation to an exhibition she wanted to call "Paris, Capital of America": American Avant-Garde in Paris, 1918–1939, Levy reflects upon the reception of a series of exhibitions in France, beginning after World War I, that preceded her own show, exhibitions introducing (over and over, it seems) American modern art to French audiences. Why so many exhibitions that revisited the same era and the same group of paintings so many times? Did the French public suffer from amnesia when it came to American modernism? Levy came to believe that if French critics regarded Paris as the center of the art world throughout the twentieth century, then exhibitions such as her own required the importation not merely of non-French artifacts but also of a way of thinking about them. Her account of exhibitions in which both feats were attempted testifies to significant moments of American artistic presence in Paris and their critical reception, mostly unfavorable. But Levy's essay also spells out how American cultural proclivities reshaped her "French" vision for American audiences. Her view of "four major aspects of the avant-garde scene in France during the interwar period" addressed artists whose works were usually overlooked or underestimated in the American canon, primarily because "American and European historians offer radically different analyses of the ideological and artistic atmosphere in the France of the 1930s." And, she adds, for several decades after World War II, the avant-garde work of American artists abroad during the previous interwar period nearly dropped from critical view. This neglect occurred because of the new emphasis on post-1945 American abstract art and its "triumph" (as it was famously proclaimed by Irving Sandler in his 1970 book on the New York school) but also because of the painful collective memories and "melancholy" associated with the interwar era in France. In the process of negotiating the exhibition with her American colleagues, Levy changed the title of her exhibition to A Transatlantic Avant-Garde because American curators feared that the French version would be misread as "an anachronistic assertion of the artistic hegemony of Paris." To call an exhibition "Paris, Capital of America," was also deemed unmarketable at a time (2002–3) when French fries were being renamed "freedom fries" by pro-war Americans irritated with their quondam ally, bringing home the notion, however trivially, that nationalist perceptions are irremediably tied to art historical formations.
Levy experienced what it might mean to internationalize American art history from the trenches, so to speak. As a curator at the Musée d'Art Américain, Giverny (MAAG), she has been, along with other members of the staff there, witness to the current fortunes of cross-cultural exhibitions and art institutions. The very concreteness of this part of the book raises a subject that some of the more speculative writing skirts, namely, that until recently a reading of American art outside national borders could be based only on very circumscribed firsthand knowledge of the objects. International access to American art has come sluggishly in terms of collections, and until the end of the twentieth century depended very little on museums. During the nineteenth century, established painters, from Washington Allston to Winslow Homer, showed their works at salons and international expositions in Europe, but, although they were generally well received, art from the United States failed to gain a secure foothold among European collectors. A very small number of American artists traveled beyond Europe in the nineteenth century, with a concomitant absence of both exposure and patronage elsewhere in the world. The opening of the twentieth century changed circumstances little, and of course two world wars curtailed expansion of American art ownership for European collectors. Currently, only two museums outside the United States, the Museo Thyssen-Bornemisza in Madrid and the Musée d'Art Américain, Giverny, in France, possess sizable holdings of pre-1945 American art, thanks to, respectively, Baron Thyssen-Bornemisza, a well-born German steel industrialist, and Daniel Terra, an Italian-American chemical manufacturer.
Three of our contributors are, or have been, in the employ of the Musée d'Art Américain, Giverny, in part because this museum and its sponsor, the Terra Foundation of American Art, encourage international exchange on a level few other institutions have reached. Their experiences, therefore, are central to our appreciation of the pragmatics of internationalization.
From mid-1998 to December 2000, Derrick Cartwright was the director of MAAG. In "Ceci n'est pas un musée: Distance and Resistance in Franco-American Cultural Displays," he uses this experience to reflect upon the history of Franco-American cultural exchange and locates, as Levy does, misreadings on both sides of the Atlantic. In his 1831–33 Gallery of the Louvre, Samuel F. B. Morse altered the Salon Carré in such a fashion that his rearrangement and scale alterations could be interpreted as calling into question, Cartwright declares, the august museum's prerogative. More than a century and a half later, Daniel Terra made another "intervention" in French cultural authority by founding a museum of American impressionist art in the village of Giverny, where Claude Monet famously lived out his late years. Cartwright recounts stories, both funny and quite serious, about the "extravagant expatriate dream work" that sometimes preoccupies Americans in France but pulls the reader up short with the plan for MAAG and Terra's own dream. "Ceci n'est pas un musée" Cartwright argues, in the same way that René Magritte's "pipe" "n'est pas une pipe" because it is "not at all a thing that we could ever think about using" as such. Many French people failed to understand MAAG "as an enduring source of visual wonder, much less as a space for representational experiences and the production of new knowledge," he explains, and his analysis of several "discrete episodes in the history of American art displays in France . . . point[s] toward some inherent problems within [Franco-American cultural exchange]." No indictment of American cultural obliviousness, Cartwright's essay is a personal and professional plea to think intelligently and sensitively about representing American culture outside the United States, the "displacement that such acts suggest and the inevitable resistance that they may generate."
In the book's final two essays, which round out the volume yet remain distinct from the other essays by virtue of their postwar subjects, Christin Mamiya and Serge Guilbaut touch on the contemporary reach of the term "modern" as it has become infused by—in fact, for most purposes, synonymous with—"American" and "international." Readers may notice that Hemingway's essay alone locates the tipping point of history in 1940, the year that Germany invaded France, the Battle of Britain took place, and the United States remained on the sidelines. Nineteen forty-five, by contrast, is the year of Allied victory, the year the United States sealed its place among world powers and, through its prestige no less than its might, set about reconstructing both Japan and Germany in its own economic image. Perhaps, like the self-identified "American exceptionalism" (as well as the egregious implications of the "American Century," by which Henry Luce's publishing empire claimed the entire twentieth century for the United States), Americans themselves have not only defined the moment when American art became synonymous with contemporary art but also exported it through the idea that American painting had, at last, "triumphed" on a world stage. Guilbaut's own narrative of the mobilization of American art on an international front as an instrument of the American government's aims—How New York Stole the Idea of Modern Art: Abstract Expressionism, Freedom, and the Cold War (1983)—was one of the initial salvos in a barrage of books that investigated the connections within what Frances Stonor Saunders called the "cultural cold war," born not only of political aims but also of the overwhelming presence of American wealth and the propensity to subsume cultural production as consumer goods. In Irresistible Empire: America's Advance Through Twentieth-Century Europe, Victoria de Grazia points out that in 1960 alone the U.S. Commerce Department's Office of International Trade Fairs "ran ninety-seven official exhibits in twenty-nine countries, exposing more than 60 million people" to a barrage of American-style modernism, which, during the heyday of the trade fairs, ranged from "self-service stores and ranch homes, exhibitions of abstract art, jazz concerts, Cinerama spectacles . . . and fashion runways."
For many viewers, American pop art appeared to enshrine the American commodity glut. Mamiya writes of the twentieth-century "triumph" of American painting in terms of pop art in the postwar world of internationally consumed American goods. To achieve a perspective on post-1945 American art in an international context, her essay takes up the dynamics of American economic clout in relation to social and cultural transformations in postwar Germany. Arguably the site of the Marshall Plan's "greatest impact," Mamiya declares, Germany was also the country in which American pop art was most celebrated. Her essay traces the persistence of American cultural anxiety into the recent past. As late as 1985, Peter Ludwig, the German collector of pop art, stated that "most American museums don't have important works by Johns and Rauschenberg," explaining, "it is a little like a father whose son has become a great scientist—he can't quite believe it for a time." Mamiya addresses the nexus between cultural and economic power represented by pop art, yet she also asks, "Does American culture . . . get so widely exported and occupy such a hegemonic position so as to become the global?" Pop art, in the United States and elsewhere, put its collective aesthetic finger on the world's economic pulse and felt it racing. True, the consumer products most prized after World War II were American, but a multinational array of pop artists has had no trouble turning them into an internationally understood language of desire. Comparative perspectives reveal what Mamiya sees as "the increasingly porous nature" of national identity.
Serge Guilbaut treats a "ménage à trois" of influences. He looks at the political-cum-cultural plans of Nelson Rockefeller, son of one of the co-founders of the Museum of Modern Art and its president for most of the 1940s and 1950s, for the establishment of similar museums in Latin America. How geometric abstraction (the reader might also wish to compare Levy's realizations on this score), with its cerebral, unimpeachably European heritage, was appropriated by the MoMA's agenda in forming a canon for modernist painting is but one of Guilbaut's topics. Guilbaut also looks at how American art, both good and mediocre, was promoted as the equation of "modern," and at the implications for art history in South America and elsewhere in the hemisphere. Guilbaut thus probes the degree to which American art history can be written into, or play a part in, other art histories.
While the essays in this volume emphasize historiography, they also raise some questions for the future. Who, for instance, will set the terms for an emerging international discourse? What comparative paradigms will count—race? region? religion?—and how will the disappearance of the nation-state (assuming it is on the wane) figure? Will there be a canonical transformation, or will canons disappear altogether? And how does the field of "border studies," so prominent in our near neighbor, the field of American studies, shape the future study of American art?
While the possibilities for an international American art history are promising, one must also caution against high expectations. The vast majority of consumers of American culture abroad are far more familiar with visual imagery of global reach, such as television and cinema. Arguably the fine arts are a more rarified form of cultural capital, but, as the essays in this volume show, they are equally susceptible to being co-opted and enlisted in power struggles. It has not escaped our attention that, as Dutch scholar Mel van Elteren has written, the dissemination of American culture as "soft power" and as an extension of "hard" American political objectives is not finding fertile ground abroad these days when the sales of American movies and television programs are in decline and countries speak of putting up "stronger barriers against U.S. cultural penetration." Nor can we be surprised when Winfried Fluck astutely perceives that the covers of catalogues accompanying European exhibitions of American art employ—or better, deploy—images of Hudson River school landscapes or nineteenth-century Western genre paintings that are sensationalist and spectacular in a formulaic way. They represent and reproduce an America that "we [Europeans and Americans] like to see" but that are a far cry, even in their own day, from the America that can be actually seen. Political and cultural rationales, with their concomitant rejections and collusions, characterize the internationalizing of the history of American art now as they did in the past, but our awareness is at a point of heightened self-consciousness within and beyond U.S. borders. Perhaps, then, it is a pivotal moment in which to think about the next milestone marking the development of American art history. The following collection of essays represents one possibility: a future historiography of American art history might take place within an international dialogue.
Mailing List
Subscribe to our mailing list and be notified about new titles, journals and catalogs.