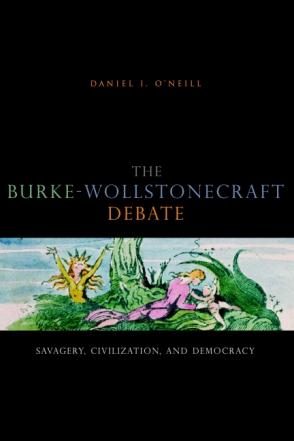 The Burke-Wollstonecraft Debate
Savagery, Civilization, and Democracy
Daniel I. O'Neill
BUY
The Burke-Wollstonecraft Debate
Savagery, Civilization, and Democracy
Daniel I. O'Neill
"Who would have thought there was much new and fascinating to say about Burke and Wollstonecraft? But O'Neill's argument, rooted in their response to the French Revolution and their relationship to Scottish Enlightenment ideas, is wonderfully fresh and illuminating, shedding new light on many a shadowy part of Burke's conservatism and Wollstonecraft's feminism."
Description

Reviews

Bio

Table of Contents

Sample Chapters

Subjects
Many modern conservatives and feminists trace the roots of their ideologies, respectively, to Edmund Burke (1729–1797) and Mary Wollstonecraft (1759–1797), and a proper understanding of these two thinkers is therefore important as a framework for political debates today.
According to Daniel O'Neill, Burke is misconstrued if viewed as mainly providing a warning about the dangers of attempting to turn utopian visions into political reality, while Wollstonecraft is far more than just a proponent of extending the public sphere rights of man to include women. Rather, at the heart of their differences lies a dispute over democracy as a force tending toward savagery (Burke) or toward civilization (Wollstonecraft). Their debate over the meaning of the French Revolution is the place where these differences are elucidated, but the real key to understanding what this debate is about is its relation to the intellectual tradition of the Scottish Enlightenment, whose language of politics provided the discursive framework within and against which Burke and Wollstonecraft developed their own unique ideas about what was involved in the civilizing process.
"Who would have thought there was much new and fascinating to say about Burke and Wollstonecraft? But O'Neill's argument, rooted in their response to the French Revolution and their relationship to Scottish Enlightenment ideas, is wonderfully fresh and illuminating, shedding new light on many a shadowy part of Burke's conservatism and Wollstonecraft's feminism."
"This is an excellent contribution to the literatures on Mary Wollstonecraft and Edmund Burke and to the growing discussions of the significance of the Scottish Enlightenment."
"It is fascinating to learn of Mary Wollstonecraft's perception that Scottish stadial theory would end in the reign of sensibility, and the reign of sensibility in the 'Angel in the House.' From the Sublime and the Beautiful to Sense and Sensibility, via the Theory of Moral Sentiments! Daniel O'Neill has opened a new path."
"This book should be read. O'Neill has given great and creditable effort to bringing these figures into fresh focus. If the overall effect is not so persuasive as he may wish, the questions about Burke and Wollstonecraft raised by this study, and its suggestion of a boundary beyond which the Scot's influence does not extend, remain valuable."
"This excellent book is a wonderful success, one that deserves a broad audience among historians of eighteenth-century political thought and contemporary political theorists alike."
Daniel I. O'Neill is Assistant Professor of Political Science at the University of Florida.
Contents
Acknowledgments
Introduction
1. The Scottish Enlightenment, the Moral Sense, and the Civilizing Process
2. Burke and the Scottish Enlightenment
3. Wollstonecraft and the Scottish Enlightenment
4. "The Most Important of All Revolutions"
5. Vindicating a Revolution in Morals and Manners
6. Burke on Democracy as the Death of Western Civilization
7. Wollstonecraft on Democracy as the Birth of Western Civilization
Conclusion
Bibliography
Index
Mailing List
Subscribe to our mailing list and be notified about new titles, journals and catalogs.