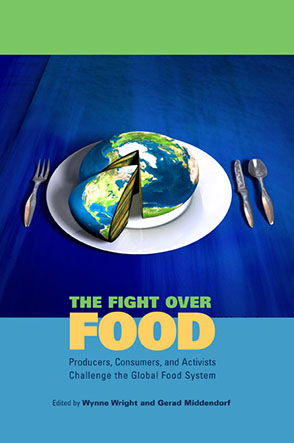 The Fight Over Food
Producers, Consumers, and Activists Challenge the Global Food System
Edited by Wynne Wright, and Edited by Gerad Middendorf
BUY
The Fight Over Food
Producers, Consumers, and Activists Challenge the Global Food System
Edited by Wynne Wright, and Edited by Gerad Middendorf
"The categorization of the essays and the overarching theme of agency results in a balanced approach, avoiding easy tropes or doomsday scenarios. Individual essays are consistently sound in scholarship."
Description

Reviews

Bio

Table of Contents

Sample Chapters

Subjects
"One problem with the food system is that price is the bottom line rather than having the bottom line be land stewardship, an appreciation for the environmental and social value of small-scale family farms, or for organically grown produce." —Interview with farmer in Skagit County, Washington
For much of the later twentieth century, food has been abundant and convenient for most residents of advanced industrial societies. The luxury of taking the safety and dependability of food for granted pushed it to the back burner in the consciousness of many. Increasingly, however, this once taken-for-granted food system is coming under question on issues such as the humane treatment of animals, genetically engineered foods, and social and environmental justice. Many consumers are no longer content with buying into the mainstream, commodity-driven food market on which they once depended. Resistance has emerged in diverse forms, from protests at the opening of McDonald's restaurants worldwide to ever-greater interest in alternatives, such as CSAs (community-supported agriculture), fair trade, and organic foods. The food system is increasingly becoming an arena of struggle that reflects larger changes in societal values and norms, as expectations are moving beyond the desire for affordable, convenient foods to a need for healthy and environmentally sound alternatives. In this book, leading scholars and scholar-activists provide case studies that illuminate the complexities and contradictions that surround the emergence of a "new day" in agriculture.
The essays found in The Fight Over Food analyze and evaluate both the theoretical and historical contexts of the agrifood system and the ways in which trends of individual action and collective activity have led to an "accumulation of resistance" that greatly affects the mainstream market of food production. The overarching theme that integrates the case studies is the idea of human agency and the ways in which people purposefully and creatively generate new forms of action or resistance to facilitate social changes within the structure of predominant cultural norms. Together these studies examine whether these combined efforts will have the strength to create significant and enduring transformations in the food system.
"The categorization of the essays and the overarching theme of agency results in a balanced approach, avoiding easy tropes or doomsday scenarios. Individual essays are consistently sound in scholarship."
"How will we feed ourselves in the future? Who will decide? Can people acting together make a difference in the food system to come? This book takes up the key sociological questions of structure and agency in addressing these questions. It moves beyond abstract debates, applying the structure/agency lens to a most important human system—the one that produces and distributes our food. . . .
"The Fight Over Food illuminates possibilities for change in the food system and simultaneously reminds us of the constraints of global capitalism. This book will be of interest not only to sociologists who study food and agriculture, but to all students of social change within a variety of disciplines. The Fight Over Food points us in directions for our engagement both as scholars and as citizens of the world who care about food."
Wynne Wright is Assistant Professor of Community, Food, and Agriculture at Michigan State University
Gerad Middendorf is Associate Professor of Sociology at Kansas State University.
Contents
Acknowledgments
Introduction: Fighting Over Food: Change in the Agrifood System
Wynne Wright and Gerad Middendorf
Part I. Conceptual Framework
1. Agency and Resistance in the Sociology of Agriculture and Food
Alessandro Bonanno and Douglas H. Constance
2. Agency and the Agrifood System
William H. Friedland
3. Resistance, Agency, and Counterwork: A Theoretical Positioning
Norman Long
Part II. Case Studies: Making Room for Agency
4. Counterhegemony or Bourgeois Piggery? Food Politics and the Case of FoodShare
Josée Johnston
5. Resistance, Redistribution, and Power in the Fair Trade Banana Initiative
Aimee Shreck
6. Sustaining Outrage: Cultural Capital, Strategic Location, and Motivating Sensibilities in the U.S. Anti-Genetic Engineering Movement
William A. Munro and Rachel A. Schurman
7. Social Life and Transformation in Salmon Fisheries and Aquaculture
Michael Skladany
Part III. Case Studies: Constraints to Agency
8. Infertile Ground: The Struggle for a New Puerto Rican Food System
Amy Guptill
9. Possibilities for Revitalizing Local Agriculture: Evidence from Four Counties in Washington State
Raymond A. Jussaume Jr. and Kazumi Kondoh
10. Consumers and Citizens in the Global Agrifood System: The Cases of New Zealand and South Africa in the Global Red Meat Chain
Keiko Tanaka and Elizabeth Ransom
Conclusion: From Mindful Eating to Structural Change
Wynne Wright and Gerad Middendorf
Index
Also of Interest
Mailing List
Subscribe to our mailing list and be notified about new titles, journals and catalogs.