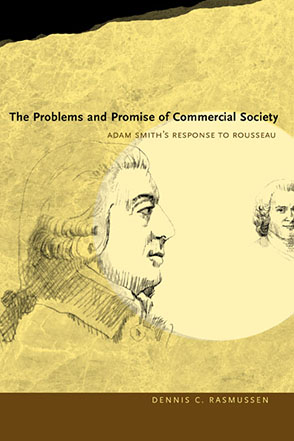 The Problems and Promise of Commercial Society
Adam Smith's Response to Rousseau
Dennis C. Rasmussen
BUY
The Problems and Promise of Commercial Society
Adam Smith's Response to Rousseau
Dennis C. Rasmussen
"Dennis Rasmussen has written a fine book on Adam Smith's defense of commercial society as a response to Rousseau. As Rasmussen demonstrates, Smith not only took Rousseau's critique of commercial society seriously but also evinced a surprising degree of sympathy with it. By reviving Smith's dialogue with Rousseau, Rasmussen examines an important episode in the history of political thought and engages a debate over the benefits and drawbacks of commercial society that continues today."
Media

Description

Reviews

Bio

Table of Contents

Sample Chapters

Subjects
2008 Honorable Mention for the Delba Winthrop Fund for Excellence in Political Science Award
Adam Smith is popularly regarded as the ideological forefather of laissez-faire capitalism, while Rousseau is seen as the passionate advocate of the life of virtue in small, harmonious communities and as a sharp critic of the ills of commercial society. But, in fact, Smith had many of the same worries about commercial society that Rousseau did and was strongly influenced by his critique.
In this first book-length comparative study of these leading eighteenth-century thinkers, Dennis Rasmussen highlights Smith's sympathy with Rousseau's concerns and analyzes in depth the ways in which Smith crafted his arguments to defend commercial society against these charges. These arguments, Rasmussen emphasizes, were pragmatic in nature, not ideological: it was Smith's view that, all things considered, commercial society offered more benefits than the alternatives.
Just because of this pragmatic orientation, Smith's approach can be useful to us in assessing the pros and cons of commercial society today and thus contributes to a debate that is too much dominated by both dogmatic critics and doctrinaire champions of our modern commercial society.
"Dennis Rasmussen has written a fine book on Adam Smith's defense of commercial society as a response to Rousseau. As Rasmussen demonstrates, Smith not only took Rousseau's critique of commercial society seriously but also evinced a surprising degree of sympathy with it. By reviving Smith's dialogue with Rousseau, Rasmussen examines an important episode in the history of political thought and engages a debate over the benefits and drawbacks of commercial society that continues today."
"We have hitherto lacked a systematic and sophisticated book-length analysis of the relation between Smith and Rousseau. . . . Dennis Rasmussen's beautifully written book will be important reading for anyone concerned with these two figures, and more broadly the Enlightenment and its critics."
"Rasmussen has produced a concise, carefully organized, and insightful work that illuminates the thought of Rousseau and Adam Smith."
"In this lucidly written study, Dennis Rasmussen argues that a comprehensive consideration of Adam Smith must engage with the question of Jean-Jacques Rousseau's influence. And while others have already suggested this influence, Rasmussen offers what will likely be the definitive account of Smith's grappling with Rousseau for years to come. He presents systematic and compelling evidence to defend the hypothesis that Smith was deeply affected by Rousseau's deconstruction of commercial society."
Dennis C. Rasmussen is Assistant Professor of Political Science at the University of Houston.
Contents
Acknowledgments
Abbreviations
Introduction
1. Rousseau's Unhappy Vision of Commercial Society
2. Smith's Sympathy with Rousseau's Critique
3. The European Peasant and the Prudent Man
4. Progress and Happiness
Conclusion
References
Index
Also of Interest
Mailing List
Subscribe to our mailing list and be notified about new titles, journals and catalogs.