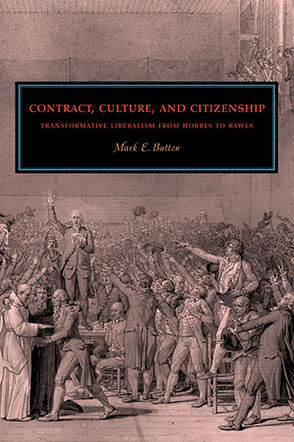 Contract, Culture, and Citizenship
Transformative Liberalism from Hobbes to Rawls
Mark E. Button
BUY
Contract, Culture, and Citizenship
Transformative Liberalism from Hobbes to Rawls
Mark E. Button
"Button argues that 'contract makes citizens,' rather than vice versa. He provides no less than a reexamination of the major texts in social contract theory—including those of Hobbes, Locke, and Rousseau—emphasizing the importance within this tradition of a 'transformative' and deeply educative project. An excellent book: fresh, original, clearly written and cogently argued, and based on an impressively wide array of sources. This book deserves a wide readership."
Description

Reviews

Bio

Table of Contents

Sample Chapters

Subjects
The idea of the social contract has typically been seen in political theory as legitimating the exercise of governmental power and creating the moral basis for political order. Mark Button wants to draw our attention to an equally crucial, but seldom emphasized, role for the social contract: its educative function in cultivating the habits and virtues that citizens need to fulfill the promises that the social contract represents.
In this book, he retells the story of social contract theory as developed by some of its major proponents—Hobbes, Locke, Rousseau, and Rawls—highlighting this constructive feature of the theory in order to show that not only do citizens make the social contract, but the social contract also makes citizens.
Button's interest in recovering this theme from past political theory is not merely historical, however. He means to resurrect our concern for it so that we can better understand the political-institutional and cultural-ethical conditions necessary for balancing individual freedom and common citizenship in our modern world of moral pluralism. Drawing on the history of public reason, Button shows how political justification continues to depend upon an ethics of character formation and why this matters for citizens today.
"Button argues that 'contract makes citizens,' rather than vice versa. He provides no less than a reexamination of the major texts in social contract theory—including those of Hobbes, Locke, and Rousseau—emphasizing the importance within this tradition of a 'transformative' and deeply educative project. An excellent book: fresh, original, clearly written and cogently argued, and based on an impressively wide array of sources. This book deserves a wide readership."
"In a beautifully written, persuasively argued book, Button offers a new account of the modern liberal tradition of political thought."
Mark Button is Associate Professor of Political Science at the University of Utah.
Contents
Acknowledgments
Introduction
1. "Where Justice Is Called a Virtue": Public Reason and Civic Formation in Thomas Hobbes
2. Compact Before Liberal Constructivism: The Divine Politics of John Locke
3. Governing Subjects and Breeding Citizens: Dilemmas of Public Reasoning and Public Judgment in Locke
4. Rousseau's Contractarian Republic: The Culture of Constitutional Self-Government
5. John Rawls, Public Reason, and Transformative Liberalism Today
Conclusion: The Politics of Not Settling Down
Bibliography
Index
Mailing List
Subscribe to our mailing list and be notified about new titles, journals and catalogs.