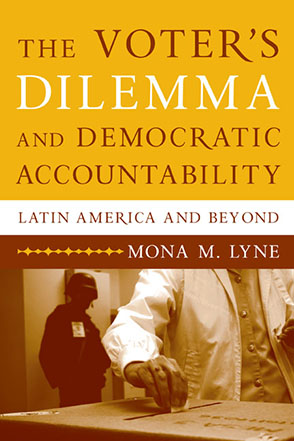 The Voter's Dilemma and Democratic Accountability
Latin America and Beyond
Mona M. Lyne
BUY
The Voter's Dilemma and Democratic Accountability
Latin America and Beyond
Mona M. Lyne
"Lyne's book constructs a sophisticated micro-logic of citizens' and politicians' choices resulting in exchanges based on clientelistic side-payments or policies as ways to perform democratic accountability. Institutions play a contingent role in that process, but Lyne shows how the role of institutions is nested in a political-economic framework. Lyne's book develops an impressive array of indirect empirical tests of her theory with data from Brazil and Venezuela. Anyone interested in democratic accountability should read this book."
Media

Description

Reviews

Bio

Table of Contents

Sample Chapters

Subjects
Winner, 2009 Choice Outstanding Academic Title
Why do some democracies adopt effective development policies while others remain mired in stagnation or suffer cyclic crises? Previous studies have emphasized poverty or institutional weakness, but weak accountability and development failure are not limited to low-income countries or to any specific institutional choices. A better explanation, Mona Lyne argues, is provided by her theory of "the voter's dilemma": where structural conditions render quid pro quo, or clientelistic, politics viable on a national scale, voters have insufficient incentive to support politicians promising national public goods policies. Under these conditions, Lyne argues, electoral accountability falls prey to the same n-person prisoner's dilemma that plagues any other large-scale decentralized attempt to procure collective goods. The theory is tested through an examination of four prominent cases. A comparison of postwar Brazil and pre-Chávez Venezuela shows that clientelism debilitated both countries' postwar development programs, despite Venezuela's historically strong institutions and abundant oil revenues. Two comparisons—one between contemporary Brazil and pre-Chávez Venezuela, and another between postwar and contemporary Brazil—highlight factors that reduce the risks of rejecting clientelism as providing the best account of contemporary Brazil's success. Finally, a comparison of pre-Chávez and contemporary Venezuela explains the continuity in flawed institutional and policy choices as a result of continuity in clientelistic politics driven by the voter's dilemma.
"Lyne's book constructs a sophisticated micro-logic of citizens' and politicians' choices resulting in exchanges based on clientelistic side-payments or policies as ways to perform democratic accountability. Institutions play a contingent role in that process, but Lyne shows how the role of institutions is nested in a political-economic framework. Lyne's book develops an impressive array of indirect empirical tests of her theory with data from Brazil and Venezuela. Anyone interested in democratic accountability should read this book."
"In this theoretically groundbreaking work, Lyne expertly identifies gaps in the existing literature on democratic accountability, particularly the inability to explain variations in development policy. This creative look at electoral strategies illuminates new venues for future research."
"The Voter's Dilemma and Democratic Accountability: Latin America and Beyond presents an elegant and sophisticated logic of democratic accountability and makes a significant contribution to the literatures on democratic accountability, clientelism, and Latin American studies."
Mona M. Lyne is Associate Professor of Political Science at the University of Missouri–Kansas City.
Contents
List of Tables and Figures
Acknowledgments
List of Acronyms
Introduction: Theories of Democratic Accountability and Development in Brazil and Venezuela
1. The Voter's Dilemma: Collective or Clientelistic Goods?
2. Are Voters in Brazil and Venezuela Opting for Policy-Based or Quid Pro Quo Voting?
3. Party Behavior: Policy-Based or Quid Pro Quo Appeals to Voters?
4. Internal Party Organization: Align Individual and Collective Goals to Build a Policy Reputation or to Ensure Efficient Vote Buying?
5. Legislative Organization: Governing Majority Agenda Control or Mutual Veto?
6. Policy Choice: Generate Sustained Growth or Maximize Quid Pro Quo?
Conclusion
Appendixes
References
Index
Mailing List
Subscribe to our mailing list and be notified about new titles, journals and catalogs.