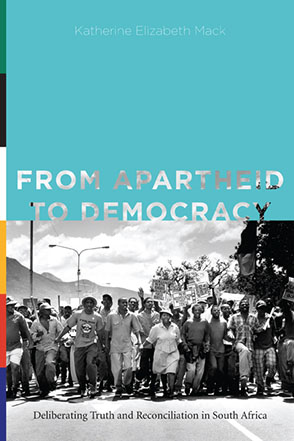 From Apartheid to Democracy
Deliberating Truth and Reconciliation in South Africa
Katherine Elizabeth Mack
BUY
From Apartheid to Democracy
Deliberating Truth and Reconciliation in South Africa
Katherine Elizabeth Mack
"Just as the [Truth and Reconciliation Commission]'s ambiguities and complexities opened opportunities for productive debate, so too does From Apartheid to Democracy create openings and invite rhetorical scholars to participate in an ongoing engagement with the TRC and other truth commissions. On the whole, the rhetorical nuance of Mack's analysis adds much to existing scholarship on the TRC and transitional justice more generally, and her multigenre analysis deftly illustrates the utility of expanding the scope of rhetorical studies on civic deliberation."
Description

Reviews

Bio

Table of Contents

Sample Chapters

Subjects
South Africa's Truth and Reconciliation Commission (TRC) hearings can be considered one of the most significant rhetorical events of the late twentieth century. The TRC called language into action, tasking it with promoting understanding among a divided people and facilitating the construction of South Africa's new democracy. Other books on the TRC and deliberative rhetoric in contemporary South Africa emphasize the achievement of reconciliation during and in the immediate aftermath of the transition from apartheid. From Apartheid to Democracy, in contrast, considers the varied, complex, and enduring effects of the Commission's rhetorical wager. It is the first book-length study to analyze the TRC through such a lens. Katherine Elizabeth Mack focuses on the dissension and negotiations over difference provoked by the Commission's process, especially its public airing of victims' and perpetrators' truths. She tracks agonistic deliberation (evidenced in the TRC's public hearings) into works of fiction and photography that extend and challenge the Commission's assumptions about truth, healing, and reconciliation. Ultimately, Mack demonstrates that while the TRC may not have achieved all of its political goals, its very existence generated valuable deliberation within and beyond its official process.
"Just as the [Truth and Reconciliation Commission]'s ambiguities and complexities opened opportunities for productive debate, so too does From Apartheid to Democracy create openings and invite rhetorical scholars to participate in an ongoing engagement with the TRC and other truth commissions. On the whole, the rhetorical nuance of Mack's analysis adds much to existing scholarship on the TRC and transitional justice more generally, and her multigenre analysis deftly illustrates the utility of expanding the scope of rhetorical studies on civic deliberation."
"From Apartheid to Democracy is, at its core, an insightful and occasionally moving study of rhetorical form. Katherine Mack's reflective, accessible, and judicious analysis of the South African Truth and Reconciliation Commission demonstrates how the fundamentally multitextual character of the TRC produced commendable deliberative goods despite its documented shortcomings. Each chapter closely examines the generative interplay between a specific modality of public remembrance and its pragmatic function in the prolonged search for truth and reconciliation. Mack's analysis thereby shows how multiple forms and forums of rhetorical deliberation may cumulatively assist in the difficult yet necessary work of reconciling long, painful, and often conflicting memories of violent injustice."
"Issues of memory are perhaps never more contentious than during times of upheaval and transition. Katherine Mack's careful exploration of the rhetorics surrounding South Africa's Truth and Reconciliation Commission demonstrates the importance of these contests and draws our attention to the ways in which they take place not only in public hearings but also across a variety of texts, including the visual and the poetic. From Apartheid to Democracy offers an important reconceptualization of the work of truth commissions and broader efforts toward transitional justice."
"Foregrounding the inherent rhetoricity of truth commissions, Katherine Mack's study chronicles the failure of South Africa's Truth and Reconciliation Commission to give voice to many whose humanity was brutally stolen from them. From Apartheid to Democracy not only opens space for understanding agonistic deliberation and artful dissent as reasonable responses to trauma but also expands the potential archive of public deliberation beyond the limits of phallogocentric 'civilities.'"
"Katherine Mack's innovative study of public memory in the wake of South Africa's Truth and Reconciliation hearings will change the way we understand rhetorical analysis. Mack scrupulously charts the uneven trajectories of speech, print, testimony, performance, and image as they circulate in the new South Africa, producing spaces between formerly stable categories: history and fiction, speech and silence, victim and perpetrator. From Apartheid to Democracy is a courageous book, one that should be read by anyone interested in what humanities scholarship can contribute to contemporary struggles for justice."
"In From Apartheid to Democracy, Katherine Mack takes a balanced, rhetorically nuanced approach to one of the most remarkable examples of transitional justice in the last century: the public memory activities of South Africa's Truth and Reconciliation Commission. She skillfully examines both the TRC hearings' rhetorical dynamics and their later representations in photography and literature. Her careful, well-written analysis persuasively demonstrates how the TRC's goal of nation-building reconciliation enabled and constrained the kinds of rhetorical acts that could be performed during the hearings, while those same contextual forces became the target of criticism and thus of rhetorical agency on the part of participants and respondents. Not only will a wide range of rhetorical critics, political theorists, and cultural historians find this a thoughtfully suggestive book, but so too will anyone interested in what Mack describes as 'the tight braid of cultural and political projects.'"
"An important and original contribution in the field of transitional justice. It is accessible to a broad range of readers but will be of particular interest to practitioners and scholars interested in understanding how truth and reconciliation processes impact democratic transitions."
Katherine Elizabeth Mack is Assistant Professor of English at the University of Colorado, Colorado Springs.
Preface
Acknowledgements
Introduction: The Rhetoricity of Truth Commissions
Chapter 1: Localizing Transitional Justice in South Africa
Chapter 2: Ambivalent Speech, Resonant Silences
Chapter 3: Contesting Accountability
Chapter 4: Imagining Reconciliation
Conclusion
Bibliography
Mailing List
Subscribe to our mailing list and be notified about new titles, journals and catalogs.