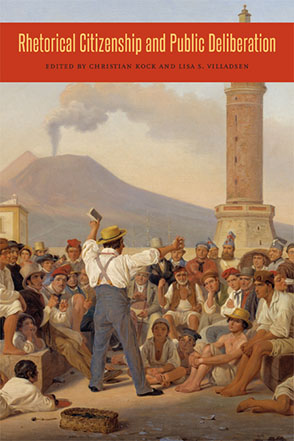 Rhetorical Citizenship and Public Deliberation
Edited by Christian Kock and Lisa Villadsen
BUY
Rhetorical Citizenship and Public Deliberation
Edited by Christian Kock and Lisa Villadsen
"Anyone who has been reading in rhetoric and democracy and has an interest in ways of pushing the deliberative democracy model forward will agree that this volume enters that conversation, addresses key issues, and offers fresh insights and approaches that warrant further work of this kind."
Description

Reviews

Bio

Table of Contents

Sample Chapters

Subjects
Citizenship has long been a central topic among educators, philosophers, and political theorists. Using the phrase "rhetorical citizenship" as a unifying perspective,
Rhetorical Citizenship and Public Deliberation
aims to develop an understanding of citizenship as a discursive phenomenon, arguing that discourse is not prefatory to real action but in many ways constitutive of civic engagement. To accomplish this, the book brings together, in a cross-disciplinary effort, contributions by scholars in fields that rarely intersect.
For the most part, discussions of citizenship have focused on aspects that are central to the "liberal" tradition of social thought—that is, questions of the freedoms and rights of citizens and groups. This collection gives voice to a "republican" conception of citizenship. Seeing participation and debate as central to being a citizen, this tradition looks back to the Greek city-states and republican Rome. Citizenship, in this sense of the word, is rhetorical citizenship. Rhetoric is thus at the core of being a citizen.
Aside from the editors, the contributors are John Adams, Paula Cossart, Jonas Gabrielsen, Jette Barnholdt Hansen, Kasper Møller Hansen, Sine Nørholm Just, Ildikó Kaposi, William Keith, Bart van Klink, Marie Lund Klujeff, Manfred Kraus, Oliver W. Lembcke, Berit von der Lippe, James McDonald, Niels Møller Nielsen, Tatiana Tatarchevskiy, Italo Testa, Georgia Warnke, Kristian Wedberg, and Stephen West.
"Anyone who has been reading in rhetoric and democracy and has an interest in ways of pushing the deliberative democracy model forward will agree that this volume enters that conversation, addresses key issues, and offers fresh insights and approaches that warrant further work of this kind."
"At the start of his presidential campaign in February 2007, Barack Obama issued a call for people to reclaim the meaning of citizenship. This timely volume of international collaboration, with its insights drawn from a range of disciplines, is a valuable contribution to such a recovery and the reflections involved. Carefully edited and introduced by Christian Kock and Lisa S. Villadsen, the book brings to life the 'rhetorical citizen' as an active deliberator fully engaged in public affairs. Its theoretical insights and practical cases, along with the gathering of perspectives from areas not often brought to a common focus in this way, recommend it to any serious student of deliberative democracy and to all who might appreciate the powerful role that constructive rhetoric can play in the building of informed societies."
"Ranging widely and effectively in time, space, cases, and theory, Rhetorical Citizenship and Public Deliberation shows how and why rhetoric must be central to the practice of politics and citizenship in contemporary democracies. An impressive and strikingly original set of contributions sheds new light on the possibilities for public deliberation."
"This book brings new arguments into an already lively scholarly conversation about public deliberation. The editors and authors bring to the forefront important rhetorical perspectives that previous work on deliberation has overlooked."
"Rhetorical Citizenship and Public Deliberation is a comprehensive and provocative assessment of the rhetorical nature of citizenship. Drawing together an impressive group of scholars from various disciplines and countries, Christian Kock and Lisa Villadsen have crafted a volume that is essential reading for scholars interested in the conversations surrounding agency, citizenship, and the prospects for a democratic society."
Christian Kock is Professor of Rhetoric in the Department of Media, Cognition, and Communication at the University of Copenhagen.
Lisa S. Villadsen is Associate Professor and Head of the Division of Rhetoric in the Department of Media, Cognition, and Communication at the University of Copenhagen.
Contents
Introduction: Citizenship as a Rhetorical Practice
Christian Kock and Lisa S. Villadsen
Section I Tracing Rhetorical Citizenship as Concept and Practice
1 Deliberative Democracy: Mapping Out the Deliberative Turn in Democratic Theory
Kasper Møller Hansen
2 The Making of Truth in Debate: The Case of (and a Case for) the Early Sophists
Manfred Kraus
3 The Search for "Real" Democracy: Rhetorical Citizenship and Public Deliberation in France and the United States, 1870–1940
William Keith and Paula Cossart
Section II Public Deliberation as Rhetorical Practice
Part 1 Considering Norms of Communicative Behavior
4 The Respect Fallacy: Limits of Respect in Public Dialogue
Italo Testa
5 Dialectical Citizenship? Some Thoughts on the Role of Pragmatics in the Analysis of Public Debate
Niels Møller Nielsen
6 Provocative Style: The Gaarder Debate Example
Marie Lund Klujeff
7 Virtual Deliberations: Talking Politics Online in Hungary
Ildikó Kaposi
Part 2 Critiques of "Elite" Discourse
8 Dis-playing Democracy: The Rhetoric of Duplicity
Kristian Wedberg
9 Rhetoric of War, Rhetoric of Gender
Berit von der Lippe
10 Speaking of Terror: Norms of Rhetorical Citizenship in Danish Public Discourse
Lisa S. Villadsen
11 "This May Be the Law, but Should It Be?" Tony Blair's Rhetoric of Exception
Bart van Klink and Oliver W. Lembcke
Part 3 Rhetorical Citizenship Across Communicative Settings
12 I Agree, but . . . : Finding Alternatives to Controversial Projects Through Public Deliberation
James McDonald
13 Deliberation as Behavior in Public
Tatiana Tatarchevskiy
14 Homing in on the Arguments: The Rhetorical Construction of Subject Positions in Debates on the Danish Real Estate Market
Sine Nørholm Just and Jonas Gabrielsen
15 Danish Revue: Satire as Rhetorical Citizenship
Jette Barnholdt Hansen
Section III Toward Better Deliberative Practices
16 Presidential Primary Debate as a Genre of Journalistic Discourse: How Can We Put Debate into the Debates?
John Adams and Stephen West
17 A Tool for Rhetorical Citizenship: Generalizing the Status System
Christian Kock
18 Potential and Problems of Deliberative Debate: Interpretive Debates Revisited
Georgia Warnke
About the Contributors
Index
Mailing List
Subscribe to our mailing list and be notified about new titles, journals and catalogs.