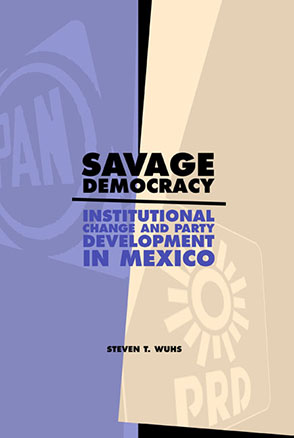 Savage Democracy
Institutional Change and Party Development in Mexico
Steven T. Wuhs
BUY
Savage Democracy
Institutional Change and Party Development in Mexico
Steven T. Wuhs
"Savage Democracy presents a provocative analysis of the perverse effects of internal democracy within political parties on the functioning of democracy at the regime level, based on richly detailed field research, extensive interviews, and internal party documents. Far too little attention has been paid to the political effects of the internal organizational choices made by political parties. Most research concentrates on external institutional constraints, such as electoral law. Wuhs does a nice job of highlighting how democratic decision-making norms constrain party leaders and lead to unanticipated consequences for the electoral fortunes of the parties as well as their behavior in power. Though based on a study of political parties in Mexico, it should be of interest to scholars of parties and Mexican democracy more generally. It is written at an accessible level and could be used for advanced undergraduate classes, but presents sophisticated arguments that scholars at all ranks should appreciate."
Description

Reviews

Bio

Table of Contents

Sample Chapters

Subjects
Mexico finally shed its authoritarian past with the victory of the PAN candidate Vicente Fox in the 2000 election. But the consolidation and growth of democracy in Mexico have been complicated by the institutional residues of the past. Steven Wuhs's investigation of the PAN and PRD begins by depicting how the PRI functioned and then, in successive chapters, compares how PAN and PRD leaders reacted to the PRI's institutions in choosing rules for selecting candidates to run for office, organizing their party's bureaucracy, and linking to groups in civil society. What he shows is that "savage democracy has undermined the nomination of electable candidates, fostered intense intraparty factions and fights, and interfered with the development of party organizations capable of mounting effective campaigns."
"Savage Democracy presents a provocative analysis of the perverse effects of internal democracy within political parties on the functioning of democracy at the regime level, based on richly detailed field research, extensive interviews, and internal party documents. Far too little attention has been paid to the political effects of the internal organizational choices made by political parties. Most research concentrates on external institutional constraints, such as electoral law. Wuhs does a nice job of highlighting how democratic decision-making norms constrain party leaders and lead to unanticipated consequences for the electoral fortunes of the parties as well as their behavior in power. Though based on a study of political parties in Mexico, it should be of interest to scholars of parties and Mexican democracy more generally. It is written at an accessible level and could be used for advanced undergraduate classes, but presents sophisticated arguments that scholars at all ranks should appreciate."
"Steven Wuhs fills a huge gap in the literature on Mexico's emerging democratic regime with this systematic comparative study of party development of the Institutional Revolutionary Party's two challengers, the National Action Party and the Party of the Democratic Revolution. Drawing on the vast scholarship on political parties and his extensive field research, Wuhs shows how the PAN's institutional development allowed it to best the PRD in the quest to oust the PRI."
Steven T. Wuhs is Director of the Salzburg Program at the University of Redlands.
Contents
List of Tables and Figures
Preface and Acknowledgments
List of Abbreviations
1 . What Is Savage Democracy?
2. Before Savage Democracy: Authoritarianism in Mexico
3. Origins of the Democratic Imperative
4. Selecting Loyalists Versus Picking Winners
5. Partisan Mystics Versus Political Professionals
6. Affiliation Versus Alliance Versus Absorption
7. The End of Savage Democracy?
Epilogue: The Legacy of the Democratic Imperative
Appendixes
References
Index
Mailing List
Subscribe to our mailing list and be notified about new titles, journals and catalogs.