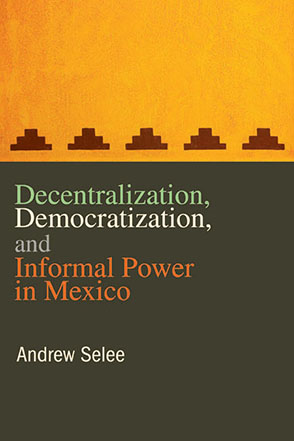 Decentralization, Democratization, and Informal Power in Mexico
Andrew Selee
BUY
Decentralization, Democratization, and Informal Power in Mexico
Andrew Selee
"Decentralization, Democratization, and Informal Power in Mexico is a fascinating, beautifully crafted, and revealing account of just how much Mexican democratization has taken place at the local level. Andrew Selee has used extensive field research and years spent living in Mexico to examine the extent to which electoral democracy has taken hold as the primary means of communicating citizen demands in three distinct municipalities. He discovers that many of the informal processes that characterized decision-making at the local level before the democratic transition continue to the present, clearly demonstrating the limits of institutional change on citizen participation. Equally important, Selee demonstrates how informal power is significantly shaping democratic outcomes."
Description

Reviews

Bio

Table of Contents

Sample Chapters

Subjects
In the last two decades of the twentieth century, many countries in Latin America freed themselves from the burden of their authoritarian pasts and developed democratic political systems. At the same time, they began a process of shifting many governmental responsibilities from the national to the state and local levels. Much has been written about how decentralization has fostered democratization, but informal power relationships inherited from the past have complicated the ways in which citizens voice their concerns and have undermined the accountability of elected officials. In this book, Andrew Selee seeks to illuminate the complex linkages between informal and formal power by comparing how they worked in three Mexican cities. The process of decentralization is shown to have been intermediated by existing spheres of political influence, which in turn helped determine how much the institution of multiparty democracy in the country could succeed in bringing democracy "closer to home."
"Decentralization, Democratization, and Informal Power in Mexico is a fascinating, beautifully crafted, and revealing account of just how much Mexican democratization has taken place at the local level. Andrew Selee has used extensive field research and years spent living in Mexico to examine the extent to which electoral democracy has taken hold as the primary means of communicating citizen demands in three distinct municipalities. He discovers that many of the informal processes that characterized decision-making at the local level before the democratic transition continue to the present, clearly demonstrating the limits of institutional change on citizen participation. Equally important, Selee demonstrates how informal power is significantly shaping democratic outcomes."
"Andrew Selee has written a compelling, insightful book on decentralization and democracy in Mexico. Based on research that began in 1992, Selee illuminates the changes as well as the continuities in the politics of three Mexican municipalities. Although it mattered that each of the municipalities was governed by a different political party, past networks of informal power endured and mattered as well. Selee's original, nuanced analysis is an extremely valuable contribution to scholarly understanding of democratic institutions."
"Andrew Selee's book is a remarkable contribution to our understanding of democratic transition and decentralization in Mexico—two of the most prominent processes shaping the Mexican state and society at the onset of the twenty-first century. Selee's detailed case studies offer a well-organized and representative portrayal of local contexts in Mexico and provide rich insights into municipal governments. Demonstrating intellectual rigor and deep analysis, this excellent book is a must-read for scholars and policy makers interested in recent political developments in Mexico."
"Through careful analysis, Selee shows that decentralization in Mexico has been shaped by the traditional relationships between central and local political actors. He is convincing that more democratic governments and more effective local governments are constructed over time and are deeply affected by the contexts in which they develop. Decentralization, Democratization, and Informal Power in Mexico is a well-researched, informative, and welcome addition to the literature on decentralization and democratization."
Andrew Selee is Director of the Mexico Institute at the Woodrow Wilson International Center for Scholars in Washington, DC.
Contents
List of Figures
Acknowledgments
1. Introduction: The Paradoxes of Local Empowerment
Part 1 State Formation and Political Change
2. Centralization and Informal Power
3. Decentralization and Democratization
Part 2 A Tale of Three Cities
4. Chilpancingo: The Continuation of Corporatism?
5. Tijuana: Liberal Democracy?
6. Ciudad Nezahualcóyotl: Social Movement Democracy?
Part 3 Conclusions
7. Pathways of Democratic Change
Index
Mailing List
Subscribe to our mailing list and be notified about new titles, journals and catalogs.