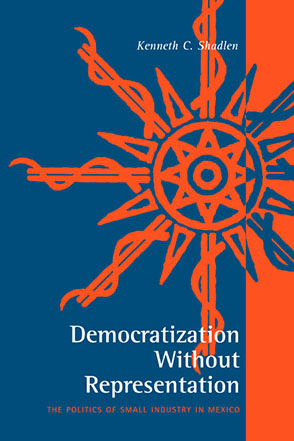 Democratization Without Representation
The Politics of Small Industry in Mexico
Kenneth C. Shadlen
BUY
Democratization Without Representation
The Politics of Small Industry in Mexico
Kenneth C. Shadlen
"This fine book makes an important contribution both to the comparative literature on the quality of democracy in post-transition settings and to the growing literature on comparative business politics in Latin America. By deftly weaving together new archival evidence and interview material, Shadlen provides a fresh—and provocative—angle on the challenges that free-market economic reforms and political democratization pose for small business in developing countries. The book makes a convincing case that the democratization of authoritarian-corporatist regimes can ironically weaken the representation of small business in the policy arena. This, in turn, has sobering implications both for the quality of democracy and for overall economic performance, especially in terms of employment generation."
Description

Reviews

Bio

Table of Contents

Sample Chapters

Subjects
When countries become more democratic, new opportunities arise for individuals and groups to participate in politics and influence the making of policy. But democratization does not ensure better representation for everyone, and indeed some sectors of society are ill-equipped to take advantage of these new opportunities. Small industry in Mexico, Kenneth Shadlen shows, is an excellent example of a sector whose representation decreased during democratization.
Shadlen's analysis focuses on the basic characteristics of small firms that complicate the process of securing representation in both authoritarian and democratic environments. He then shows how increased pluralism and electoral competition served to exacerbate the political problems facing the sector during the course of democratization in Mexico. These characteristics created problems for small firms both in acting collectively through interest associations and civil society organizations and in wielding power within political parties. The changes that democratization effected in the structure of corporatism put small industry at a significant disadvantage in the policy-making arena even while there was general agreement on the crucial importance of this sector in the new neoliberal economy, especially for generating employment. The final chapter extends the analysis by making comparisons with the experience of small industry representation in Argentina and Brazil.
Shadlen uses extensive interviews and archival research to provide new evidence and insights on the difficult challenges of interest aggregation and representation for small industry. He conducted interviews with a wide range of owners and managers of small firms, state and party officials, and leaders of business associations and civil society organizations. He also did research at the National Archives in Mexico City and in the archives of the most important business organizations for small industry in the post-World War II period.
"This fine book makes an important contribution both to the comparative literature on the quality of democracy in post-transition settings and to the growing literature on comparative business politics in Latin America. By deftly weaving together new archival evidence and interview material, Shadlen provides a fresh—and provocative—angle on the challenges that free-market economic reforms and political democratization pose for small business in developing countries. The book makes a convincing case that the democratization of authoritarian-corporatist regimes can ironically weaken the representation of small business in the policy arena. This, in turn, has sobering implications both for the quality of democracy and for overall economic performance, especially in terms of employment generation."
"This criticism aside, the book is a valuable contribution to debates about business, democracy, and development."
"These two monographs on government-business relations in contemporary Mexico (Shadlen's Democratization Without Representation and Macleod's Downsizing the State) share the same publisher as well as the virtues of careful research and documentation, creative synthesis of theoretical strands from political science, economic sociology and new institutional economics, an explicit comparative angle and accessibility for non-area specialists. These books can be confidently recommended as texts in graduate courses on comparative politics, sociology of economic organizations, business management and public administration."
"The book represents a thorough and comprehensive study of small industry politics in Mexico, drawing from more than 100 interviews and extensive archival research. . . . [The book makes] an important contribution to the study of Mexican political economy and will be of great interest to scholars of that discipline."
"Given the extent and depth of the author's contribution to understanding small industrialists from the inside out, Democratization Without Representation is very much a worthwhile read. Shadlen has presented us with a big book on small business."
Kenneth C. Shadlen is Lecturer in Development Studies at the Development Studies Institute of the London School of Economics and Political Science.
Contents
List of Figures and Tables
Acknowledgments
Abbreviations
1. The Politics of Small Industry Representation
2 Representation via Accommodation: Small Industry and Postwar Developmentalism
3. The Challenges of Change: Crisis, Democratization, and the Quest for Representation
4. Democratization and Diminished Representation: Institutional Transformation and Political Exclusion
5. Orphaned by Democracy: Small Industry in Contemporary Mexico
6. Representation, Participation, and Development
Appendix: Interviews
Bibliography
Index
Mailing List
Subscribe to our mailing list and be notified about new titles, journals and catalogs.